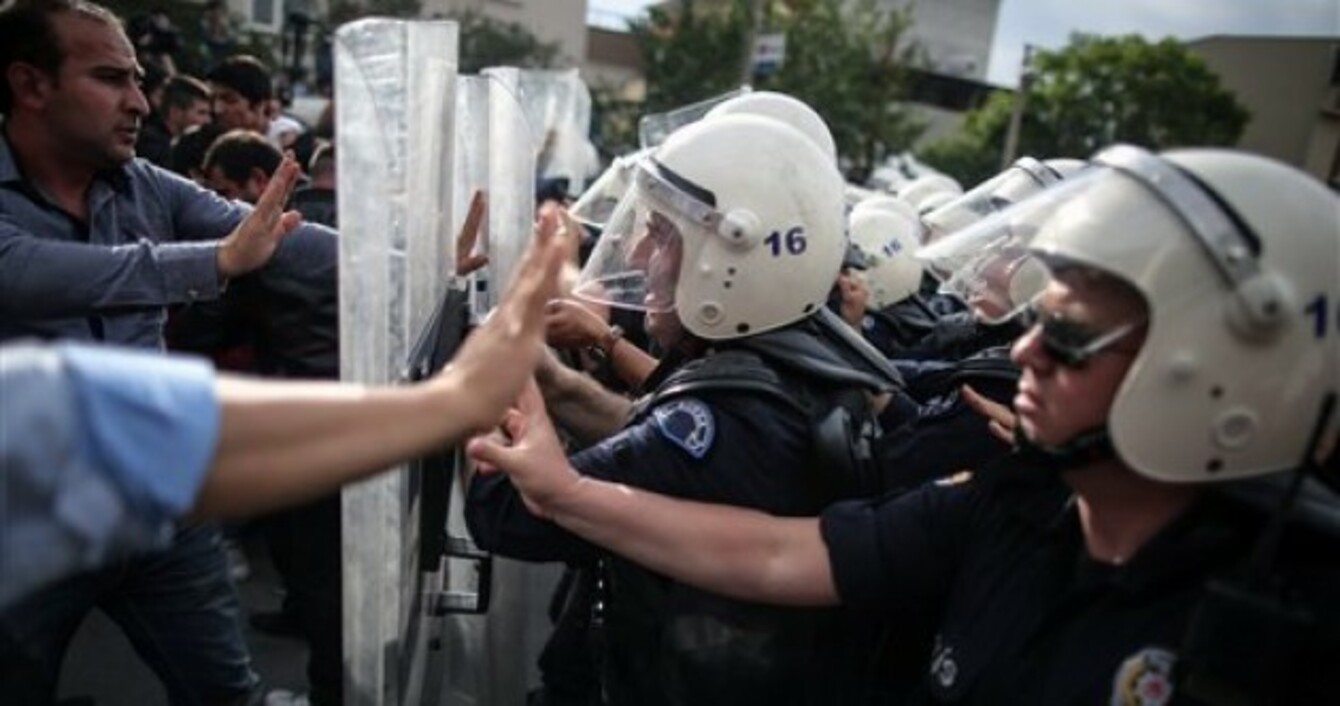 Riot police try to stop protesters who were attacking the offices of Prime Minister Recep Tayyip Erdogan's Justice and Development Party, in Soma, Turkey,.
Image: AP
Riot police try to stop protesters who were attacking the offices of Prime Minister Recep Tayyip Erdogan's Justice and Development Party, in Soma, Turkey,.
Image: AP
AMID WAILS OF grief and anger, rescue workers coated in grime trudged repeatedly out of a coal mine yesterday with stretchers of bodies that swelled the death toll to 282— the worst such disaster in Turkish history.
Hopes are fading for 150 others still trapped deep underground in smoldering tunnels filled with toxic gases.
Turkey's four worker unions have called for a nationwide, one-day strike today in protest against the disaster that killed at least 282 people in a coal mine in western Turkey.
Anti-government protests broke out in the mining town of Soma, as well as Istanbul and the capital, Ankara, with Prime Minister Recep Tayyip Erdogan heckled as he tried to show concern.
Protesters shouted "Murderer!" and "Thief!" and Erdogan was forced to seek refuge in a supermarket, surrounded by police.
The display of anger could have significant repercussions for the Turkish leader, who is widely expected to run for president in the August election, although he has yet to announce his candidacy.
In downtown Soma, protesters, most in their teens and 20s, faced off against riot police in front of the ruling NKP party headquarters, smashing its windows with rocks.
"Our prime minister is a dictator," said 16-year-old Melih Atik. "Neither the government nor the company took precautions in the mine, and everyone knows that's why this happened."
Corruption
Erdogan has been dogged by corruption allegations and was forced to oust four government ministers in December after they were implicated in a police bribery probe.
The scandal deepened after audio recordings were posted on the Internet suggesting corruption by the prime minister and his family members. Erdogan denies the allegations and says they are a plot to discredit his government.
In Istanbul, hundreds of demonstrators gathered outside the headquarters of mine owner Soma Komur Isletmeleri A.S. Police used tear gas and water cannon to break up a group who tried to march to the city's iconic Taksim Square to denounce poor safety conditions.
Police also dispersed a group marching to the energy ministry in Ankara to protest the deaths.
Fences were erected and police stood guard outside Soma's hospital, where scores of the injured were being treated. Some residents said the men were being pressured by the mining company not to talk about the blast.
Tensions
Tensions were high as hundreds of relatives and miners jostled outside the mine's entrance Wednesday, waiting for news amid a heavy police presence.
Rows of women wailed uncontrollably and men knelt sobbing or simply stared in disbelief as rescue workers removed body after body, some charred beyond recognition.
One elderly man wearing a prayer cap wailed after he recogniSed one of the dead, and police had to restrain him from climbing into an ambulance with the body. An injured rescue worker who emerged alive was whisked away on a stretcher to the cheers of onlookers.
Energy Minister Taner Yildiz said 787 people were inside the coal mine at the time of Tuesday's explosion: 274 died and 363 were rescued, including scores who were injured.
The death toll topped a 1992 gas explosion that killed 263 workers near Turkey's Black Sea port of Zonguldak. It also left 150 miners still unaccounted for.
Yildiz said rescue workers were trying late Wednesday to reach the bodies of up to 22 people trapped in one zone. Some of the workers were 1,400 feet deep inside the mine, he said.
One rescue worker who declined to be named said he led a 10-man team about a half-mile down into the mine's tunnels, where they recovered three bodies before being forced to flee because of smoke from burning coal. Rescue operations were halted for several hours into Thursday morning because high gas concentrations in the mine needed to be cleared.
The last miner rescued alive emerged from the mine around dawn and the first burials took place yesterday.
Giza Nergiz, a 28-year-old English teacher, said some of the victims had complained about safety at the mine.
#Open journalism No news is bad news Support The Journal

Your contributions will help us continue to deliver the stories that are important to you

Support us now
"We buried three of our high school friends today," she said, walking with her husband Onur Nergiz, a 30-year-old mine administrator.
"A lot of people were complaining about safety, but nobody (in management) was doing anything about it."
Erdogan declared three days of national mourning and postponed a trip to Albania to visit the mine in Soma, 155 miles south of Istanbul. He warned that some radical groups would try to use the disaster to discredit his government.
"Our hope is that, God willing, they will be brought out," Erdogan said of those still trapped. "That is what we are waiting for."
Crying 
Yet his efforts to show compassion — discussing rescue operations with authorities, walking near the mine entrance, trying to comfort two crying women — did not always go over well.
At a news conference, he tried to deflect a question about who was responsible for the disaster, saying:
"These types of things in mines happen all the time."
"These are ordinary things. There is a thing in literature called 'work accident'… It happens in other work places, too," Erdogan said. "It happened here. It's in its nature. It's not possible for there to be no accidents in mines. Of course we were deeply pained by the extent here."
Authorities have said the disaster followed an explosion and fire at a power distribution unit and most deaths were caused by carbon monoxide poisoning.
Erdogan promised the tragedy would be investigated to its "smallest detail" and that "no negligence will be ignored."