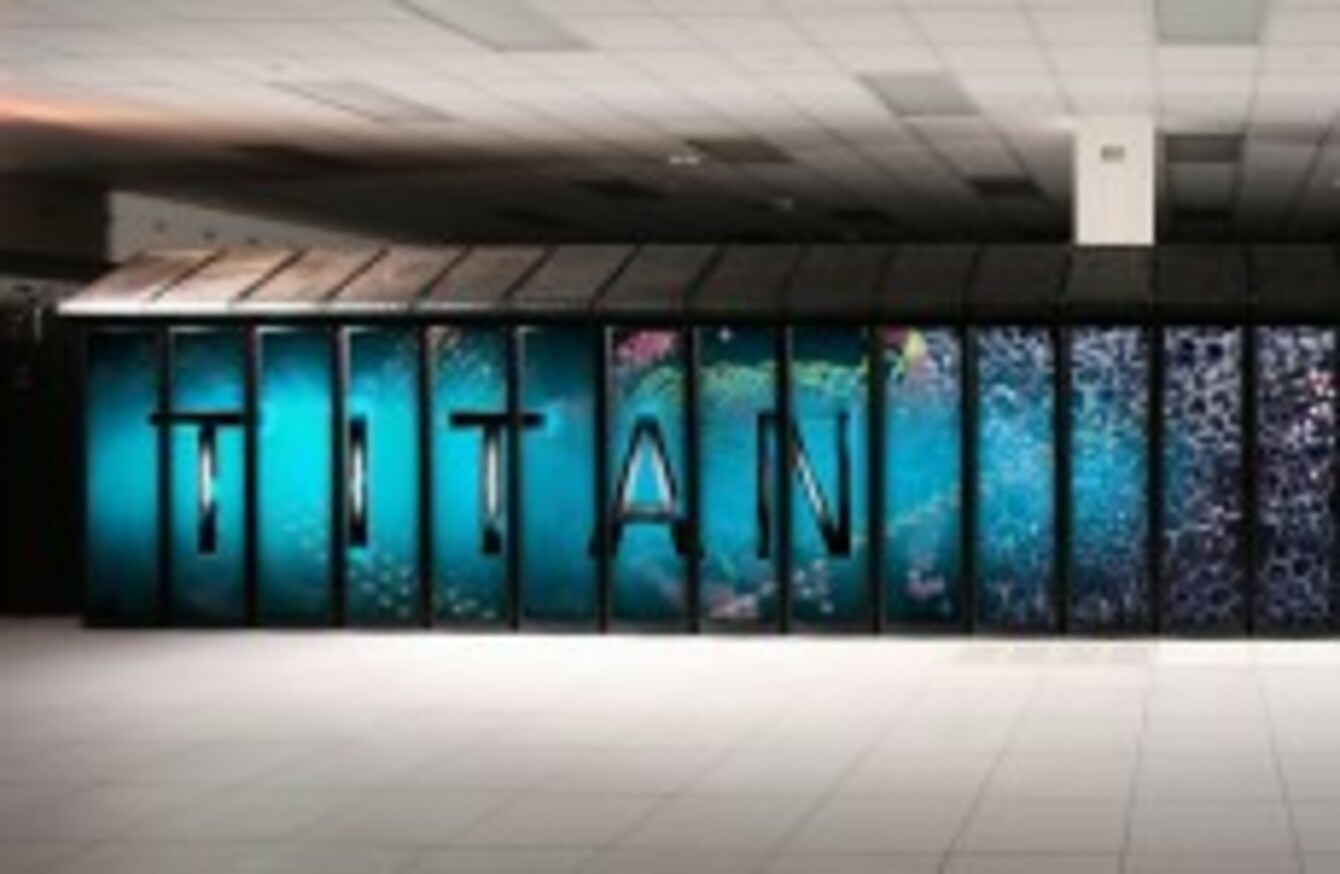 Image: Wikimedia Commons
Image: Wikimedia Commons
SPEED IS EVERYTHING these days when it come to the latest computer or smartphone, but the supercomputers that do the world's craziest calculations will always put our dinky consumer electronics to shame.
These supercomputers are incredibly powerful, made up of giant microframes linking tens of thousands of processors to achieve impressive computing speeds, measured in petaflops (which is fun to say out loud, if nothing else).
One petaflop equals one quadrillion calculations per second. For comparison, that's more than 12,000 times faster than your average MacBook Pro.
So let's have a look at the ten fastest supercomuters and see how they shape up…
In 10th place – Darpa Trial Subset
Speed: 1.52 petaflops
Country: United States
IBM's DARPA Trial Subset machine is new to the Top 10 list. It was No. 23 when it was ranked in June.
In 9th place – Fermi
Speed: 1.73 petaflops
Country: Italy
Date created: 2012
The Fermi supercomputer is owned by Cineca, Italy's computing consortium of 54 universities. It can be found on the Western outskirts of the Italian city of Bologna. Research performed on Fermi will contribute to advances in sustainable energy, transportation, climate change, and health.
In 8th place – Tianhe-1A
(Image: NVIDIA)
Speed: 2.56 petaflops per second
Country: China
Located at the National Supercomputing Center in Tianjin and is used to carry out research in petroleum exploration, solar energy, and perform aircraft simulation. China is currently developing the Tianhe-2 that they claim could hit a speed of 100 petaflops per second by 2015.
In 7th place – Stampede
(Image: University of Texas at Austin)
Speed: 2.6 petaflops
Date created: 2012
Country: United States
Stampede, a new addition to the Top 10, is installed at the Texas Advanced Computing Center at the University of Texas in Austin.
In 6th place – SuperMUC
(Image: IBM)
Speed: 2.89 petaflops
Country: Germany
Date created: 2012
The Leibniz Supercomputing Center in Germany runs the SuperMUC super computer, which is working on science projects in three disciplines including astrophysics; engineering and energy; and chemistry and materials.
In 5th place – JUQUEEN
Speed: 1.38 petaflops
Date created: 2012
The Jülich Research Centre in Germany is home to the JuQUEEN, which is used for computational science, engineering, climatology, physics, and materials science. Ranked No. 8 in June, JUQEEN was upgraded and is now the most powerful system in Europe.
In 4th place – Mira
(Image: Argonne National Laboratory)
Speed: 8.16 petaflops per second
Country: United States
Date created: 2011
The US Department of Energy's Argonne National Laboratory uses the Mira supercomputer to explore climate change, design more efficient electric-car batteries, and look at the evolution of the universe.
In 3rd place – K computer
#Open journalism No news is bad news Support The Journal

Your contributions will help us continue to deliver the stories that are important to you

Support us now
(Image: Fujitsu)
Speed: 10.51 petaflops per second
Country: Japan
Date created: 2011
Located at the Riken Advanced Institute for Computational Science in Kobe, Japan, this supercomputer researches disaster prevention, climate change, and meteorology
In 2nd place – Sequoia
(Image: Bob Hirschfeld/LLNL)
Speed: 16.32 petaflops per second
Country: United States
Date created: 2012
The US Department of Energy's Lawrence Livermore National Laboratory supercomputer, Sequoia, simulates nuclear weapons tests so they no longer have to be conducted in reality. The system also makes sure America's nuclear weapons are secure and ready to launch at a anytime.
And the fastest supercomputer is… Titan
(Image: Wikimedia Commons)
Speed: 17.59 petaflops
Country: United States
Date created: 2012
The US Department of Energy's Oak Ridge National Laboratory loaded supercomputer Jaguar (previously ranked #6 in June 2012) with NVIDIA Telsa K20 GPUs to add more computing power. Now named Titan, this supercomputer will be 10 times more powerful than its predecessor. Titan will use its extraordinary computing power for study alternative and efficient energy, efficient engines, climate change, and identifying new materials.
- Randy Astaiza and Dina Spector.