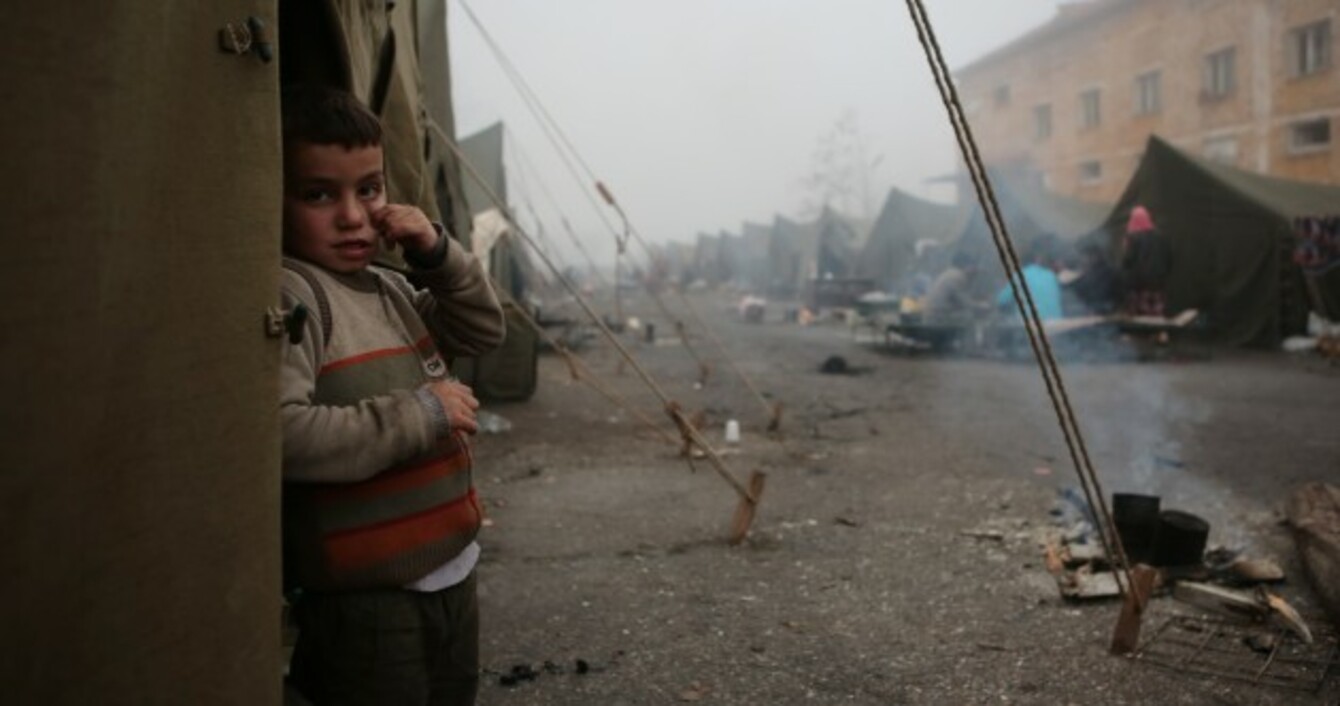 5-yrea-old Mohamed Abdo, from Hasaka, Syria, stands in front of unheated tent at the Harmanli camp
Image: Valentina Petrova/AP/Press Association Images
5-yrea-old Mohamed Abdo, from Hasaka, Syria, stands in front of unheated tent at the Harmanli camp
Image: Valentina Petrova/AP/Press Association Images
AS THE FIRST winter snows fell on Bulgaria this week, thousands of refugees crammed into makeshift camps — many of them Syrians fleeing fighting in their country — are rueing that Europe is not the haven they had hoped.
"If they keep us living in this tent in the snow, I'd rather go back to the war," Abd Al Jalil Bonja fumed at the Harmanli refugee camp in southeastern Bulgaria.
"We thought Bulgaria was the European Union, a normal country like Germany, France, Italy," he complained to AFP as his wife and four children huddled around a stove in a leaking military tent they shared with another family of five.
"If we knew what we would find, we never would have come here."
Over 11,100 refugees, most of them Syrians, have entered Bulgaria illegally this year, crossing the porous 274-kilometre border with Turkey.
That may be a drop in the ocean compared to the two million refugees sheltering in Syria's neighbouring countries, but they are overwhelming the European Union's poorest nation.
Bulgaria's three refugee facilities were quickly overfilled. Authorities hastily opened four more shelters in dilapidated former schools or deserted army camps, like the one in Harmanli, where 1,254 Syrian and Afghan refugees are registered.
On an AFP visit of the Harmanli camp, thick black smoke from improvised stoves filled the area, as children waded barefoot in freezing puddles and their mothers cooked on open fires outside rows of khaki tents and metal containers.
Coughing could be heard everywhere. Many complained about not being able to get simple medicine or proper treatment for chronic illnesses.
The camp's inhabitants are not allowed to leave except to buy food, which is not provided by the cash-strapped Bulgarian government. They are given no money either, forking out whatever they still have to pay for bread and potatoes, the cheapest foods available.
Samia Juju, 26, holds her baby seven-month-old baby Lavan at the Harmanli camp [Valentina Petrova/AP/Press Association Images]
Bulgaria is taking urgent measures to stem the flow.
Hundreds of extra soldiers and police, equipped with thermal imaging cameras, have been deployed to stop migrants bypassing border posts.
Defence Minister Angel Naydenov said the extra patrols had already cut the number of asylum-seekers making it through.
Also planned is the construction of a three-metre high fence with razor-wire coils along 33 kilometres of the border.
"I have absolute confidence that we will manage to contain the refugee crisis in all its aspects," Interior Minister Tsvetlin Yovchev told reporters near the border area.
Yovchev, who is also deputy prime minister, said refugee claim processing would be sped up, the capacity of the crammed shelters would be increased, and immigrants deemed to have arrived for purely economic reasons would be more quickly deported.
[Valentina Petrova/AP/Press Association Images]
Amnesty International and Doctors Without Borders last week slammed the conditions at Harmanli as "inhumane" and "appalling".
#Open journalism No news is bad news Support The Journal

Your contributions will help us continue to deliver the stories that are important to you

Support us now
The government reacted by stepping up preparations to move people from tents into adjacent dilapidated buildings under repairs.
But the inhabitants, forced to share just a few toilets and to strip wood from the buildings to make fires for heat, are in despair.
"Animals live better than us. But what is worse is that we are forgotten here without any hope," said Abdul Alghni, 35, who used to be a lawyer in the Syrian city of Aleppo.
He fled to seek a new life for his wife and two small children but complained of being trapped in a limbo without money and without an idea when and if they could have their refugee status claims processed.
"Everybody here wants documents so they can leave," he said.
"I don't want to stay here. I want to go to Germany where I have a brother," 32-year-old Siawash Askary from Herat in Afghanistan agreed, hugging his sleeping two-month-old baby boy.
"We understand that the government here is very poor. What we don't understand is why they don't tell us 'Look, we are poor, we can't help you'," said Jamil.
"Give us the (asylum status) documents and send us to Europe, or even send us back to Turkey," he appealed.