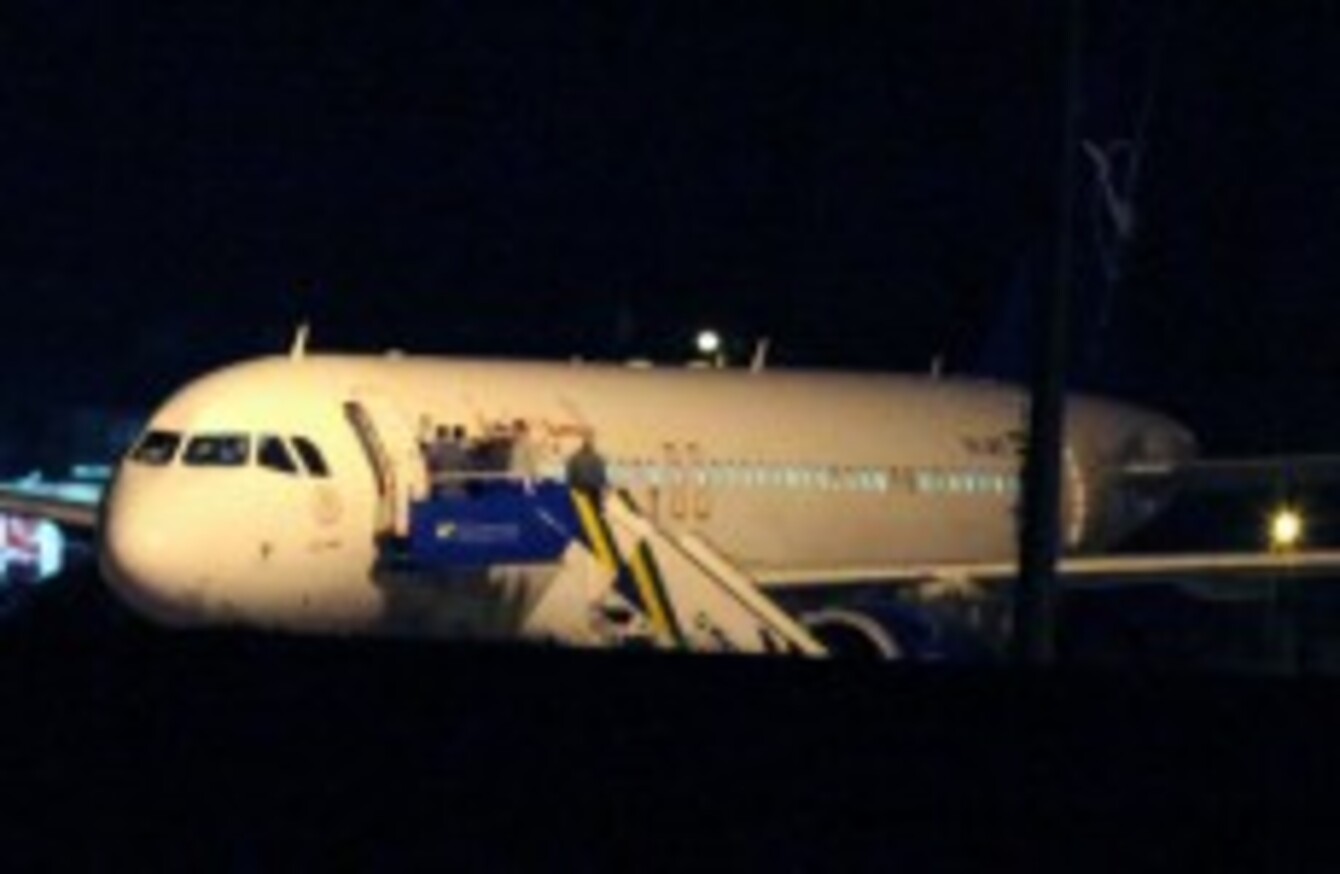 Image: Burhan Ozbilici/AP/Press Association Images
Image: Burhan Ozbilici/AP/Press Association Images
TURKEY FORCED A Syrian passenger plane from Moscow to land in Ankara, reportedly suspecting it was carrying weapons, adding to tensions between the two neighbours and prompting a Russian demand for answers.
Foreign Minister Ahmet Davutoglu said Turkey seized "objectionable cargo" from the the plane which it intercepted en route from Moscow to Damascus on Wednesday.
Anatolia news agency quoted officials as saying they suspected the aircraft was carrying arms.
"There is illegal cargo on the plane that should have been reported" in line with civil aviation regulations, Davutoglu was quoted as saying by Anatolia.
"There are elements on board that can be considered objectionable," he said, adding that Turkey would hold on to the cargo for further investigation but declining to elaborate on the contents.
Tensions
Tensions have been running high between Ankara and Damascus since the eruption of the conflict in Syria and were inflamed after a series of shell strikes from Syria on Turkish soil, including one attack that left five civilians dead last week.
Ankara scrambled two jets to force the Airbus A-320 plane to land in Ankara on suspicion that was carrying weapons and ammunition.
The confiscated cargo was believed to be missile parts, NTV news channel reported, while state-run TRT speculated it could be communications equipment headed for Damascus.
The plane was allowed to leave at 11.30 GMT, nine hours after it was intercepted, with all of its 35 passengers on board, Anatolia said.
Seventeen of them were Russian nationals, including children, according to Russia's Interfax news agency, citing a foreign ministry source.
The Russian embassy in Ankara has already contacted the government, demanding an explanation on the circumstances of the forced landing, according to the Interfax source.
But Davutoglu said "the incident would not affect Turkish-Russian relations at this point".
Searches
Earlier this month, Iraq stopped and searched a Syria-bound Iranian cargo plane but allowed it to continue as no prohibited items were found.
And in June, Britain forced a Russian cargo vessel allegedly carrying attack helicopters and missiles for Syria to turn back.
Following the forced landing, Ankara warned Turkish airline companies against using Syrian airspace to avoid a possible retaliation from Damascus, NTV said.
The warning briefly interrupted Turkish air traffic, with Turkish planes changing routes to avoid Syrian skies.
The Turkish army had warned earlier Wednesday of a stronger response if Syrian shells continued to land on Turkish soil, after parliament agreed to give the government a mandate to authorise cross-border operations where necessary.
"We have retaliated (for Syrian shelling) and if it continues, we'll respond more strongly," the head of Turkey's armed forces, General Necdet Ozel, said in Akcakale.
Prime Minister Recep Tayyip Erdogan has also warned Damascus not to test the patience of the NATO member state and vowed Ankara would not tolerate such acts on its soil.