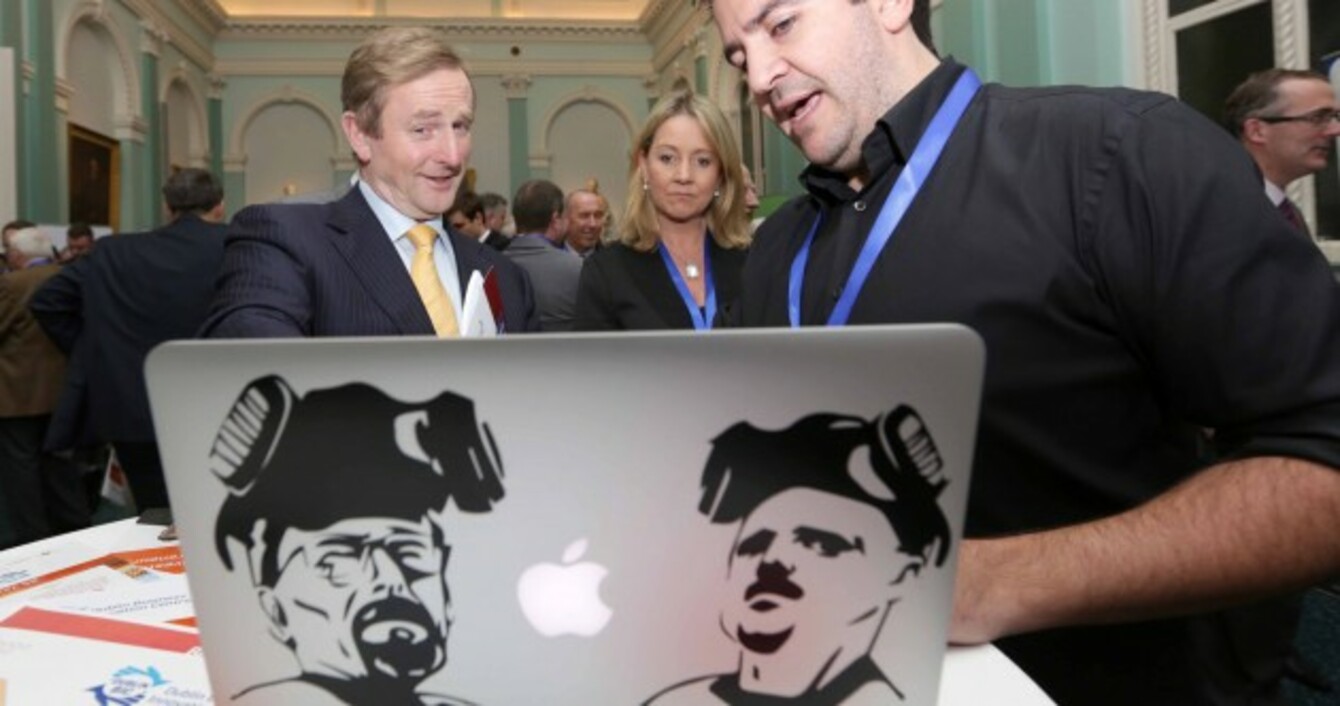 Enda Kenny appeared to see something rather odd on this Breaking Bad-themed MacBook during the week.
Image: Laura Hutton/Photocall Ireland
Enda Kenny appeared to see something rather odd on this Breaking Bad-themed MacBook during the week.
Image: Laura Hutton/Photocall Ireland
EVERY WEEK, TheJournal.ie casts its eye over events inside and outside Leinster House that have got people talking.
As the saying goes: 'You win some, you lose some.'
So here are our winners and losers from the past seven days:
The 5 winners of the week are…
1. Luke Ming Flanagan
As he said himself this week, the number of TDs who have made public their support for cannabis legalisation in Ireland has gone from one to eight as that number of independent TDs, including Ming, supported his motion to legalise the drug.
The debate heard interesting views from government backbenchers, some of whom spoke in support of addressing the criminal sanctions, but ultimately the party whip saw them fall into line.
Still, it was a debate worth having and it will surely prompt more. Credit to the much-maligned Ming for bringing it before our parliament.

2. The Government
As the Troika concluded its final bailout review, the government has spent a bit of time this week talking about the departure of our foreign overlords.
"Red-letter day" and "historic" were all terms used by ministers and it's to be expected that they take a bit of credit and make a bit of hay out of the fact we're waving goodbye to our paymasters.
It is significant that the EU and IMF inspectors no longer have to assess our economic progress. But the reality is that they will be here for "a number of years" and we'll be paying back the IMF for another ten years as well as all our other loans.
3. Labour
The party has secured a commitment to hold a referendum on same-sex marriage in 2015 and a poll this week showed that 96 per cent of their supporters are in favour of it.
Given the battering the junior coalition partner has taken this, with X Case legislation, is another significant win on the social issues. It's just a pity for them that all of the budget measures in the last three years have heavily eroded its support.
4. Leo Varadkar
We've an increasing amount of time for the Transport Minister's Twitter activity. He is probably the only government minister who brings both of humour and substance to his tweets. Two cases in point:
Click here if you are having trouble viewing these tweets
5. Darren Scully
The former mayor of Naas has been readmitted to the party over 18 months after he was kicked out for saying he would not represent black Africans in his constituency.
"What he did was wrong. He has paid the price. Everyone deserves the chance to redeem themselves," Fine Gael general secretary Tom Curran told KFM. Could those words be true for others who have been expelled from the party's parliamentary ranks in recent months?
… and the 6 losers of the week are…
1. Sinn Féin and Gerry Adams
Whether intended or not Sinn Féin's revelation about having new recordings from Anglo Irish Bank has been seen as an attempt to distract from the new claims its party leader is facing about his alleged involvement in the disappearing of Jean McConville.
Pearse Doherty's interesting choice of words about Adams's alleged IRA past underlines the fact that questions raised by last Monday's programme about 'The Disappeared' will not go away. There's a growing view that Adams is becoming a liability for Sinn Féin. He dismissed that in an interview with this website last March.

But how might he answer that question now given the events surrounding him in recent weeks?
2. James Reilly
A lot has been happening this week meaning the letter that four hospital CEOs sent to the HSE expressing concerns about cuts was not as prominent as it might have been another week. But there's no doubt it feeds into concerns about problems facing the health service next year. Add to that the  concerns expressed by the Troika on its final review this week and the man at the top of that has not and will not escape scrutiny. This is one that's going to run and run.
3. Rob Ford
It's simple really. You shouldn't smoke crack cocaine because it's not very good for you and it is illegal.
But you definitely shouldn't smoke crack cocaine if you are the mayor of a major city because it's probably going to get you into a bit of trouble.
You also should be not be caught on video being 'very, very inebriated' and talking about wanting to "kill" and "murder" someone:

4. Phil Hogan
Having taken dog's abuse for the household charge, among other things, last year, 2013 has been relatively quiet for Big Phil, but this week he was labelled 'arrogant' by Letterkenny town councillors.
The Minister is likely to face much criticism from local representatives in the months ahead as the Local Government Bill – which scraps town councils and reduces the number of councillors – works its way through ahead of local elections next year.
5. Fine Gael
Two things make this a bad week for the party. The readmission of Darren Scully has drawn heavy criticism from some quarters and will raise questions given what others have been expelled for in recent months.
And the Red C/Paddy Power poll showed its support fall by four points, not an insignificant drop which, if applied to Labour, would have caused consternation. As it was the junior coalition party remains stable at 9 per cent indicating, perhaps, that the Budget was better for them than it was for Fine Gael.
6. Friday sittings
This was the Dáil chamber for much of the four hours it sat on Friday. It's good that TDs are sitting for longer, but what use is it when many of them are not in the chamber listening and participating in the debate?