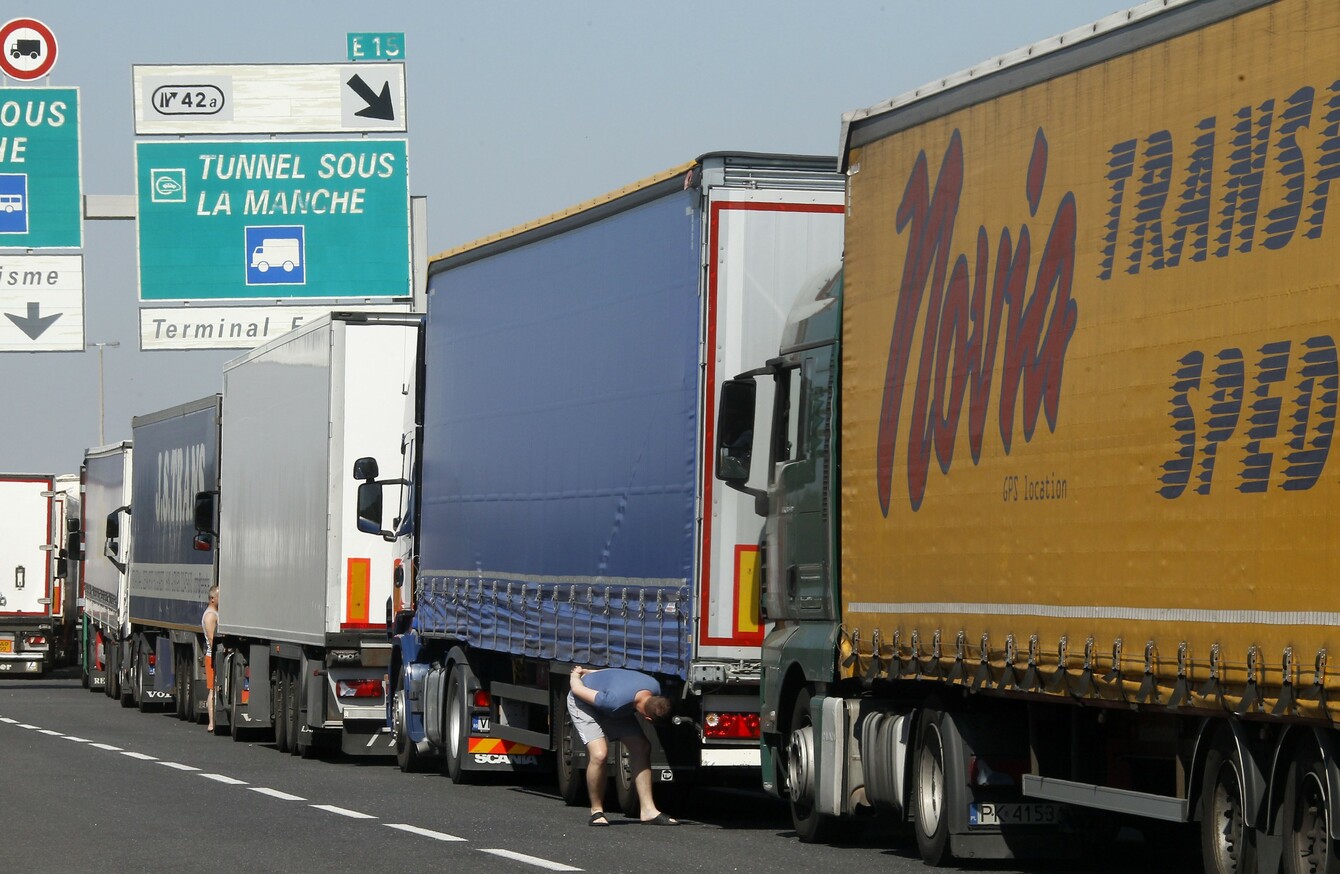 Image: Michel Spingler/AP
Image: Michel Spingler/AP
IRISH TRUCK DRIVERS are continuing to experience problems with migrants in France attempting to gain access to and hide inside their trailers.
French police will be moving in to once again this week tear down the 'Jungle' refugee camp and Verona Murphy, President of the Irish Road Hauliers' Association (IRHA), said this means there has been an increased police presence in the last few days.
However, this did not deter a group of migrants from cutting into the side of an Irish driver's curtain trailer yesterday.
"Drivers are instructed to be vigilant at all times to ensure their own protection and the protection of their property, but it happens."
She expressed particular concern about five people who were found in a container in New Ross, Co Wexford at the weekend – including a three-year-old child.
"In a container like that there would be problem with oxygen, there may not be enough, they could be dead," she said.
"That's everybody's fear. It would be of utmost concern to both the haulier and the driver – nobody would want that on their conscience."
She also pointed out that the container the five Kurdish people stowed away in had passed through two border checks – one in France and one in Wexford – and they were only discovered when the truck driver transporting the trailer heard noises and opened it up.
"In the UK, if that had happened, they would be looking at a €10,000 fine," Murphy said. "What's happening is that the French authorities are saying there is no one in the trailer and you travel a small distance to the UK authorities who fine you. The haulier and the driver get a fine and there are no penalties for the French authorities who didn't catch it in the firstplace."
In the same vein, if people were found dead and both authorities missed them, would they be brought up for murder?
Murphy said her organisation would "strenuously oppose" any plans to bring in similar fines for drivers arriving in Irish ports who are found to have people hiding inside their trailers.