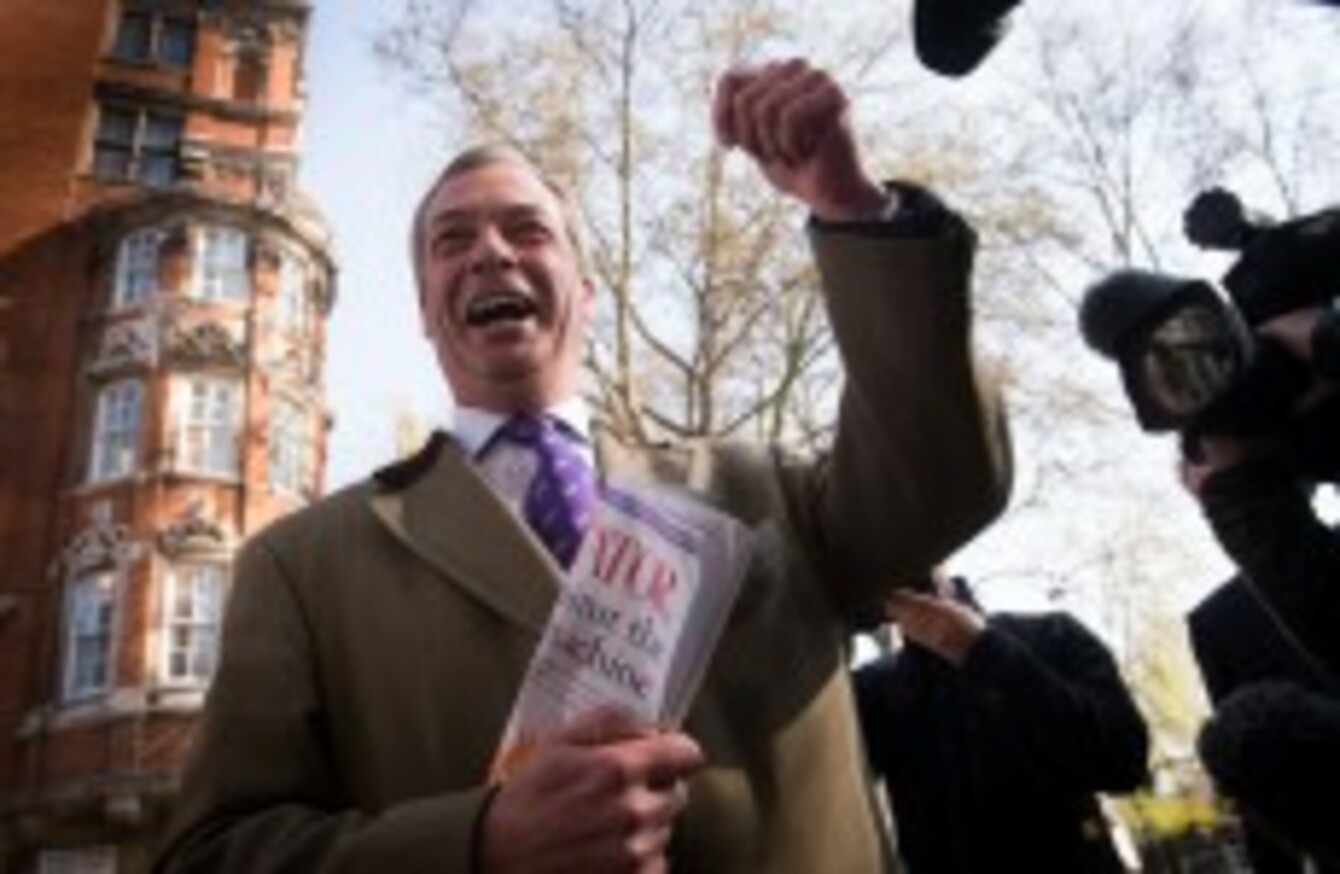 UKIP leader Nigel Farage arrives in Westminster this morning
Image: Stefan Rousseau/PA Wire
UKIP leader Nigel Farage arrives in Westminster this morning
Image: Stefan Rousseau/PA Wire
THE ANTI-IMMIGRATION UK Independence Party (UKIP) is celebrating some of its best ever results today following local elections which delivered a bloody nose to Britain's ruling coalition.
UKIP leader Nigel Farage said his eurosceptic party could no longer be dismissed as a protest movement after winning an average of 26 per cent of the vote with a fifth of the results declared.
Of the 42 council seats it won in the first seven local authorities to produce results, three-quarters were taken from Prime Minister David Cameron's Conservatives, who were also pushed into third place by UKIP in a parliamentary by-election.
"We have always done well in European elections, but people haven't seen us as being relevant to local elections or, in some ways, general elections," Farage said.
"So for us to be scoring, on average, 26 perc ent of the vote where we stand is, I think, very significant indeed."
He added:
This is a real sea-change in British politics.
UKIP still does not have a single member of parliament and will struggle to translate its local election success into victory at the 2015 national election.
But it is a huge boost to a party once famously described by Cameron as full of "fruitcakes, loonies and closet racists", and bodes well for its prospects in European Parliament elections next year.
Elections were held on Thursday in 34 councils in England and another in Wales, with more than 2,300 seats up for grabs, as well as in South Shields, a northeastern parliamentary seat.
Cameron's Tories and their junior Liberal Democrat coalition partners were braced for losses from the mid-term vote, which is often used by voters to hammer ruling parties, particularly in times of economic difficulty.
But the result in the by-election in South Shields, sparked by the resignation of former Labour foreign secretary David Miliband, was an embarrassment.
The opposition Labour party held the seat, although its majority was almost halved, and UKIP came second with 24 per cent of the vote. The Tories came in third and the Lib Dems were humiliated in seventh place, with just 352 votes.
Tory party chairman Grant Shapps admitted: "It hasn't been a great night for any of the mainstream parties" — particularly the Conservatives which are set to lose hundreds of seats overall.
"People have sent a message — we get it. We hear what people are saying," he told ITV television.
People are concerned that we get on with the big issues facing hard-working people in this country, like fixing the economy, sorting out the welfare system, helping hard-working people to get on.
Created to campaign against the European Union, UKIP has picked up support from socially conservative voters, many of them older people disillusioned by the mainstream parties, particularly with their failure to control immigration.
#Open journalism No news is bad news Support The Journal

Your contributions will help us continue to deliver the stories that are important to you

Support us now
Increased political scrutiny
UKIP's success comes despite — or perhaps because of — increased scrutiny in the press ahead of the elections.
Several UKIP candidates were exposed as having far-right views, but the Conservatives were also left struggling to form a coherent response to the new threat to their right flank.
One of Cameron's cabinet ministers, Ken Clarke, branded them "clowns" but London mayor Boris Johnson warned that "ill-advised insults" risked driving voters away.
In a move seen as an attempt to claw back Tory support, Cameron indicated on Wednesday that he may bring forward legislation on holding a referendum on Britain's membership of the EU.
He had previously said the commitment to hold an in-out vote – itself widely viewed as a response to UKIP's rise – would not be put into law until after the general election in 2015.
However, Rob Ford, an expert in UKIP at the University of Manchester, warned that Europe was not the main issue driving the party's success — and Cameron must take note.
"UKIP success is today being driven by domestic issues, especially immigration, not the EU. Offering a tougher line on Europe is not the solution," he said.