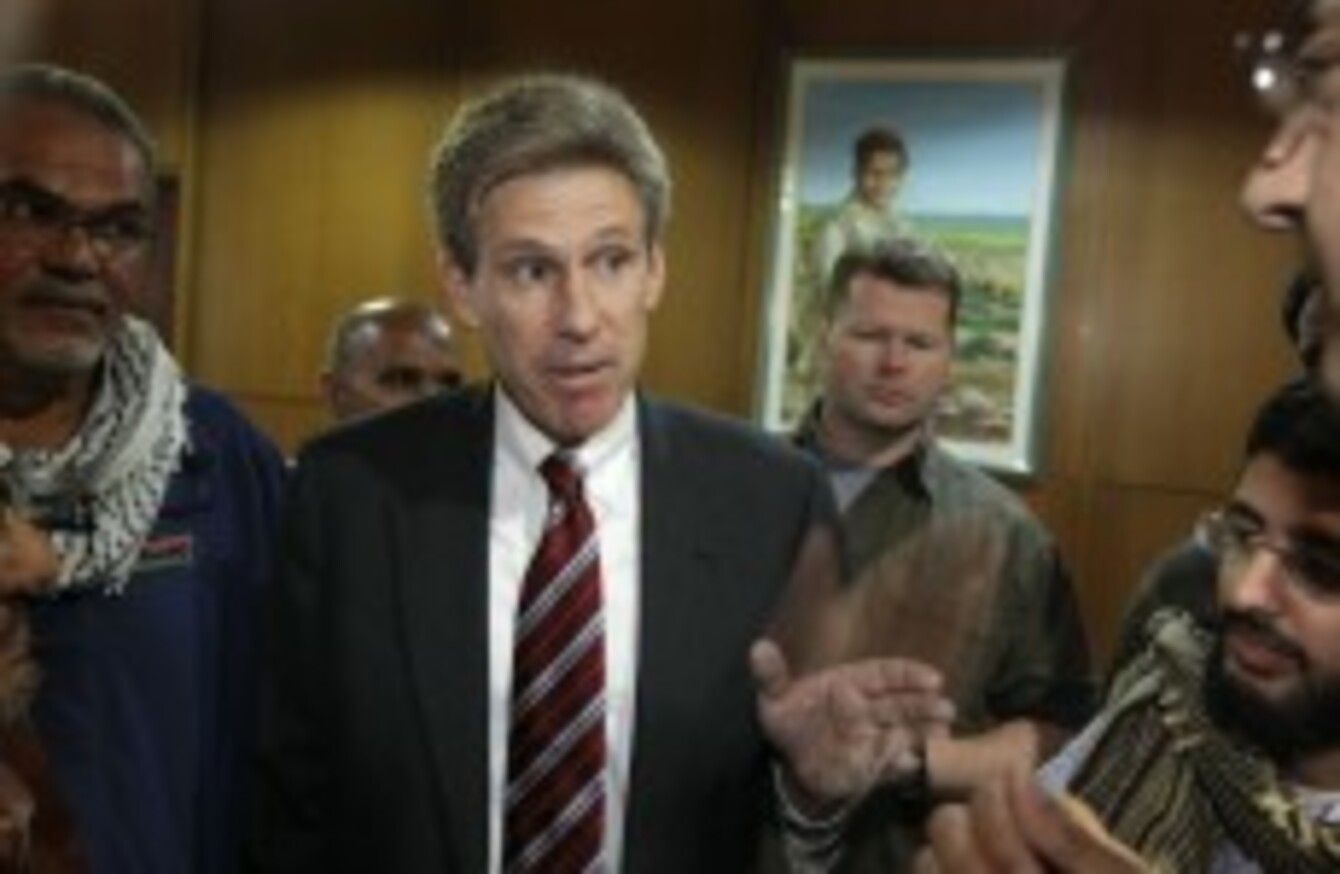 US ambassador to Libya Chris Stevens pictured in April 2011
Image: AP Photo/Ben Curtis
US ambassador to Libya Chris Stevens pictured in April 2011
Image: AP Photo/Ben Curtis
THE US AMBASSADOR to Libya is reported to have been killed in an attack on the US consulate in Benghazi.
AFP reports Libyan authorities have confirmed that Christopher Stevens was killed, along with three officials from the consulate.
An armed mob attacked the embassy on Tuesday night, hours after Islamist protesters had stormed the US embassy in Cairo. Both of the protests were over a film made by an Israeli-American which describes Islam as a "cancer" and depicts Mohammed sleeping with women.
A report by Al-Jazeera says that the ambassador died from smoke inhalation during the attack along with two US security personnel who were with him.
Libya's deputy Prime Minister Mustafa Abushagur condemned the attacks and said Christopher Stevens had been a "friend of Libya".
The bodies of the dead were brought to Benghazi international airport to be flown to Tripoli and then onwards to a major US airbase in Germany, Al Jazeera reports.
Stevens had been in Libya for less than four months. He had taken up his post in Tripoli in May.
US Secretary of State Hillary Clinton did not name the official who had died but said she condemned "in the strongest terms" the attack on the mission in Benghazi.
She called on Libyan president Mohammed al-Magariaf to mobilise support to prevent further deaths of Americans in Libya.
"Some have sought to justify this vicious behaviour as a response to inflammatory material posted on the internet," Clinton said in a statement.
The United States deplores any intentional effort to denigrate the religious beliefs of others. Our commitment to religious tolerance goes back to the very beginning of our nation. But let me be clear: There is never any justification for violent acts of this kind.
British foreign secretary William Hague said there was "no justification" for the attack and urged Libyan authorities to take urgent action.
In May of this year the US embassy in Tripoli produced this video about Chris Stevens and his work in Libya:

(Video: USEmbassyTripoli/YouTube)