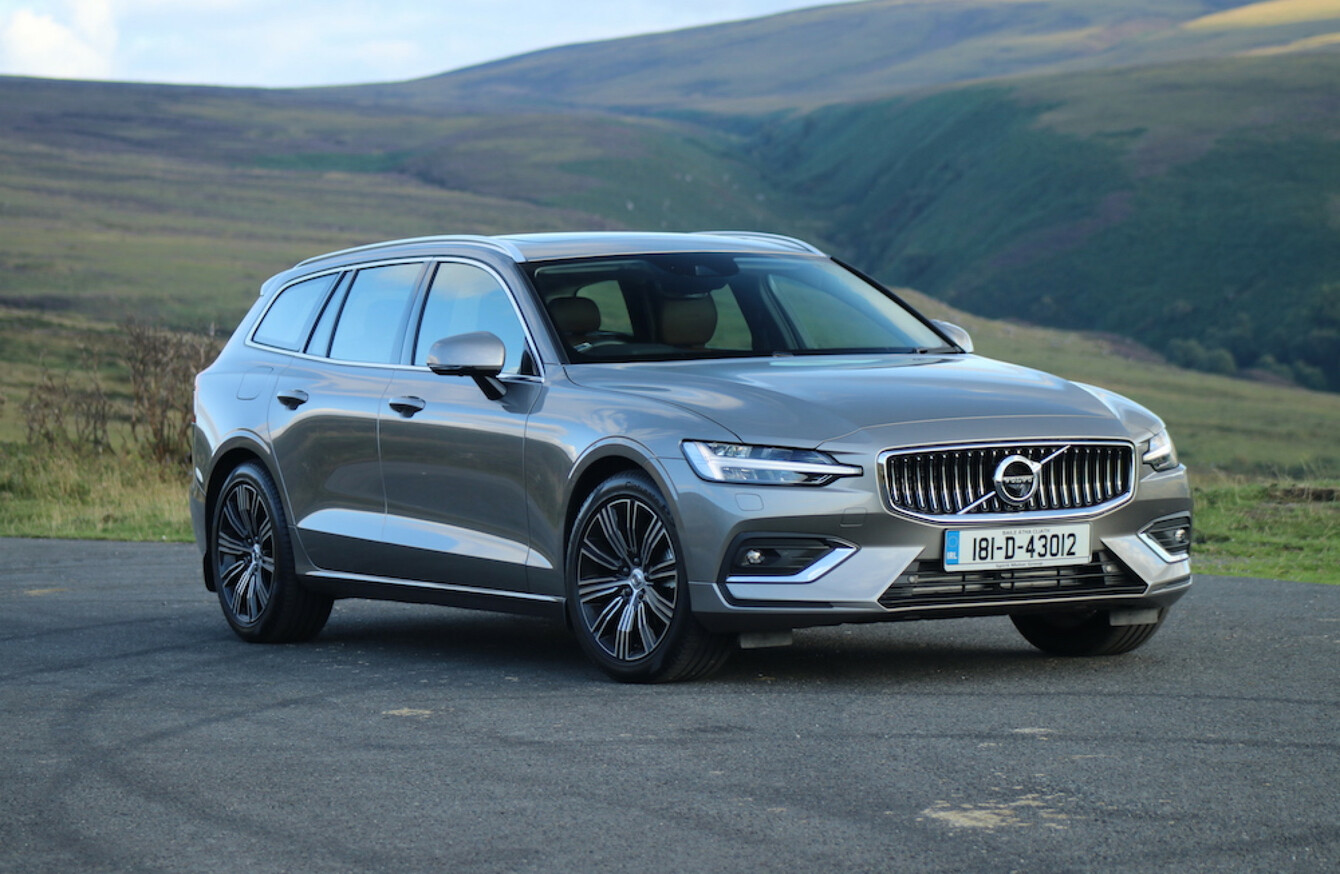 Image: Dave Humphreys
Image: Dave Humphreys
THIS IS THE Volvo V60 estate. It is the Swedish alternative to the Audi A4 Avant, BMW 3 Series Touring and Mercedes-Benz C-Class Estate.
If you have a family, it is one of the most sensible cars you can buy, but just because it is sensible don't for one second think it isn't sexy and desirable too. This car is dripping in cool tech, safety features and luxurious touches. It is going to up the kerb appeal of any driveway in which it is parked.
Let's get the price out of the way first. The Volvo V60 starts at €40,750 for entry-level Momentum trim. It will cost you from €46,489 to get into a mid-spec Inscription model and you'll need at least €46,434 to get your hands on the sport R-Design model.
The entry-level A4 Avant can be had from €39,180, the 3 Series Touring can be had from €44,008 and the C-Class Estate costs from €37,330.
In terms of looks, I think the V60 is classy and stylish with some lovely design elements like those Thor's Hammer front lights, countersunk grille and big C-shaped tail-lights that wrap around the rear window. It looks very modern and trumps its rivals in the style stakes.
That same classy yet modern feel continues in the cabin which is bathed in light and features elegant wood and metal finishes. Volvo is nailing the interior design recently and the cabin feels expensive and luxurious – but it should do for that asking price.
The 12.3-inch TFT digital instrument pack is beautifully crisp and easy to read and the big nine-inch 'Sensus' central touchscreen is intuitive and one of the best systems I have used. There aren't loads of menus to swipe through and there isn't any lag.
The seats are like designer armchairs, comfortable and supportive and perfect for long journeys and there is plenty of adjustment to find a comfortable and safe driving position. Visibility is also good put for added peace of mind there is rear park assist as standard on Momentum models. Or you can opt for a really great reversing camera with big, bright, high-def display.
As this is an estate, the boot is a massive selling point, and the Volvo V60′s boot has a capacity of 529 litres with the seats up and 1,441 litres with the seats down. Compared to its rivals the Audi can hold (505-1,510 litres) and the BMW (495-1,500 litres) and the Mercedes (440-1,460 litres). The boot of the Volvo is a really good practical shape and comes with under floor storage and hand hooks and compartments as well as a power operated tailgate – very handy when your hands are full.
If there's one word that sums up how the V60 performs on the road, it's refined. True, I was driving the V60 in its highest 'Inscription' specification, and while it may have all the trimmings, it's the diesel engine and chassis that made the biggest impression on me.
The Volvo's 2.0-litre turbocharged four-cylinder diesel engine provides ample torque lower down the rev range. It rarely feels like it has to work that hard and that translates into how nicely it drives. On the motorway it comfortably cruises along, and when you toggle into the Eco mode via the knurled Drive Select switch, it can then coast along when you lift off the throttle, freewheeling to conserve fuel. It's quick to react however, swiftly reengaging drive as soon as you touch the throttle.
At slower speeds the automatic transmission shifts through gears smoothly and without fuss, thus enhancing that sense of refinement. Even for a mid-size estate car you never sense that the V60 is big. Negotiating tight car parks is easy and around town the car feels agile. Steering is equally sweet, and easily rivals that of the Mercedes-Benz C-Class and BMW 3 Series.
Overall, I am very impressed with the Volvo V60. It is spacious, luxurious and good to drive. It is gorgeous to look at with an elegant, contemporary cabin that is well screwed together and made with high-quality materials. Current Volvo cabins are one of my favourite.
In terms of safety, well, it's a Volvo so it is equipped with a lot of safety kit as standard designed to keep you, your precious cargo and other road users safe. All cars come with Driver Alert Control with Lane Keeping Aid, Run Off Road Mitigation, Oncoming Lane Mitigation and Road Sign Information as well as Front Collision Warning with Full Auto Brake.
In terms of rivals, the V60 is far more interesting inside and out than the Audi A4 Avant and the BMW 3 Series Touring. It's also just that bit sweeter to drive than the Audi too. In terms of dynamics, it holds its own against the BMW and Mercedes. It is a close call between the Merc and the Volvo in terms of cabin styling, but for me the Volvo wins and it would be my pick of the bunch. You get a lot of kit for your money and the safety aspect is impressive as is the quality, comfort and design.
Want to make sure you don't miss out on anything going on in the world of motors? Like us on Facebook and and follow us on Twitter for the latest updates.