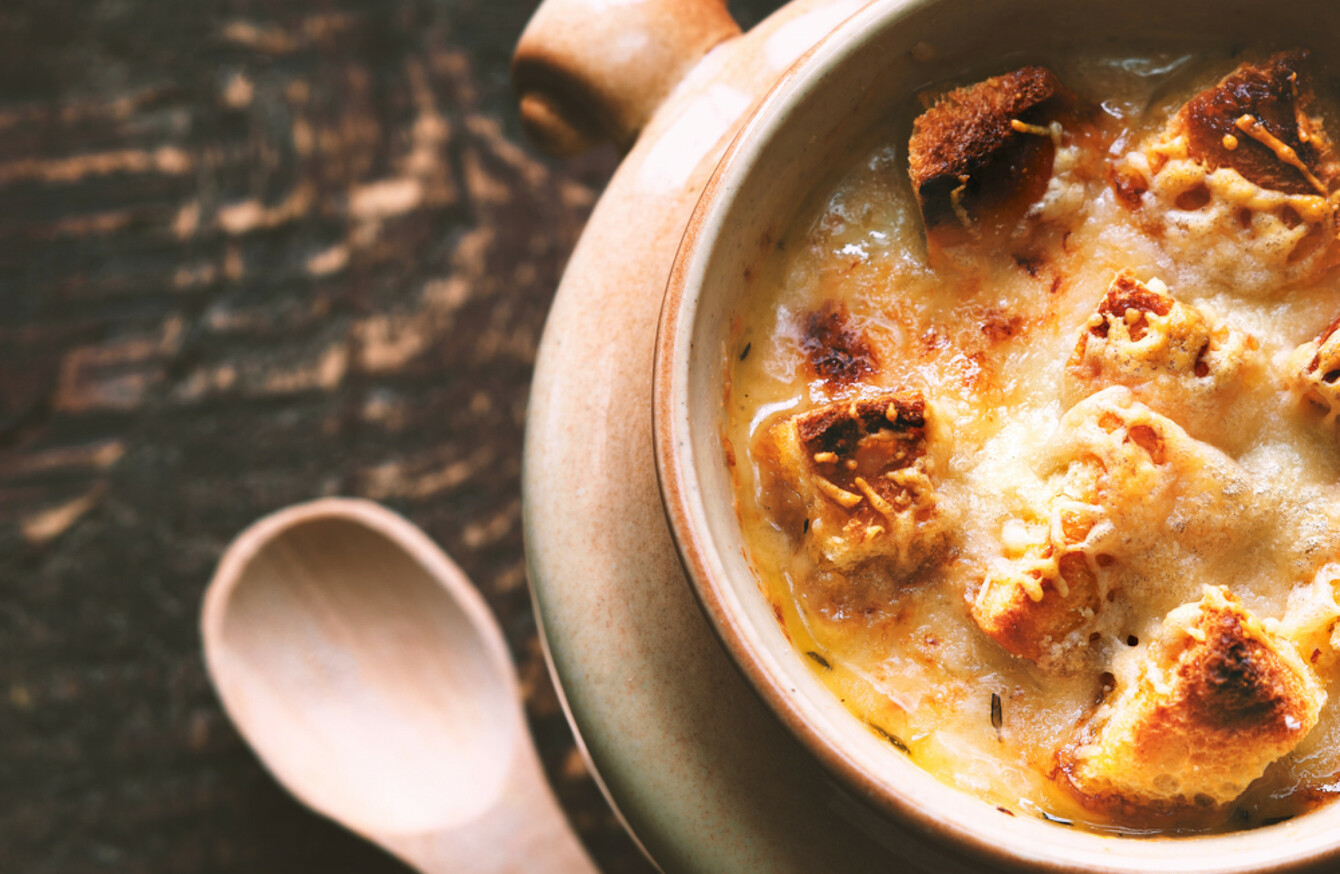 Image: Shutterstock/Karpenkov Denis
Image: Shutterstock/Karpenkov Denis
MOST RECIPES INCLUDE an onion or two, and for this reason we can often be left with quite a few onions left over.
While they might not seem like the most glamorous of ingredients, onions are very versatile and can be transformed into many a delicious meal; whether it's adding some bite to a salad or sweetness to a slow-cooked casserole.
There are also a wide variation of onion types out there, from shallots to scallions to the more generic white onion. Regardless of the type of onion used, onions are essential for adding a deep flavour to many dishes. Here are our favourites.
French onion soup: A deeply satisfying meal, French onion soup is relatively straightforward to make. The key is all in the quality of the beef stock used, so make sure it's a good one!
Fry a kilo of sliced onions in some butter for about 10 minutes until soft, then add some sugar and cook for a further 15 minutes until caramelised. Mix in two cloves of crushed garlic, a spoonful of flour, a dash of white wine, and just over a pint of beef stock and simmer for 20 minutes.
To serve, ladle the soup into ovenproof bowls and top with some sliced toast and grated cheese. Grill until the cheese melts and enjoy immediately.
Chutney: November is the perfect time of year to make chutney that you can enjoy over the Christmas period, and it makes a lovely gift. To make, chop up a kilo of apples, a half kilo of onions, some garlic and ginger and add to a large pot. Add some mixed spice, two cups of sugar and pour in a pint of malt vinegar, along with some seasoning. Bring to a boil, then turn down the heat and simmer for about an hour, until the consistency has changed and the mixture has thickened. Once cooled, spoon the chutney into sterilised jars and store in a cool place until ready to use.
Onion bhajis: Homemade onion bhajis are well worth the effort, and are perfect for entertaining. Slice four onions and add to a large mixing bowl. Add in two beaten eggs, a cup of flour, cumin seeds, coriander and mix until combined. Heat some oil in a frying pan and, once hot, spoon in the bhaji mixture, cooking for about a minute on each side. Serve with mango chutney or a cucumber and yogurt dip.
Potato and onion gratin: Onions make a really delicious addition to a potato gratin and can help cut through the richness of the dish. To make, start off by frying sliced onions in a pan for about 15 minutes until caramelised. In a greased gratin dish, place a layer of potatoes, followed by a layer of onion, and continue. Pour over 3 cups of cream that has been seasoned, and top with grated cheese. Cover with foil and bake in a hot oven for about 90 minutes, until the potatoes are cooked through.
Goats cheese and caramelised onion tarts: This is a seriously moreish and impressive dish that requires very little effort – a real winner! Make the caramelised onions by frying sliced onions in butter for about 20 minutes, adding a tablespoon of brown sugar towards the end.
Roll out a sheet of ready-made puff pastry and cut out some circles using a saucer as a stencil. Brush the pastry with melted butter and assemble the tarts by adding a spoonful of caramelised onions and a slice of goats cheese log. Bake in a hot oven for about 12-15 minutes until the pastry is golden and the cheese is melted. Serve with a side salad and a drizzle of balsamic vinegar.