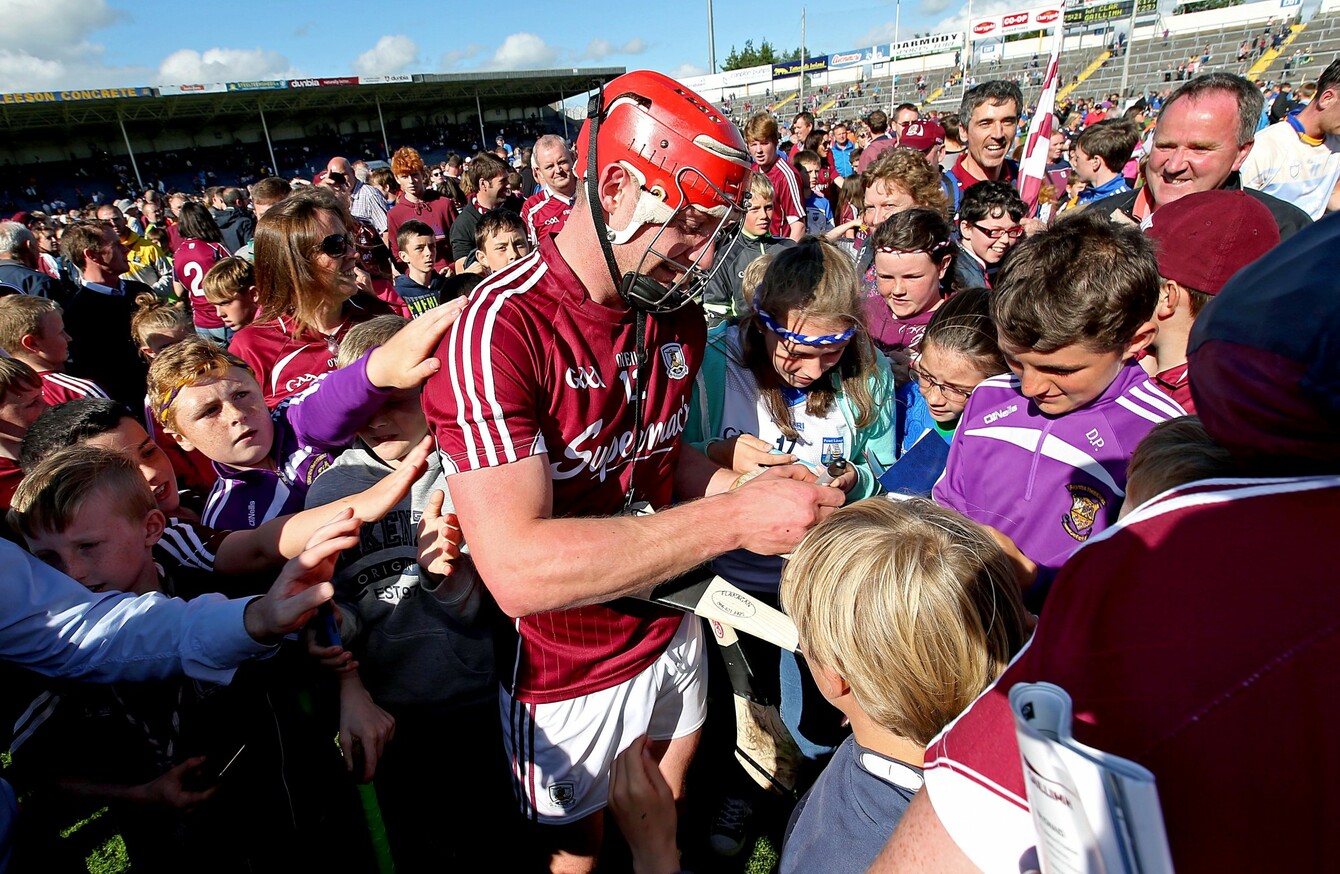 Joe Canning after the 2016 All-Ireland quarter final
Image: Donall Farmer/INPHO
Joe Canning after the 2016 All-Ireland quarter final
Image: Donall Farmer/INPHO
IT'S ONE OF the fastest field sports in the world, the hits are big and the players' skills light up every Irish summer. And it's all ours.
This is why hurling is one of the greatest shows on earth.
1. Holy Moses! Marty's iconic commentary
Like Mundy's 'July' and sound of the Whippy van, hurling match commentaries make up the soundtrack to the Irish summer.
From Michael O'Hehir's wonderful descriptions from the sport's black and white days to Mícheál Ó Muircheartaigh's memorable turns of phrase.
But for us, Marty Morrissey's primal reaction to Clare's hugely-dramatic, late equalising score against the Rebels in the 2013 decider explains a lot about the game's effect on spectators.
Source: theclareherald/YouTube
2. The Rock's famous point against Limerick
If any clip sums up the game for the uninitiated, surely this is it.
Diarmuid O'Sullivan's point against Limerick in the 2001 Munster SHC quarter-final at Páirc Uí Chaoimh has it all. A massive — and fair — shoulder and a then a monster effort from distance that drops over the bar for an inspirational score.
The Cloyne man built a career on such moments.
3. Tears of joy from a brother
For many emigrants Gaelic games connect you to your home place.
After the Banner went on to win that 2013 title after a replay, this was the reaction of Oisín O'Donnell, brother of hat-trick hero Shane.
The Éire Óg man had to watch it all thousands of miles away in Israel, where he was working for an engineering firm.
4. Joe Canning's outrageous skill
It's a cliche to suggest that if there was a transfer system introduced by Croke Park in the morning, Joe Canning's name would be first across the yellow ticker.
But the Portumna man does have world-record breaking skill.
This no-look reverse backhand tells you everything you need to know about the Galway forward and hurling creativity characterised by him and the likes of Austin 'Sideline' Gleeson.
Source: Vic Mackey/YouTube
5. All-Ireland-winning speeches
'Tá an-áthas orm an corn seo a ghlacadh'
From Sean Óg Ó hAilpín's lovely 'Is turas fada é' speech to Anthony Daly's welcome back for Liam MacCarthy, the post-victory words in the Hogan Stand are always memorable.
But none, perhaps, chart higher than Joe Connolly referencing of the Pope's visit to Ireland and Joe McDonagh — later GAA president — taking the mic for a stirring rendition of The West's Awake.
Source: HurlingVideo/YouTube
6. Friendly rivalries
This picture encapsulated a lot that was good about the game last summer.
At the end of the Waterford-Kilkenny All-Ireland semi-final replay in Thurles, a distraught Pauric Mahony fell the to the turf after his late free dropped just short.
A young girl, in a black and amber jersey,  Jennifer Malone stalled the celebrations to console him.
The Deise sharpshooter later thanked the fan and presented her with a jersey. Great stuff.
7. I loves me county!
The post-game, on-pitch interview with dozens of elated fans in the background, is very much part of hurling's theatre.
From Davy Fitzgerald trying to articulate himself after an hour of sideline histrionics to Bubbles dropping F-bombs to this iconic moment from John Mullane which instantly became a slogan in the south-east.
At Bord Gáis Energy, we know both players and fans are at the heart of the GAA. For eight years, we've followed some of the best players, supporting them from U21s right through to their senior breakthroughs. That's why we're proud to expand our long-standing association with the GAA as an official sponsor of the GAA Hurling All-Ireland Senior Championship.
Source: TheJournal.ie Commercial/YouTube