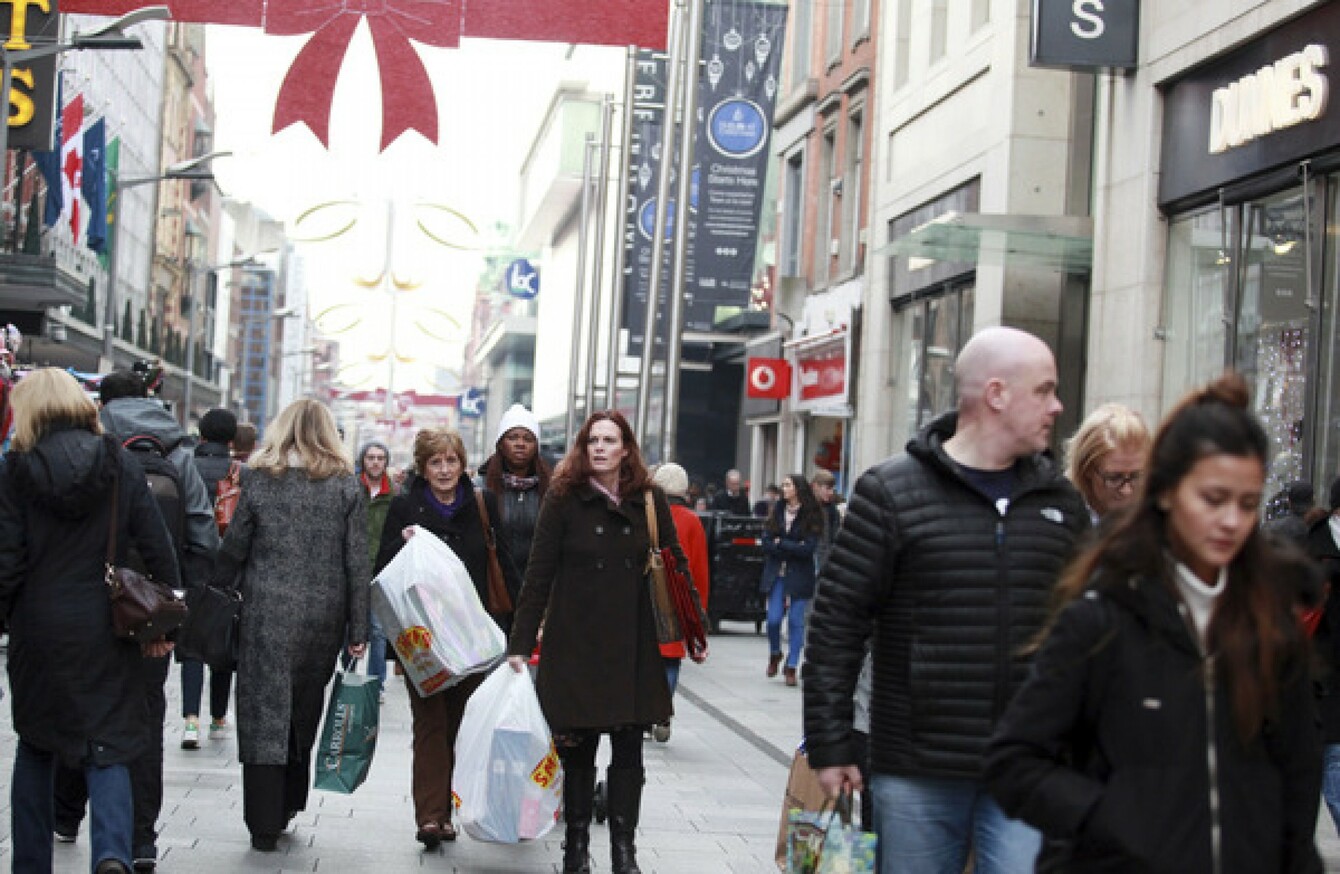 Image: Leah Farrell/Rollingnews.ie
Image: Leah Farrell/Rollingnews.ie
IRISH RETAILERS TOOK a hit in the second half of 2016, culminating in a challenging Christmas period, according to a new report from Retail Ireland titled "Storm clouds gathering".
The group, which represents retailers in Ireland, said sales in department stores, computer and electronic retailers and book shops fell significantly during the Christmas period, when compared to Christmas 2015, while the value of all retail sales in Ireland over Christmas was 0.1% lower than the previous year.
More customers shopping online with UK retailers were said to have played a role in the results, and Retail Ireland also highlights the number of shoppers going north of the border to take advantage of the weaker sterling as contributing to this poor performance.
Retail Ireland director Thomas Burke said: "There were disappointing results across the board over the Christmas trading period, with some retail categories coming under particular pressure."
Looking at department stores, it was the weak sterling and poor performance of Irish online retailers that prompted Irish stores to offer a range of discounts which led to a further squeeze on their margins, they said.
With Christmas day falling on a Sunday, supermarkets got an extra boost as shoppers had two extra days to stock up.
Sales at supermarkets rose in December, when compared with the same period last year, while sales also rose at clothing retailers and at furniture and homeware stores.
Major shopping days such as Cyber Monday and Black Friday have gathered momentum in recent years, and Burke said the data suggests a "structural shift in pre-Christmas consumer shopping patterns" with more people than ever buying early.
Brexit is also a big worry for retailers, with Burke saying that, as a sector, "retail is one of the most exposed to Brexit pressures" and their data shows that "this impact is already telling in our sector".
He added: "Government must aid [retailers] by taking urgent and decisive steps to address the high cost of doing business, particularly labour taxes, insurance and rates.
[The government] needs to ensure that domestic retailers are not at a competitive disadvantage to online and other markets.