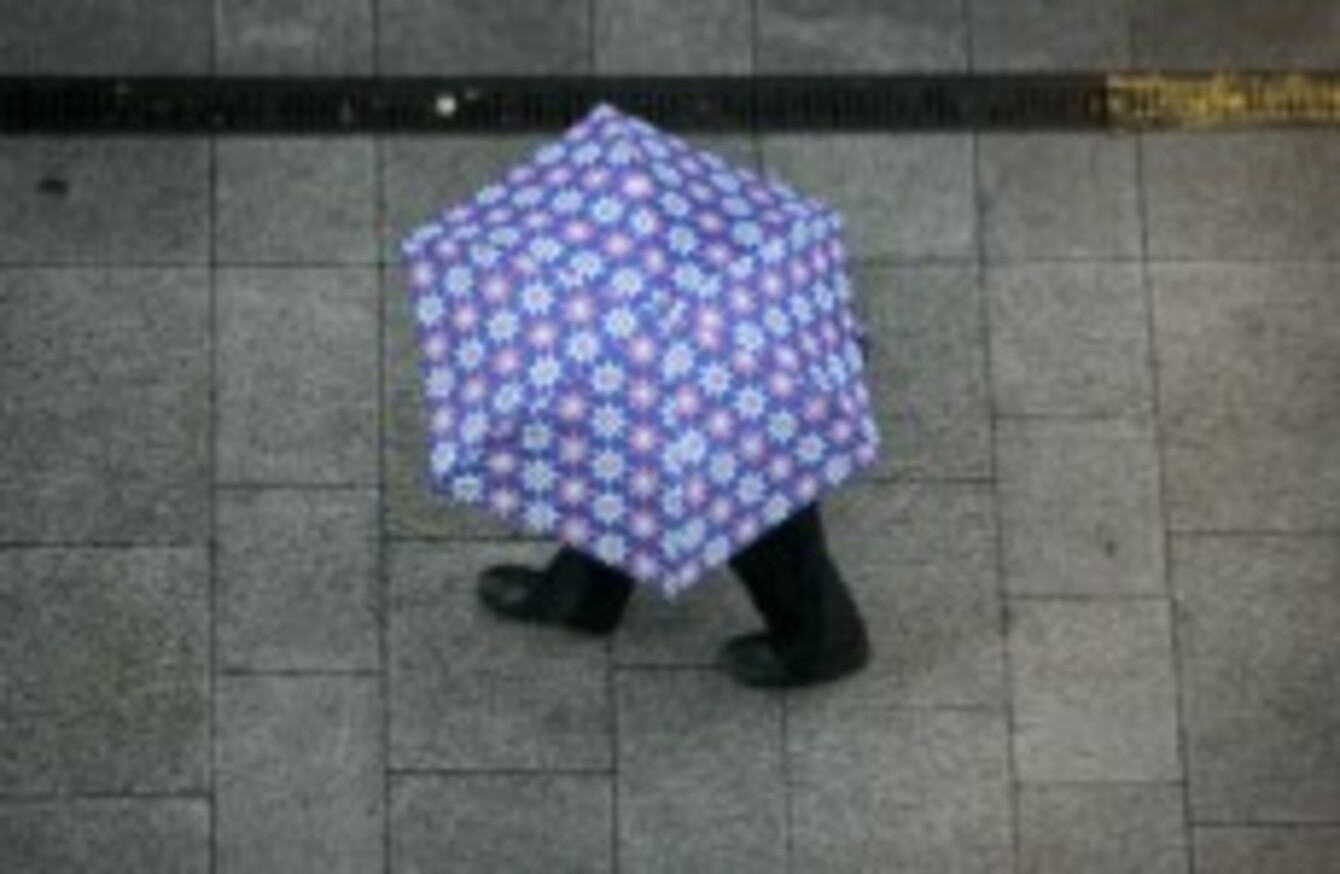 A shopper on Henry Street in Dublin earlier this month
Image: (Mark Stedman/Photocall)
A shopper on Henry Street in Dublin earlier this month
Image: (Mark Stedman/Photocall)
UP TO A month's rain could fall in 36 hours this week, beginning on Wednesday and moving into Thursday afternoon in the East and South of Ireland.
Met Éireann issued a weather advisory today, with one forecaster telling TheJournal.ie that between 25mm and 50mm of rain could potentially fall during the two days in the East and South East of the country.
A Met Éireann forecaster told TheJournal.ie that usually around 50mm of rain falls over the whole of the month of April.
Dublin City Council's estimates for Dublin were for up to 20mm of rainfall over the period of midnight on Tuesday 24 April to 12 noon Thursday 26 April. It said that a warning from Met Eireann has been assessed by its Emergency Management team.
The council also noted that tides on Wednesday and Thursday should reach levels of 1.6m, 1.5m, 1.3m and 1.0m respectively, which are well below monitoring level of 2.3m.
It will also be a windy few days, with 30-60km/hr East South East, East North East, North East and North North East winds also forecast during this period.
Dublin City Council said the risk of pluvial flooding from thunderstorm activity "is possible but it is not possible to predict in advance the time, location or severity of any such thunderstorm activity".
The Met Éireann spokesperson said there will be thundery showers today and tomorrow, followed by some heavy downpours of rain. On Wednesday after a dry start, where it is cool and windy, a wet day will develop. It is expected that it could be up to 25mm of rain or more in the East and South coast of the country, with easterly winds.
Karl Mehlhorn of the Irish Weather Network said that the rain depends on how close the low pressure front comes to the south of the country. He said that while the risk is there for potential flooding, you "can't be certain" and more will be known tomorrow.
Dublin City Council
Dublin suffered from extreme flooding last year.
Dublin City Council said areas of potential risk include areas previously affected by flooding, basements and local low lying areas. The council is undertaking a number of steps to prepare for the rainfall:
Drainage are monitoring the weather and are in close contact with MET Éireann.
Drainage are visiting and inspecting all river screens to ensure the drainage system can operate to maximum efficiency.
Waste Management Services staff, who operate a near continuous 24 hour city wide service, have been requested to take action as needed to also respond to any local flooding.
Traffic control centre are using the extensive cctv system to identify any city wide problems.
Roads Department are also monitoring the network to mobilise as required.
Dublin Fire Brigade is on hand to respond to requests for service.
Additional Drainage staff are on standby should they be required.
Since the location or timing of any flooding can not be predicted in advance by MET Éireann, putting the community on alert is the most effective response.
The OPW website www.flooding.ie has tips on what to do in the event of a flood.