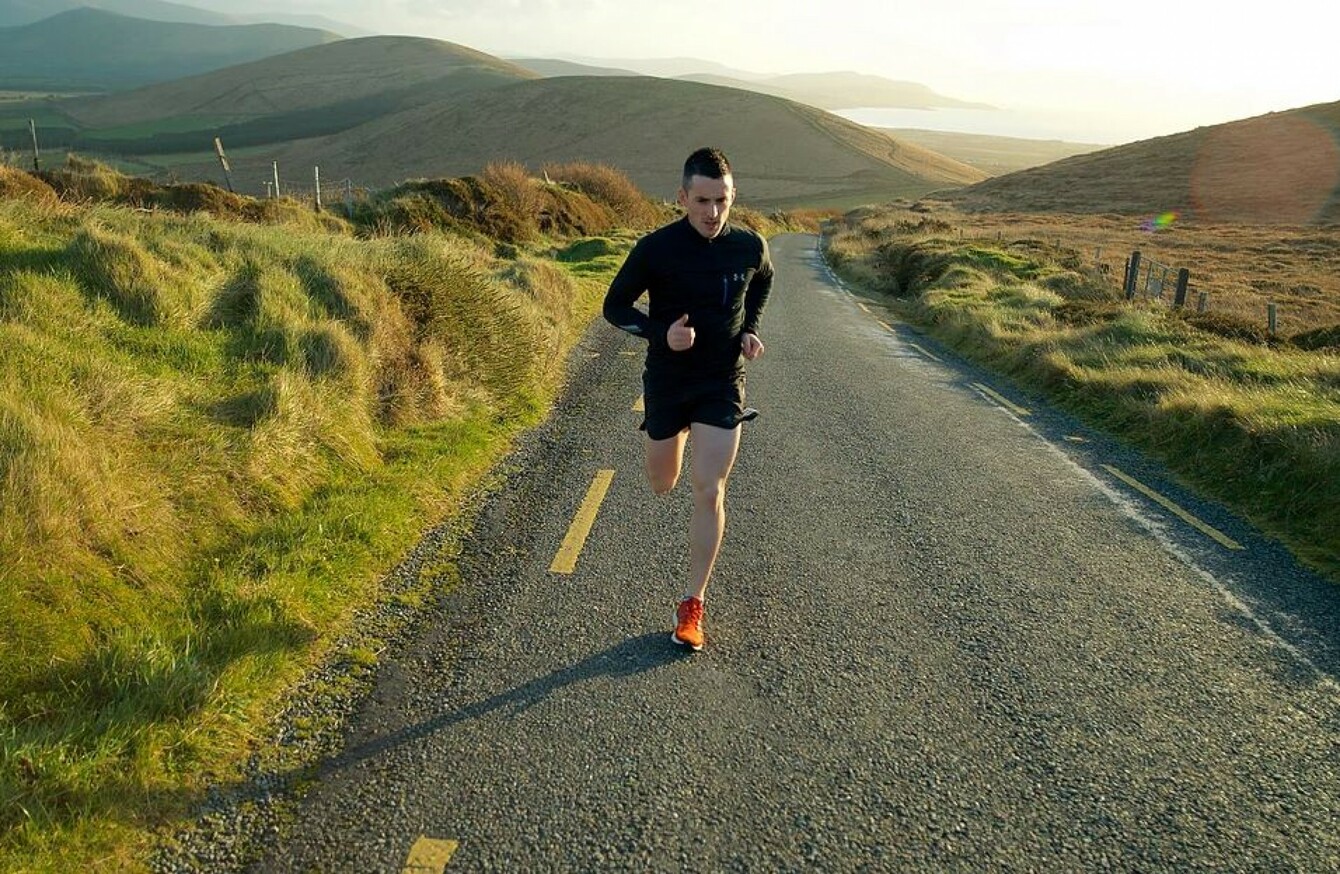 Shane Finn training in Dingle
Image: 24 marathons 24 days
Shane Finn training in Dingle
Image: 24 marathons 24 days
A KERRY MAN is in the middle of running 24 marathons in 24 days across Ireland in a bid to raise money for people living with Spina Bifida.
Shane Finn kicked off his journey in Donegal last week and has been running a marathon each day since. He's set to complete his 10th marathon this morning in Meath.
What's Shane's motivation? His cousin Mary (35), who lives with Spina Bifida and Hydrocephalus.
"The reason I chose to run 24 marathons in 24 days is because over the past few years I've seen that it's very, very difficult for my cousin Mary and her family 24 hours a day. It's not a nine to five thing," Finn told TheJournal.ie. 
"Putting my body on the line for 24 days is the least I can do."
Spina Bifida causes a defect of the spine in which part of the spinal cord is exposed through a gap in the backbone.
People with Spina Bifida can be paralysed from the waist down, and some may have learning difficulties
The thing about Spina Bifida is that you're born with it, you life with it and you die with it.
"I can still go to the bathroom myself, I can still feed myself, I can still put on my own clothes. We take simple little things for granted whereas somebody a little bit less fortunate than us would give anything to do those things," Finn said.
This isn't the first time Finn has set himself a challenge like this. Back in 2014, he raised €36,000 for Spina Bifida Hydrocephalus Ireland (SBHI).
SBHI is the national organisation which provides services and support for people with the condition and their families.
Fundraising
Finn is aiming to raise €100,000 for SBHI throughout the 24 days.
In the lead up to the marathons, SBHI members and volunteers have been running fundraising events, including 24 hour book readathons, a 'give up coffee for 24 days' challenge and an 'eat 24 donuts in 2.4 minutes' competition.
"There are people in this country that need our help. There's little kids outgrowing their wheelchairs that are in constant pain every single day because their families can't afford a new wheelchair," Finn said.
"For things like that to even happen in this day and age in Ireland is just shameful.
"Every single penny can help, the charity is so small and we know where every single penny is going to go. A full financial plan has already been made for where the money will go."
'You can't really train for this'
Finn has spent over a year training for this set of marathons, however he said that no amount of training could prepare someone for something like this.
"There was a lot of consistent training with back-to-back running. I tried to replicate it as much as I could," he said.
I won't lie, you can't really train for something like this because it's 60% mental strength and 40% physical.
Just the thought of being barely able to walk down the stairs and having to run a marathon, I have to go through that every morning but I just dig deep and think about the people I'm actually doing it for.
So far, Finn has run through Mayo, Galway, Roscommon, Longford, Westmeath and Cavan.
He plans to complete his final marathon in his native town of Dingle, Kerry in two week's time on 15 July.
"Personally, I want to see how far I can actually push myself. I know I'll get to Dingle and I still won't have the answer," he said.
"It's not something you'll see being done every day and it's not something I'd recommend everybody to do but you'll find out what you're made of if you give something like this a go."
Around 40 babies are born with Spina Bifida each year in Ireland.
People can donate €4 to the cause by texting GIVE to 50300.