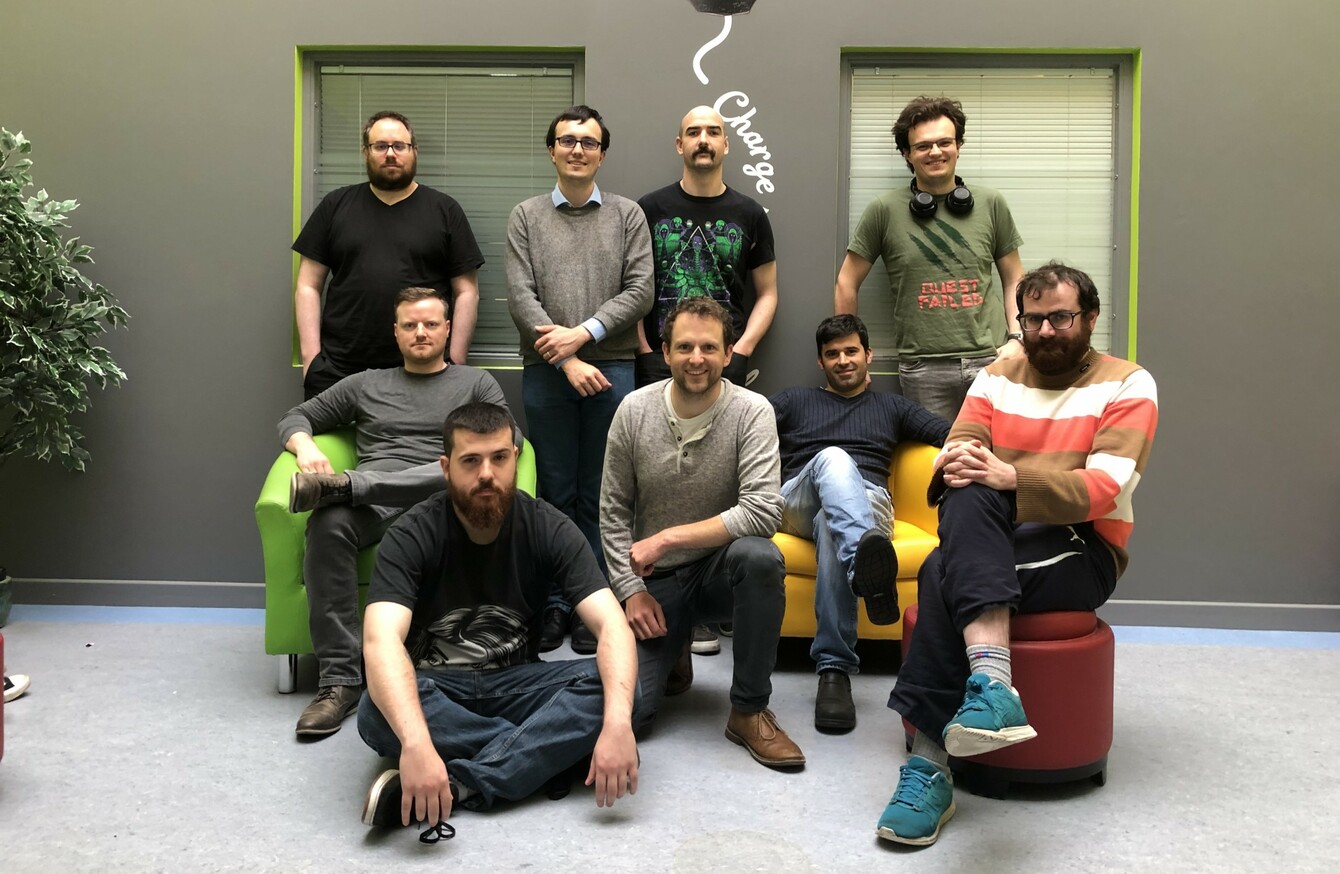 Image: 9th Impact
Image: 9th Impact
"WE'D MEET UP after college on evenings and weekends." 
Like countless other successful companies, the idea for 9th Impact came from humble beginnings, with two friends simply spending their free time doing something they loved – creating games. 
Six years later, 9th Impact is a global game development studio, with its games being downloaded more than 20 million times in 122 countries to date.
"In 2014, myself and our co-founder Mark Quick started the company in his living room while I was doing my PhD at the National University of Galway," says Dr Finn Krewer, who's also Head of Development at the business. 
"We just started developing games and creating our own games. When we launched them, we had really positive results, so we thought, 'this has the potential to be something serious,'" says Dr Krewer. And indeed it did. 
By 2015, Dr Krewer and Quick knew they could build games with greater technical capabilities – and came up with the idea of partnering with TV studios.
"It's a hugely competitive industry," says Dr Krewer. "People anywhere can make games that can be played all over the world. You can have players in Indonesia, the Philippines, the United States in an instant."
So, how did Dr Krewer and Quick pave a path for 9th Impact in the industry? As part of the Local Enterprise Offices' #MakingItHappen campaign for Local Enterprise Week, Dr Krewer talked us through some things he's learned along the way that could be helpful to anyone else with a business idea, or an existing business. 
Spend time making a plan 
Ahead of going to their Local Enterprise Office, Dr Krewer and Quick put time into thinking about what exactly their business was going to be, and how they were going to operate it. 
"Our strategy was to partner with TV studios to make official games for their shows, so we entered competitions to get the rights to do that," says Dr Krewer. "It's competitive bidding and tendering, so we put together plans, meetings and proposals."
"We worked on the idea and concept for a while, and thought about what we could do to prove that the idea has legs. We'd try to anticipate what we'd be asked in a pitch, and prepared for that." 
Don't get disheartened 
With a plan in place, Dr Krewer  and Quick set up meetings with TV studios to share their idea – but it was hard to get their name out there at first. 
"In the beginning, it was a huge challenge to find people to introduce ourselves to because they didn't know us. We scheduled meetings with different companies, and they'd always ask the killer question: 'What other official games have you worked on?' And, of course, the answer was always 'none.'"
Eventually, the two men got the chance to prove themselves when they secured their first game, Biker Mice From Mars, which was based on the popular cartoon from the 1990s. "It has a huge cult following, and enabled us to prove that we could build and release a game and win TV rights."
Know when to level up  
It was at this stage that Dr Krewer and Quick knew it was time to contact their Local Enterprise Office in Galway. 
Once we went to our Local Enterprise Office, it changed the dynamic completely. It went from project to a real company and allowed us to focus on growth and development.
"They helped us set up funding and get office space in Galway Technology Centre, and helped us with mentoring and training courses, like the Start Your Own Business course. This allowed us to take on our first employee, which was a major milestone as, until then, it was just us."
Have the courage to try new things
After releasing Biker Mice From Mars, 9th Impact secured a deal for Danger Mouse, a game based on the revival of the 1980s' cartoon of the same name. This time, the game was also released on another platform, which opened up another world of possibility.
"We released Danger Mouse on Apple and Android devices and on Google Play, then developed it for Nintendo Switch. It was our first console game, and the third game in the world that has the ability for cross platform play, meaning you could play against someone on an iPhone, and you're on a Nintendo Switch. The only other two games that allowed that at the time were Minecraft and Fortnite," says Dr Krewer.
"Taking that on was a huge technical challenge, meaning we needed more resources and staff. The Local Enterprise Office was with us all along that journey."
Needless to say, the challenge was absolutely worth it. "Once we did that, we got a lot of other attention," continues Dr Krewer. "Fans of the show loved the game, and commented that publicly and to the show owners. If hardcore fans love the game, that's our job done."
All of a sudden, we had this notoriety and things got a lot easier. TV studios were calling us saying they liked what we do.
Maintain good connections 
The next project that 9th Impact secured was through people they'd worked with on Danger Mouse, who had moved to a new company and recommended the team to develop a game for another TV show. That was in 2017 – and they are still working on the same game now.
"It's still highly confidential, and all of our staff have been working on it since then. It's been a long time in development. It's a major game for a major TV show that's known globally, so it was a large undertaking," explains Dr Krewer. 
In the same year, 9th Impact moved from Local Enterprise Office to Enterprise Ireland. "We knew we needed to raise more investment, and Enterprise Ireland provided some of that funding, which allowed us to hire more people."
"We competed for the Competitive Start Fund, which we won and gave us additional funding. We then competed as a High Potential Start Up, and pitched against other companies, which we also won." 
So, what's next for 9th Impact? With nine staff now working for the company, everyone's focus is on the new project. 
"We're putting all of our time and resources into this game," says Dr Krewer. "It'll be announced soon by the TV show that there's a game being developed, and it'll be released later this year. We'll have a big party once that happens!"
 Have a business idea of your own? Local Enterprise Week, organised by the Local Enterprise Offices, is taking place from Monday March 2 to Friday March 6. Hundreds of events are being organised with the support of Enterprise Ireland and the local authorities – all designed to help you plan, start or grow your business in 2020. Find out what's happening near you here. #MakingItHappen
If you're inspired by 9th Impact's story and want to take steps to start or develop your business, these Local Enterprise Week events might be of interest to you:
Source: Local Enterprise Office/YouTube