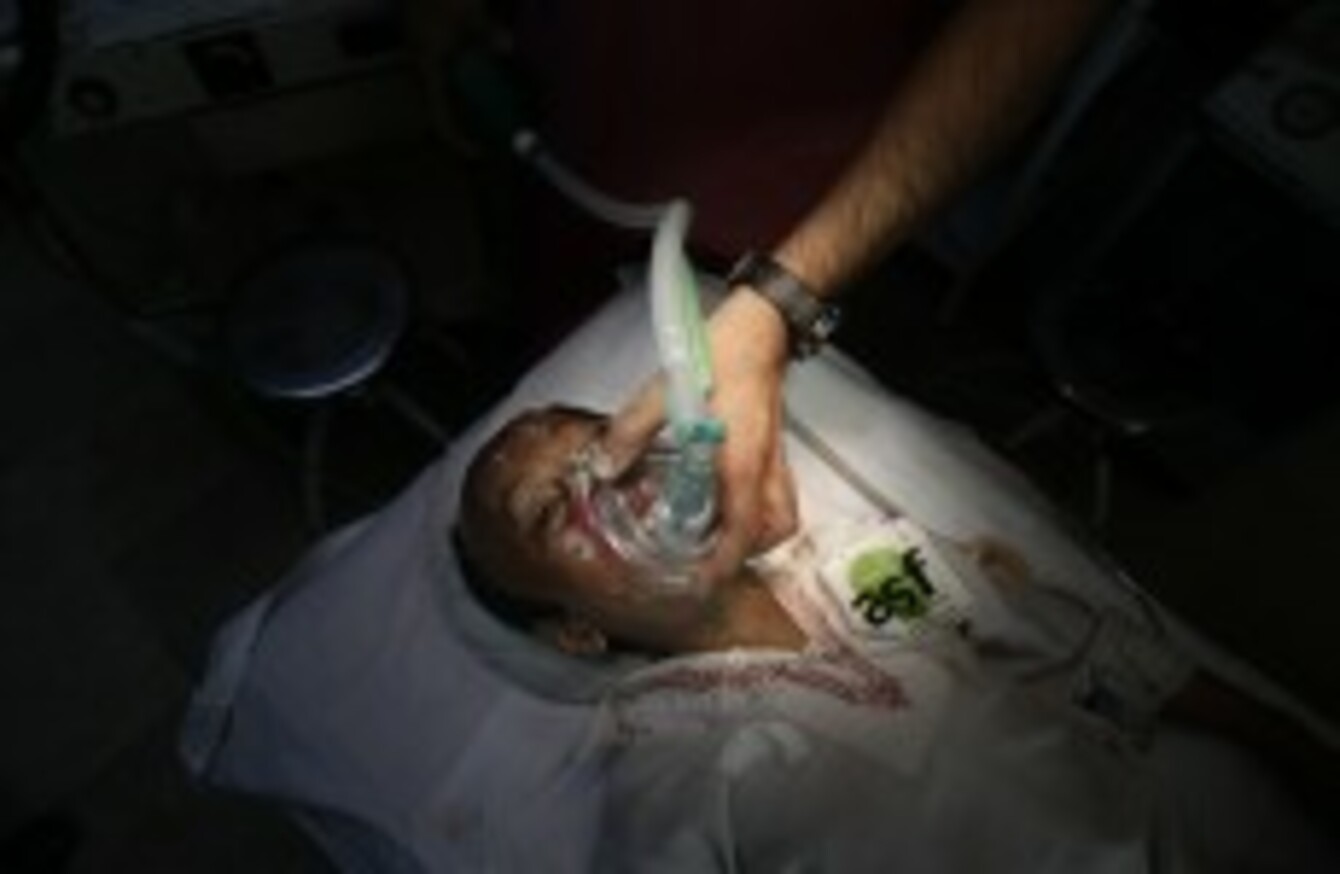 9-year-old Akhtar Yar undergoes surgery in Pakistan after he was injured in an acid attack
Image: AP Photo/Muhammed Muheisen
9-year-old Akhtar Yar undergoes surgery in Pakistan after he was injured in an acid attack
Image: AP Photo/Muhammed Muheisen
FEW HAVE MUCH faith in the Pakistani courts, but campaigners say the conviction rate for acid attacks has tripled since tough new penalties were signed into law in late 2011.
Dozens of people, mostly women, but also men and children, are disfigured every year by one of the most brutal forms of domestic violence in a country where women are often treated as second-class citizens.
Campaigners have praised the government, which will this month become the first in Pakistan to complete a full-term in office, for passing legislation in support of human rights, even if immense challenges remain in implementation.
Parliament outlawed domestic violence last year. In 2011, it introduced a minimum sentence of 14 years in jail and a fine of one million rupees (€14,000) for those found guilty of throwing acid.
Statistics are patchy but Valerie Khan Yusufzai, chair of the Pakistan branch of the Acid Survivors Foundation, says the conviction rate rose from an average of six per cent before the amendment to 18 per cent in 2012.
Lawyer Sikander Naeem said:
It has become much easier to get a conviction because the Supreme Court has (also) taken a special interest in such matters. The statement of a victim alone is sufficient for the conviction of any accused.
But victims, left with horrendous injuries and often blind, say the penalties are still too light.
Sidra Javed was attacked in June 2011 for spurning the advances of a son of her boss at a factory, where she earned the equivalent of €35 a month making water dispensers. Her family sacrificed almost everything to get her attacker jailed in July 2012.
"I was very relieved and happy for my father, that his efforts paid off given everything he did. But when I think about how I'm living, how disfigured I am, I think it (the punishment) should have been much worse."
A survivor of an acid attack (left) with a staff member at a rehabilitation unit (AP Photo/Muhammed Muheisen)
Her father repairs television sets, but distracted by the case and with Pakistan gripped by crippling power cuts his business dried up.
"Sometimes there wasn't even enough money for one meal a day," she says.
Now 15 years old, clumps of her hair are burnt to the scalp. Half her arm, her chest and her leg are burnt. There are splash burns on her feet.
She is blind in her right eye and partially sighted in the left.
She has had six operations, needs reconstruction work on her lips and ears, and requires a hair transplant.
Javed hates meeting new people, despises talking about the attack and feels weak if she exerts herself too much. Apart from travelling for medical treatment, she never leaves home in the eastern city of Lahore.
Lawyer Sikander Naeem wants a special court set up to deal specifically with acid crimes, to make the legal process easier and he says compensation needs to be paid more quickly to help the victims get treatment.
Awareness can be another problem.
Last December, a couple who confessed to murdering their 15-year-old daughter with acid in Pakistan-administered Kashmir later insisted she committed suicide and with no witnesses or evidence, the judge released them on bail.
Pakistan's leading human rights group said nearly 1,000 women and girls were murdered in 2011 after being accused of bringing shame on their families.
Pakistani acid attack survivor Parveen Aslam is examined by a doctor at a Pakistani hospital (AP Photo/Muhammed Muheisen)
"I didn't want to carry on"
It was extreme family pressure that ultimately led Naziran Bibi, a mother of two, to accept an out of court settlement for the equivalent of €3,050 in 2009.
Her tale underlines the difficulties faced by many victims, particularly those who are poorly educated in rural areas and who are dependent on relatives and terrified of their husband's families taking away their children.
She grew up in Bahawalpur in southern Punjab, said to be a recruiting ground for extremist militant groups, and was sold into marriage when she was 13 years old.
Her husband died, leaving her with two daughters under two. Bibi's abusive in-laws forced her to marry their other son, who already had a wife.
#Open journalism No news is bad news Support The Journal

Your contributions will help us continue to deliver the stories that are important to you

Support us now
"His first wife was really angry. She never lost an opportunity to insult me and threatened to throw acid at me, to ruin me," she told AFP, her face swathed in bandages after an operation to rebuild her eyelids.
"Then three months after we got married, at 2am while I was asleep, she threw acid at me, on my face, neck, chest half my stomach and my left arm," she said.
Bibi, now 26, was left blind. Her face was destroyed.
Her husband refused to register his wife as the culprit and her in-laws demanded she settle out of court. So did her brother.
Eventually she settled.
I didn't want to at all, but one of my sisters is also married to my in-laws and they threatened to ruin her life. My life was already ruined, but hers shouldn't have to be as well
"And when I realised that the real perpetrator wouldn't even be going to jail, I didn't want to carry on so I got the 400,000 rupees and bought a plot for myself and now I've got a little grocery shop," she added.
Today, she sends her daughters to school and is still on speaking terms with her husband, but has never again spoken to his first wife.
"If I could see I wouldn't have (spoken to her husband), but they need a father and it's important to have a man in the house sometimes," she said.
But does she wish the new law had come into effect in time for her?
"The only punishment that can make this OK is if acid is thrown at them," she said.