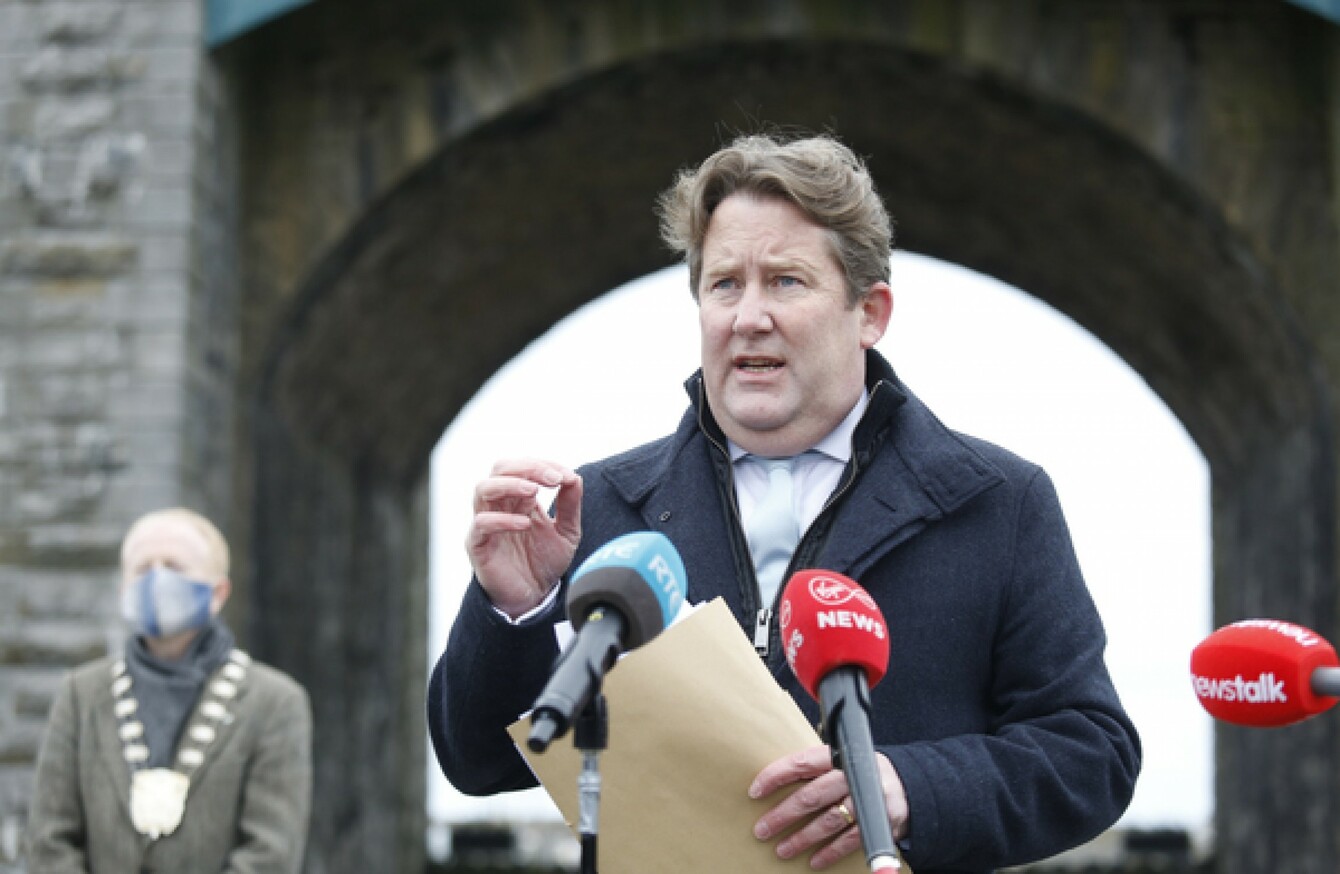 Image: Leon Farrell
Image: Leon Farrell
Updated May 4th 2021, 11:07 PM
MEMBERS OF CABINET have approved the new Affordable Housing Bill brought forward by Minister for Housing Darragh O'Brien. 
Aspects of the bill, including its shared equity scheme for first-time buyers, have been criticised.
The Housing Minister said the bill has "affordability measures at its absolute core". He said the bill has four major aspects: 
Scheme of direct State-built affordable homes
National cost-rental scheme
Shared equity scheme for first-time buyers
Extension to setting requirement for all new developments to have 10% social and 10% affordable housing.
Proposals under the government's scheme will cap the cost of an 'affordable home' at €450,000 in Dublin City and Dún Laoghaire.
A €450,000 home would be available to a couple with a joint income of €90,000.
The price caps are based on local authority area, and there are seven bands.
An affordable home in South Dubin, Fingal, Cork and Galway cities, as well as Wicklow will be capped at €400k.
There will be €350k cap in Cork County, Limerick, Kildare and Meath, a €300k in Clare, WestMeath and Wexford, and a €275k in Carlow, Louth and Offaly.
In Kerry, Kilkenny, Laois, Waterford and Roscommon there will be a €250k cap, and a €225k in Cavan, Donegal, Leitrim, Longford, Mayo, Monaghan, Sligo and Tipperary.
Speaking to reporters at Dublin Castle, the minister said the caps are not necessarily targets. He said the Bill is about increasing supply, stating that the country needs to be hitting 33,000 houses per year – a target that won't be met this year.
Minister says we need to be hitting 33,000 homes but COVID has impacted that. Update to be published in July, he says pic.twitter.com/EaLDx67cDJ

— Christina Finn (@christinafinn8) May 4, 2021
Under the government's proposals, which are still subject to Central Bank approval, if you're a first-time buyer who can't afford a new-build up to and including those cap values, then you can apply for the State to take up to 30% equity in the home.
O'Brien said this legislation is a "tangible effort that will work". He said the measures will be up and running this year. 
The housing crisis won't be solved by not doing "something different", he added. 
He said he is not open to "allowing people to drag their feet" on the matter. "These measures are needed," he added. 
The minister said the government's Housing For All plan will be published in July.
Supply and demand
Speaking on RTÉ radio's Morning Ireland, O'Brien said that "we need to see supply increase across the board, and how we do that is we cannot do that by just sitting back and doing nothing, or indeed doing the same that has been done over the last few years".
He said the housing legislation will allow building affordable homes on State land to "be more flexible and to deliver homes quicker". 
He said the first 50 homes in this cohort will be delivered in Cork soon. The government plans to build 6,000 affordable homes on State land in the next four years. 
O'Brien defended the shared equity scheme, saying it is a "targeted measure" in the wider market. 
A shared equity scheme involves the State paying for up to 30% of the cost of new houses in return for a stake.
Under the scheme the State takes an equity loan share of up to 30% in your home while the owner takes out a mortgage with a bank on the remainder.
In February, the Economic and Social Research Institute (ESRI) said that a shared equity loan scheme will be a benefit "in theory" as it would facilitate borrowing for households currently constrained by the amount needed to finance a purchase.
O'Brien said the bill also increases to 20% the allocation of social and affordable housing in new developments in every local authority area.
He said 440 new cost-rental tenancies are expected this year and that the bill includes the criteria for a national cost rental scheme. "This is for people who would be above the social housing limits, working people… a minimum 25% below-market rent with secure long-term rents."
In a statement this afternoon, O'Brien welcomed the bill's approval and said it is "delivering on the Programme for Government commitment to put affordability at the heart of the housing system and to prioritise the increased supply of affordable homes".
Pushback
Social Democrats housing spokesperson Cian O'Callaghan criticised the government for being "more interested in providing a subsidy to developers than making homes genuinely affordable".
After the bill's approval, O'Callaghan said that "the Government is living on another planet if it thinks €450,000 for a home in Dublin – and €400,000 in Cork and Galway – is affordable. It simply is not."
#Open journalism No news is bad news Support The Journal

Your contributions will help us continue to deliver the stories that are important to you

Support us now
"These inflated price caps will mean that so-called affordable homes will be out of reach for most people. The decision to introduce the 'shared equity' scheme, and the inclusion of these expensive homes, is more about providing subsidies for developers than homes that are genuinely affordable," the TD said.
"There is another way. The Government could build houses on state-owned land and sell or rent these at cost. These would be truly affordable homes."
Labour housing spokesperson Senator Rebecca Moynihan said the bill "won't deliver the affordable housing we need".
Moynihan said that the government has "chosen to abandon cost rental, opting instead for a profit model and a shared equity scheme that expert commentators, such as the ESRI and Central Bank, have said is a demand side measure".
"This will increase house prices rather than represent a step change in our approach to housing, making it genuinely affordable for ordinary people," she said.
"We also learned last week that the much trumpeted cost rental scheme won't be tied to affordability but will be for-profit for investors. The whole purpose of an affordable rental model is to target lower-income renters, protecting them and ensuring they have a roof over their head in a crazy rental market," the senator said.
"During the course of the pre-legislative scrutiny of the Affordable Housing Bill, the outside agencies we consulted concluded that affordability was the critical issue and that the generally agreed definition of 'affordability' equates to one third of a person's net income."
On RTÉ One's Prime Time, Sinn Fein housing spokesperson Eoin Ó Bróin expressed similar disappointments with the bill, saying that it gives too much priority to developers over buyers.
Ó Bróin said the country needs "major direct public investment" and for at least 8,000 more homes to be provided each year.
Later in the evening, Sinn Féin TD Mairéad Farrell, speaking on the Late Debate on RTÉ Radio One, said the bill was a "gift to developers".
Farrell said the 'affordable' rates are "nothing in terms of affordability" and that it "simply isn't affordable for people".
Orla Hegarty, Assistant Professor at UCD, said the government should be defining affordability in relation to what people earn and then providing housing at that level.
With reporting by Christina Finn and Lauren Boland