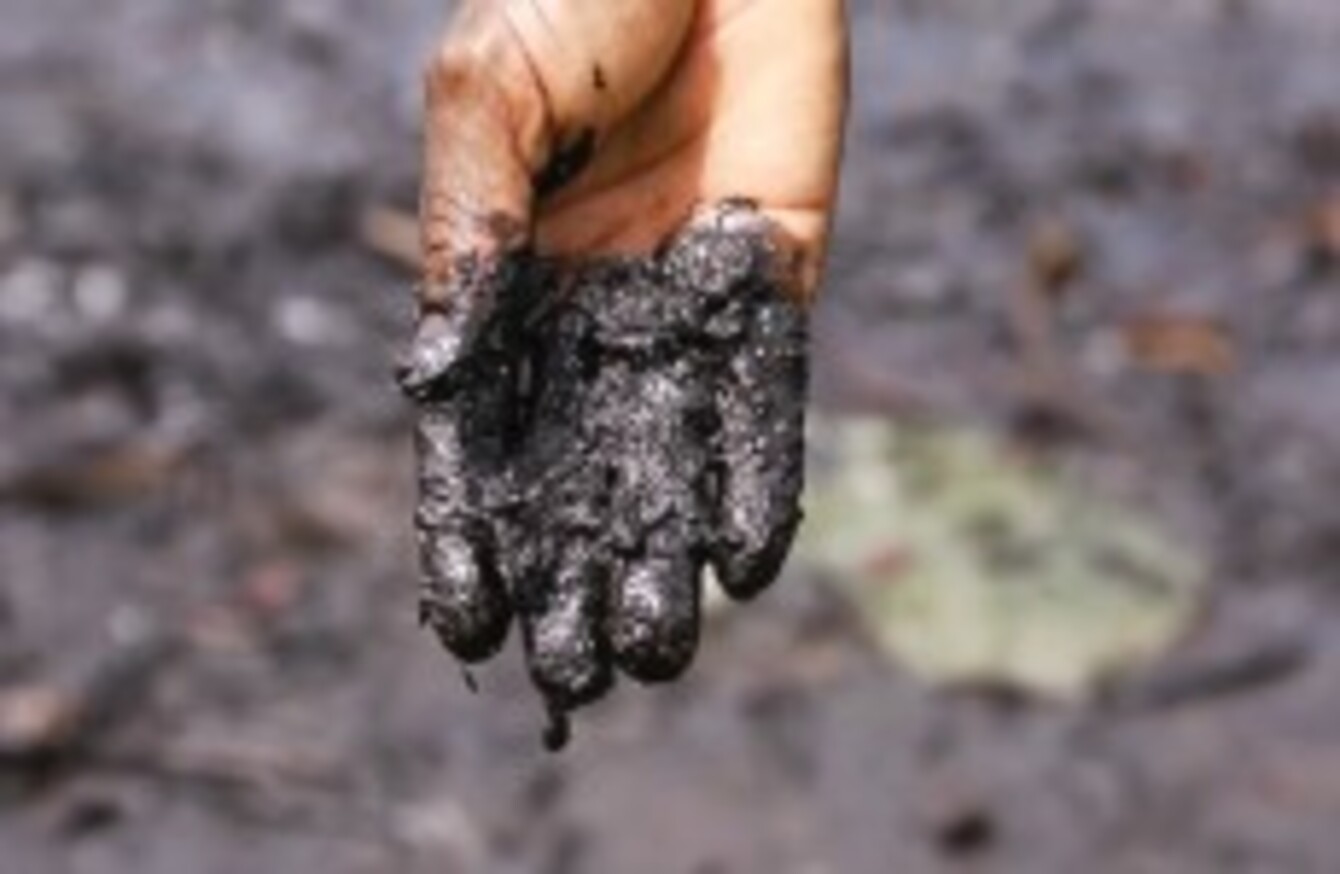 Pastor Christian Lekoya Kpandei's hand covered in oily mud, Bodo Creek, Nigeria, 2011.
Image: © Amnesty International
Pastor Christian Lekoya Kpandei's hand covered in oily mud, Bodo Creek, Nigeria, 2011.
Image: © Amnesty International
AMNESTY INTERNATIONAL PUBLISHES a report today stating that Shell has manipulated oil spill investigations in Nigeria.
While hundreds of oil spills take place in Nigeria every year, Amnesty maintains that oil companies in the country, in particular Shell, have defended the pollution caused by them, by saying that the vast majority are caused by sabotage and theft of oil.
Its report suggests that there is no legitimate basis for these claims and Amnesty International and the Centre for Environment, Human Rights and Development (CEHRD) say that the company's claims on oil pollution in the region are "deeply suspect and often untrue".
Shell denies the accusations.
Report
The report details specific cases in which Amnesty said Shell has wrongly reported the cause of oil spills, the volume of oil spilt, or the extent and adequacy of clean up measures.
Amnesty said that the consequences of oil spills for the affected communities are "devastating and can result in them receiving little or no compensation".
At Amnesty International and CEHRD's request, the independent US oil pipeline specialist Accufacts assessed a number of oil spill investigation reports, as well as responses from oil companies operating in the Niger Delta and Nigeria's national oil spill agency.
It found cases where the stated cause of an oil spill "appears to be wrongly attributed to sabotage". It said that in many other cases, sabotage was listed as the cause "when there was little or no data recorded to back up the claim".
According to Amnesty, Nigeria's regulatory agencies are under-resourced and have little oversight or control of the process. It says they are dependent on the oil companies to carry out investigations.
Shell has made some improvements to its investigation reports since 2011. "But serious flaws remain, including weaknesses in the underlying evidence used to attribute spills to sabotage," said Amnesty.
Video footage of a leak from an oil spill in Bodo from 2008 reviewed by Accufacts shows that Shell seriously under-recorded the volume spilt, said the report.
The report argues that companies should be legally liable for failure to take effective action to protect their systems, including from sabotage.
Amnesty International and CEHRD are calling on the oil companies to publish all investigation reports, associated photos and videos. It also said that the Nigerian government must substantially strengthen the capacity of the regulators.
#Open journalism No news is bad news Support The Journal

Your contributions will help us continue to deliver the stories that are important to you

Support us now
Shell's response
When contacted by TheJournal.ie, a Shell spokesman said that the Shell Petroleum Development Company of Nigeria Ltd (SPDC) "firmly rejects unsubstantiated assertions that they have exaggerated the impact of crude oil theft and sabotage to distract attention from operational performance".
We seek to bring greater transparency and independent oversight to the issue of oil spills, and will continue to find ways to enhance this. These efforts include publishing spill data online since January 2011 and working with Bureau Veritas, an independent third party, to find ways to improve the immediate response to a spill.
Shell said that must be emphasised that the joint investigation process is a federal process that SPDC cannot unilaterally change.
The company said that "solutions to the terrible tragedy of oil pollution in the Niger Delta need to be found".
Coordinated action from the industry, government, security forces, civil society and others is needed to end this criminality, which remains the main cause of oil pollution in the Delta today.
Oily mud, Bodo Creek, Nigeria Jan 2011

Source: Amnesty International

Bodo Oil Spill - November 2008

Source: © CEHRD

Bodo Oil Spill - November 2008

Source: Amnesty International

Bodo Creek

Source: Amnesty International

Oil spill at Bodo July 2012

Source: © Media for Justice Project, Centre for Environment, Human Rights and Development (CEHRD)

Oil spill at Bodo July 2012

Source: © Media for Justice Project, Centre for Environment, Human Rights and Development (CEHRD)