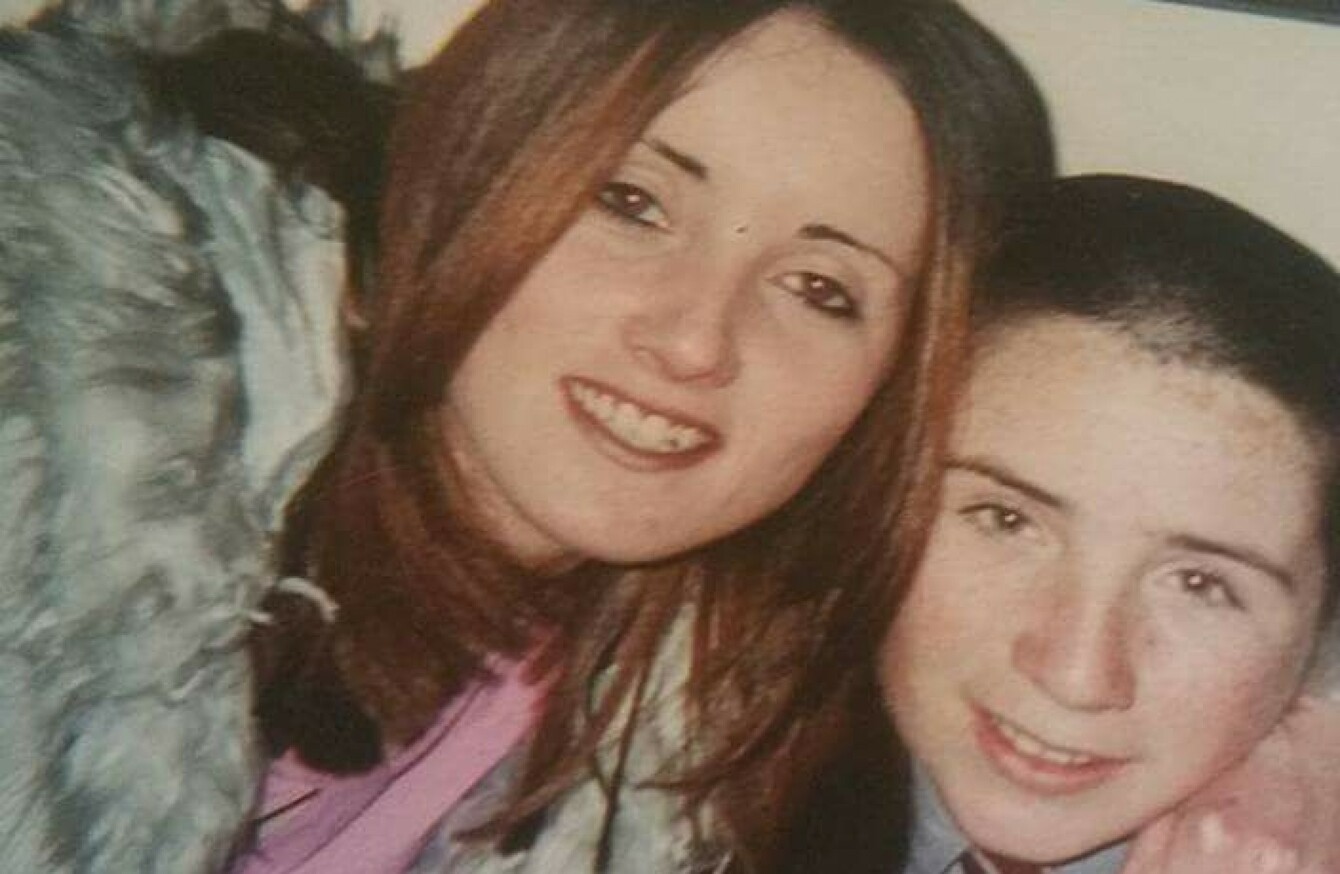 Stephen Walsh and his sister Ann
Image: Stephen Walsh
Stephen Walsh and his sister Ann
Image: Stephen Walsh
This is the third article in our Bearing Witness series exploring how abusive relationships can appear – from the outside, and from the inside. Some readers may find this article upsetting.
STEPHEN WALSH remembers his sister Ann being like any typical 23-year-old: "Mad about your hair and make-up, that's all she was on about."
She was kind, he says, the quietest out of the lot of them and she had plans for the future.
In school she was very clever. She did all her Leaving Cert, she got all big results. She wanted to do hairdressing, that was her plan. She was lovely and she would get along with anyone. She was the quietest out of all of us – you'd never expect what happened to her to happen.
Ann Walsh was murdered by her ex-boyfriend Raymond Donovan in 2005. He strangled the 23-year-old to death in the grounds of St Senan's church in Kilrush, the Co Clare town where she grew up.
She had gone out with Donovan for a couple of years but they were not together at the time of her murder.
Stephen says they had no idea that she was in danger, but now he thinks she must have been terrified.
"He was all nice to your face, but it was only afterwards we found out what he was really like," he says, "God only knows what the poor divil went through."
Stephen and his family still live in Kilrush. He says it is impossible to escape the memory of Ann's brutal death.
'Twelve years, you still feel the same'
"Kilrush isn't a big place and where she was killed, no matter how we go into town we still have to pass it. The same with where she is buried, it's just behind us," he says.
It is nearly 12 years since Ann was murdered, but Stephen says it does not matter: "12 weeks, 12 months, 12 years, you still feel the same," he says. "It would kill you, it would eat you up inside.
It would be different if it was a car crash, or an accident, you could come to terms with something like that.
He says his father has been changed profoundly by the trauma and he visits Ann's grave every day without fail.
Not a day goes by that he doesn't go up there, no matter if there's rain, sleet, or snow. He doesn't talk to anyone, he holds it all inside and he's never been the same person since. He has completely changed. He never leaves the house except to go to the shop or down to the grave, he'd never go for a pint and he's just heartbroken.
'You'll never forget'
Ann's partially clothed body was found in the ground of St Senan's Church and the Walsh family had to endure a murder trial where all of the details of her vicious death were pored over in front of the jury, which returned a unanimous guilty verdict. Stephen says there is no escaping the memory of it:
You'll never forget it, all you do is learn to live with it.
Ann Walsh was killed when she should have been starting to live her life, her brother says, and it is difficult for his family to accept that, while her killer was sentenced to life in prison in 2006, he can "still breathe, he can still talk to his family over the phone" and one day he will be released.
The people of Kilrush, including Stephen Walsh and his family, were in shock when Ann was murdered, he says. But while nearly 12 years later the town has moved on, the family have not.
"It's all forgotten about. We're the only ones who remember, it will stay with us through hell or high water. We'll always think of it," he says.
'Talk about it'
The Walsh family have spoken out about domestic violence in recent years, getting involved in campaigns with Women's Aid and taking part in a recent episode of RTÉ's Prime Time which focused on three families bereaved by domestic violence.
Stephen says domestic violence against both women and men is being discussed more now in Ireland and, "it's about time."
For his part, he will "do anything to help anyone who is in the same situation as us," he says.
They should stand up and talk about it.
If you think you may have witnessed or experienced domestic violence or abusive behaviour, you can access advice and support services for both women and men at whatwouldyoudo.ie.
The Journal contacted Stephen Walsh through Women's Aid. The Women's Aid 24-hour National Freephone Helpline is 1800 341 900.
It is important that bystanders and witnesses to domestic violence do not intervene in any potentially violent situation unless it is safe and legal for them to do so. Witnesses should be aware of the potential harmful effect that intervention may subsequently have on the victim. The victim is best placed to assess the danger to themselves.
Amen provides a confidential helpline for male victims of domestic abuse. It is open Monday to Friday, 9.00am to 5.00pm and can be reached on 046 9023718.