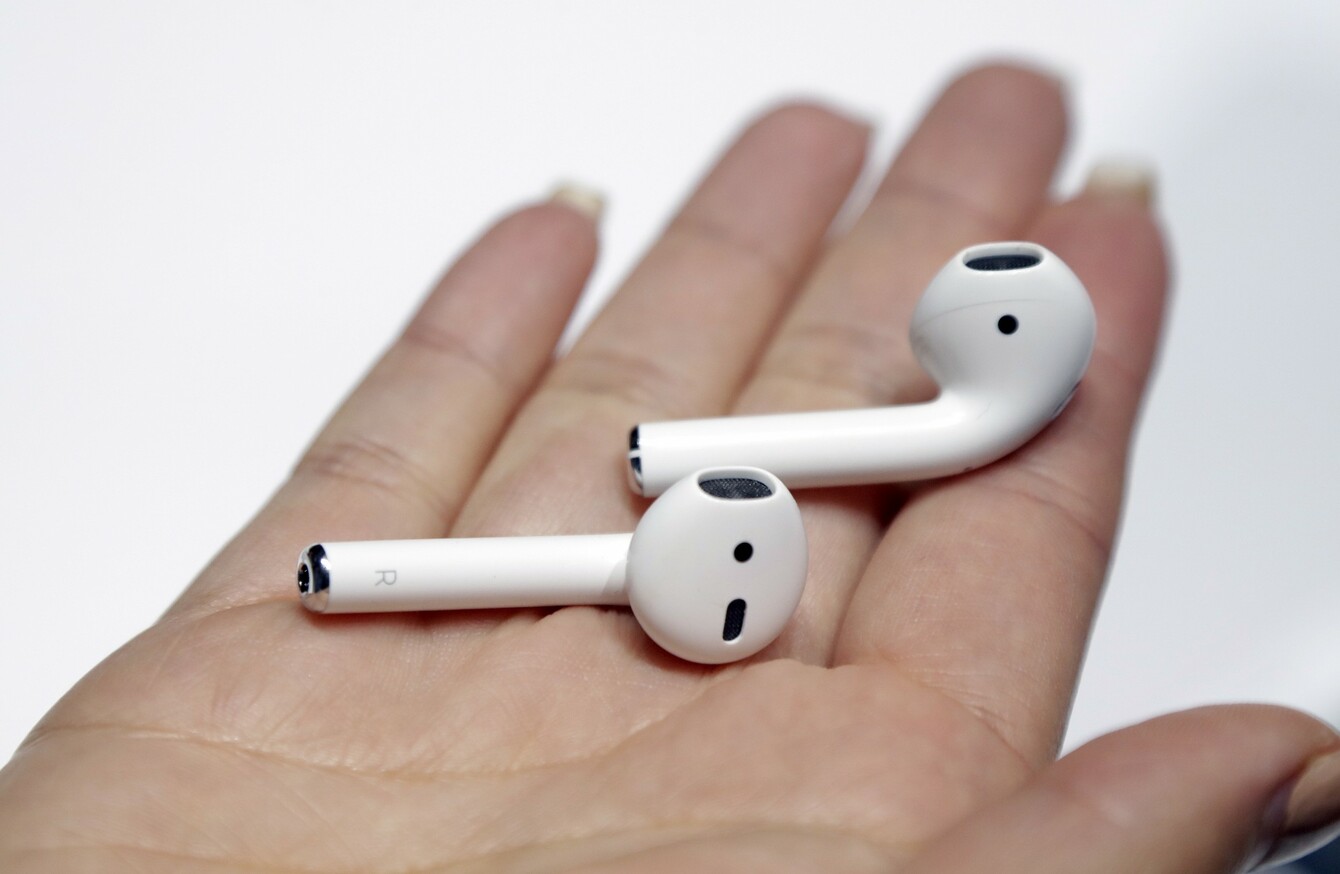 Image: AP Photo/Marcio Jose Sanchez
Image: AP Photo/Marcio Jose Sanchez
WHILE THE NEW iPhone 7 was the focal point of Apple's event, the introduction of another product captured most of the attention.
Chances are you have heard about AirPods, Apple's wireless earbuds, which have caught the eye both because of its small size and the large €179 price tag.
While the iPhone 7 will arrive here on 16 September, it will be the end of October before the AirPods make their appearance, but there is more to them than just being wireless earbuds.
So what you get for the price?
From first glance, they look like the normal earbuds that come with the iPhone but without the wires. Yet underneath it all are features that take advantage of the wireless capabilities.
Working with Bluetooth of most Apple products (iPhone 5 and up, iPad mini 2 and up, Apple Watch and Macs) provided they have the correct software, AirPods pair up automatically once you take them out of the case.
Both buds have a W1 wireless chip embedded inside them which lets them pair quickly with your phone as well as optical sensors and accelerometers. Those sensors allow for some handy features like if you start playing music on your phone and you don't have them in your ear, they won't play.
If you only have one earbud in your ear, it will only play from that one.
Source: Apple/YouTube
If you double-tap on the side of an AirPod, it activates Siri from which you can control things like the volume, play something else or carry out actions like calling someone or asking for directions.
It's hard to see people wanting to change volume or track by talking, especially in public, as it will just look weird to anyone else around, or to not have a way to physically change the volume or start/stop like the wired version.
The case they come in also doubles up as a charger. While the AirPods themselves last for five hours, the case adds an extra 24 hours of battery life. Apple says that charging them in the case for 15 minutes equals three hours of battery life but that isn't exactly great if you're on a long journey or flight.
Also, the form factor is the same as the Apple's regular earbuds so if you found them comfortable (or uncomfortable) before, then it's more of the same here.
Why are people getting so annoyed about it?
Much of the anger and ridicule ties into how the iPhone 7 has ditched the 3.5mm headphone jack, and how Apple is effectively pushing people towards this new standard.
Unsurprisingly, its unveiling led to numerous jokes as well as concerns about losing them and small children choking on them.
But to say this isn't entirely fair as there are concessions. The new iPhone 7 and 7 Plus will include both earbuds with Lightning port and an adaptor for regular headphones and AirPods are a separate purchase so it's not forcing people to start buying wireless headphones.
But just because it's not forcing them on users doesn't mean it's not trying to push people in that direction. The problem of charging and listening to music at the same time is one that will annoy users and wireless is a solution to this.
There are also other problems like creating different standards for headphones – wired headphones for the iPhone 7 won't be compatible with non-Apple devices for example – and that's something that will cause headaches for consumers in the medium-term.
At the same time, Apple is a business and like any company, it can benefit by moving people towards a new standard and dictating the terms for it. With iPhone sales slowing down, expanding into different areas now is a wise decision.
That's not to say wireless will be a massive cash cow for it, but part of Apple's success is how it can lock people into its iOS ecosystem, and making it tough to leave thanks to a number of factors.
Buying an iPhone can lead to buying Apple TV or buying a Macbook or extra accessories and so on. AirPods tie into this and that's before you consider the range from Beats.
Will people bother paying for them?
Well, they're a first generation product so the general public isn't the main audience (yet). Instead, it will be the major fans and early adopters who will shell out the money for it, and many people will likely balk at the thought of paying €179 for them.
You can still get wireless headphones for cheaper but one of the main issues with them is the reliability of Bluetooth which is less than perfect. Apple may have figured out a way to prevent this, but it's hard to know without trying them out for long periods (for what it is worth, the initial reception seems to be positive).
It's unlikely AirPods will be an essential purchase when they arrive in October but whether you like it or not, Apple sees wireless playing a big role in its future. And even if you're not sold on the idea now, chances are that will change.