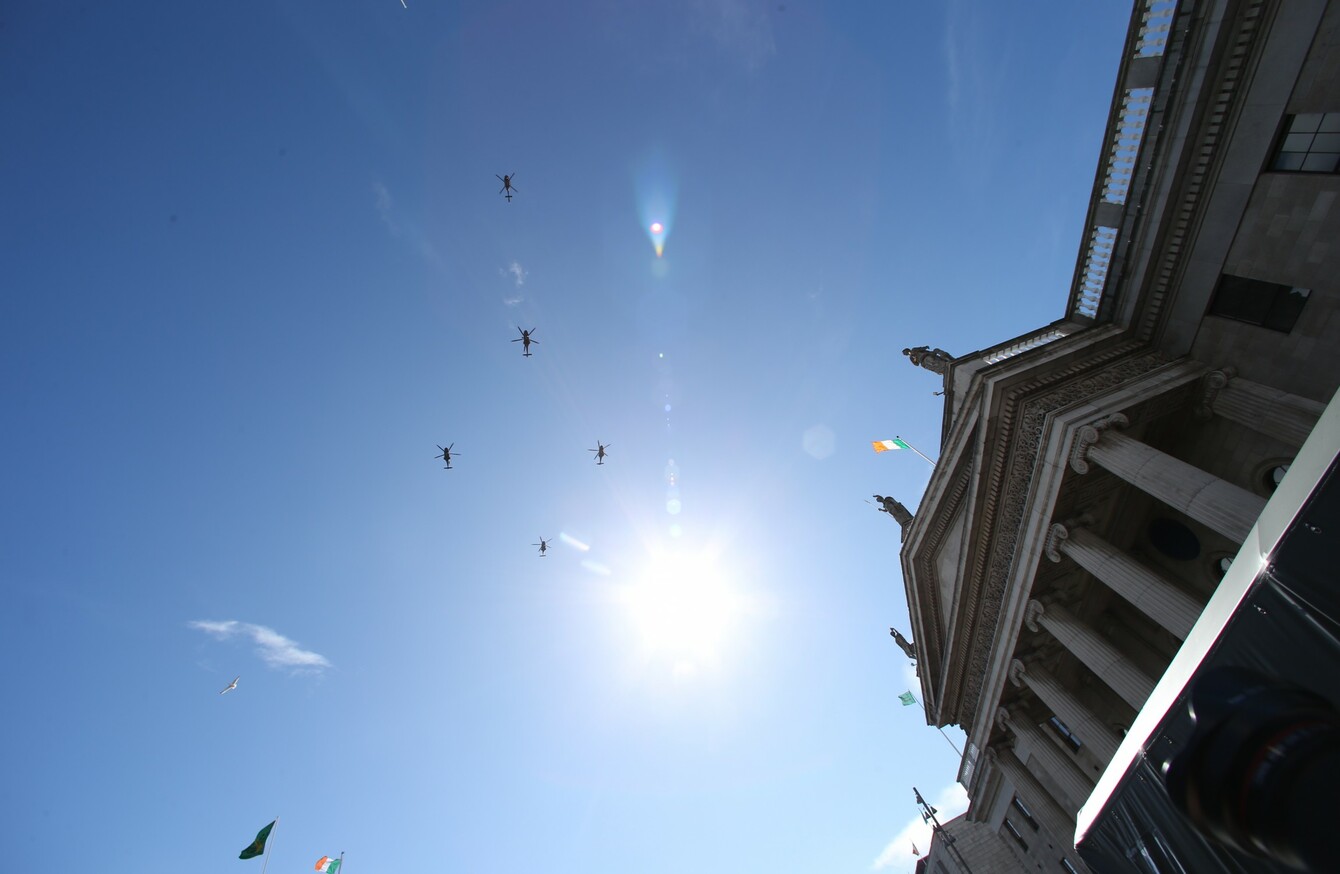 A garda giving evidence noted that the incident took place not long after the 1916 commemorations.
Image: RollingNews.ie
A garda giving evidence noted that the incident took place not long after the 1916 commemorations.
Image: RollingNews.ie
A LANDSCAPE GARDENER who attacked a stranger with a glass around the time of the Easter 1916 Commemorations after insulting the man about being from Northern Ireland has been jailed.
Jason Wall (31) of St Patrick's Close, Monkstown, Dublin pleaded guilty at Dublin Circuit Criminal Court to assaulting Kieran Nelson causing him harm in Blackrock, Dublin on 27 April, 2016.
He has 14 previous convictions which were all dealt with in the District Court.
Judge Karen O'Connor said it had been a "violent and gratuitous attack" which left the injured party embarrassed by his appearance. She said Wall started being quite offensive in respect of the victim being from Northern Ireland.
She noted €1,000 gathered by Wall by way of redress and his letter of apology. She accepted he had an impressive work record and had not come to any further garda attention.
Judge O'Connor imposed a sentence of two years imprisonment and suspended the final year.
Garda Ciaran Ronan told Martina Baxter BL, prosecuting, that Nelson was bleeding heavily from his head when he arrived at the scene. He claimed he had been attacked by a man with a glass and was taken to hospital for treatment.
He later told gardaí that he had gone out for a pint after work and went to get chips afterwards when he met Wall. Wall said to him "youse in the North are cowards".
Nelson replied "don't be silly" in an attempt to diffuse the situation but he described Wall as being "very aggressive".
They all left the shop at the same time and Wall continued to talk to him in the same manner. The victim got nervous and crossed the road to head to a nearby garda station.
Garda Ronan said Nelson eventually turned around and asked Wall "Is there going to be problem here?" before he was hit in the head with a glass.
Nelson needed stitches for cuts to his forehead and his lip. He was discharged from hospital the next day.
CCTV footage
Garda Ronan said Wall was arrested after he was identified through CCTV footage. He made no admissions during a subsequent garda interview.
A victim impact report stated that Nelson has been left with an obvious scar on his forehead. He also was out of work for a short time. He suffered embarrassment as result of the scar and an economic loss of €900.
Garda Ronan agreed with Lily Buckley BL, defending that Nelson was happy to receive €1,000 which Wall had in court as a token of his remorse.
He accepted that Wall had written a letter of apology and had demonstrated "true sorrow for the incident".
Garda Ronan further accepted that the assault occurred around the time of the Easter 1916 commemorations and there had been conversation within the group at the chipper "surrounding historical and political lines".
Buckley told the court that her client doesn't have any previous convictions for violent behaviour and has not come to garda attention since.
She said Wall was the father of an eight-year-old boy and had significant "personal issues at the time".
He had been drinking heavily but no longer abuses alcohol. She said he earned "a modest wage" as a landscape gardener.