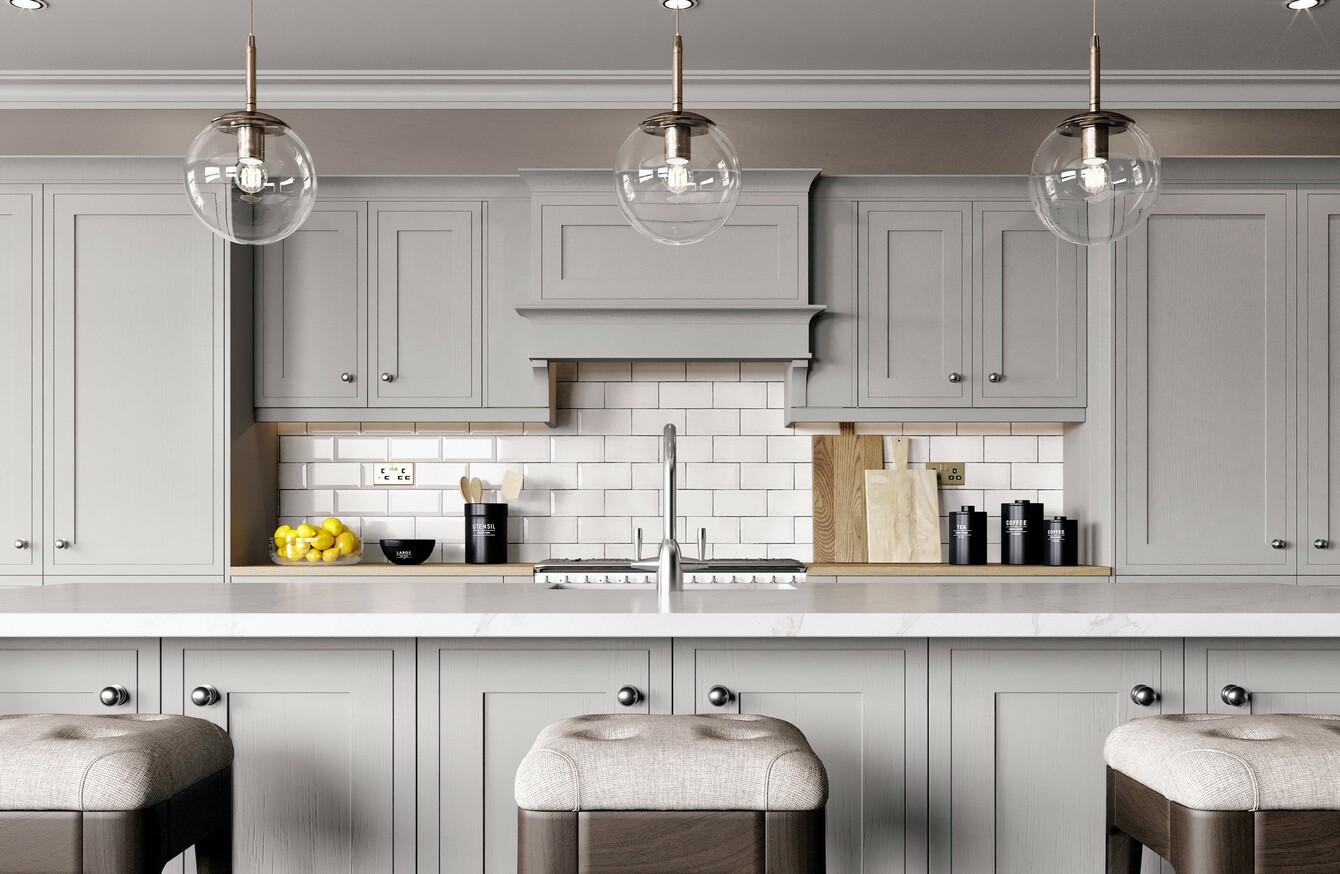 The Hampton in Oyster Grey, a classic style from from Cash & Carry Kitchens.
The Hampton in Oyster Grey, a classic style from from Cash & Carry Kitchens.
BUYING YOUR FIRST home is something you'll never forget. It's a time of life when big decisions come in quick succession – and one of the biggest, for many first-time buyers, is what to do with the kitchen. 
Whether you're renovating, or starting from scratch in a self-build, planning your new kitchen is an exciting part of the home-buying process – an opportunity to design a space that really fits your needs and your personality. But it's also an investment, so it's important to get it right.
So as a first-time homeowner, how can you make sure you get a kitchen that's future-proof – without breaking the bank? We asked Cash & Carry Kitchens designer Hugh Christie to share his tips for buyers who want to turn their dream kitchen into a reality. 
1. Budget first, design second
The first step is to decide how much you have to spend on the kitchen. That comes before you even set foot in a showroom, says Hugh. "I would always suggest that people go and talk to family or friends, see what they've done, see what it would cost," he says. "Be realistic."
If you start designing without a budget, your hopes are likely to be way out of line with what you can afford – and that means wasting precious time (and headspace) while you reassess. 
When you've set a budget, be clear about it, and the designer will be able to help. "Don't be afraid to tell the designer what your budget is," says Hugh. It's their job to work around it, and they'll be able to look for economical solutions where necessary. "If it's money you need to save, they'll help you save money by designing a kitchen that does that." 
2. Think ahead… like, years ahead
Once you've set your budget, the next step is to start thinking about what your kitchen needs to do. But here's the trick: don't think now, think five or even ten years from now.
"How long are you going to stay in the house for?" asks Hugh. If it's a starter home and you're planning to trade up, you'll want a kitchen that helps you sell the house.
Are you going to be a family in a couple of years' time? The needs of a single person or a couple could look very different from those of a family with kids. "A lot of couples tend to eat out a lot, or eat quickly at the island," says Hugh. "They're on the fly a bit, they're having breakfast standing up while they're heading out to work in a hurry. A single oven under the counter and a microwave on the worktop is fine, you're only looking after each other."
3. Planning a family? Make your kitchen work for you
If starting a family is part of the plan, why not make sure your kitchen is built for it? Planning a kitchen around kids can affect the design in all sorts of ways.
"You're thinking about eye level ovens, to keep them out of the way of kids crawling around," says Hugh. "Ovens with a quadruple glazed door so kids aren't burning their hands. Integrated appliances with hidden buttons, so they don't get messed with." And that designer island with the projecting worktop? "You'll want to round off the corners."
A family kitchen could also mean more food storage, a bigger fridge. "These things might be costly now," says Hugh. "But it could be cheaper in the long run." 
4. Go with quality for an investment that lasts
Buying your first home is an exciting moment, but money can be tight. So how can you avoid overspending on a kitchen – or worse, cutting corners with a substandard model that needs upgrading before long?
The key, says Hugh, is to keep it simple. "The best way to do it is to use big units – the bigger they are, the more accessible they are." Don't spend a lot on accessories and gadgets now, because you can always add them down the line – if you've got your fundamentals right. 
So how do you get those fundamentals in place? A good designer will be able to tell you how to plan for future upgrades – whether that's allowing space to add an island in the future, or investing a little in high quality units that will last years, so you can upgrade fixtures and fittings when money allows. "Well-built cabinets will last a long time," says Hugh.   
5. Stay neutral for a kitchen that will sell
Is your first house going to be your forever home? If not – or if you're not sure – it's worth remembering that a good-looking kitchen will help when it comes to selling on.
Hugh suggests sticking to neutral colours for the main kitchen, and accessorising around them to add character and life. 
"It doesn't mean you have to spend a fortune," says Hugh. "You can get a kitchen to look really good without breaking the bank. But any money that you spend on your kitchen, you'll get it back." On the flipside, a kitchen that looks ragged in just a couple of years could reduce the value of your home to potential buyers.
6. Having building work done? Get your kitchen designed first
If you're renovating a doer-upper, or even building your own home, then you'll be getting a lot of other work done too. In these cases, says Hugh, you need to integrate the kitchen into your plans – not think of it as something that can be 'plugged in' later.
"If you're renovating, you should design your kitchen before you even start," he says. "That way you can show your builder where your electrical and plumbing points need to go, and the designer can advise about work that needs to be done."
For a self-build, "you need to start thinking about your kitchen as the foundations are being dug," he says. This way you'll avoid clashes down the line. "If you're designing the kitchen that suits you best, maybe the window the architect put in doesn't fit it. Maybe the doors don't open the right way." If you've done your homework, you can change these things before they go in. 
You can book a free design appointment with Cash & Carry Kitchens today, at any of their 15 nationwide showrooms. With a reputation built on quality, trust and expertise, Cash & Carry Kitchens are with you all the way – from the first conversation, to seeing your new kitchen installed by trained fitters. To start your journey and book a free consultation, visit cashandcarrykitchens.ie or call 1890 92 92 26.