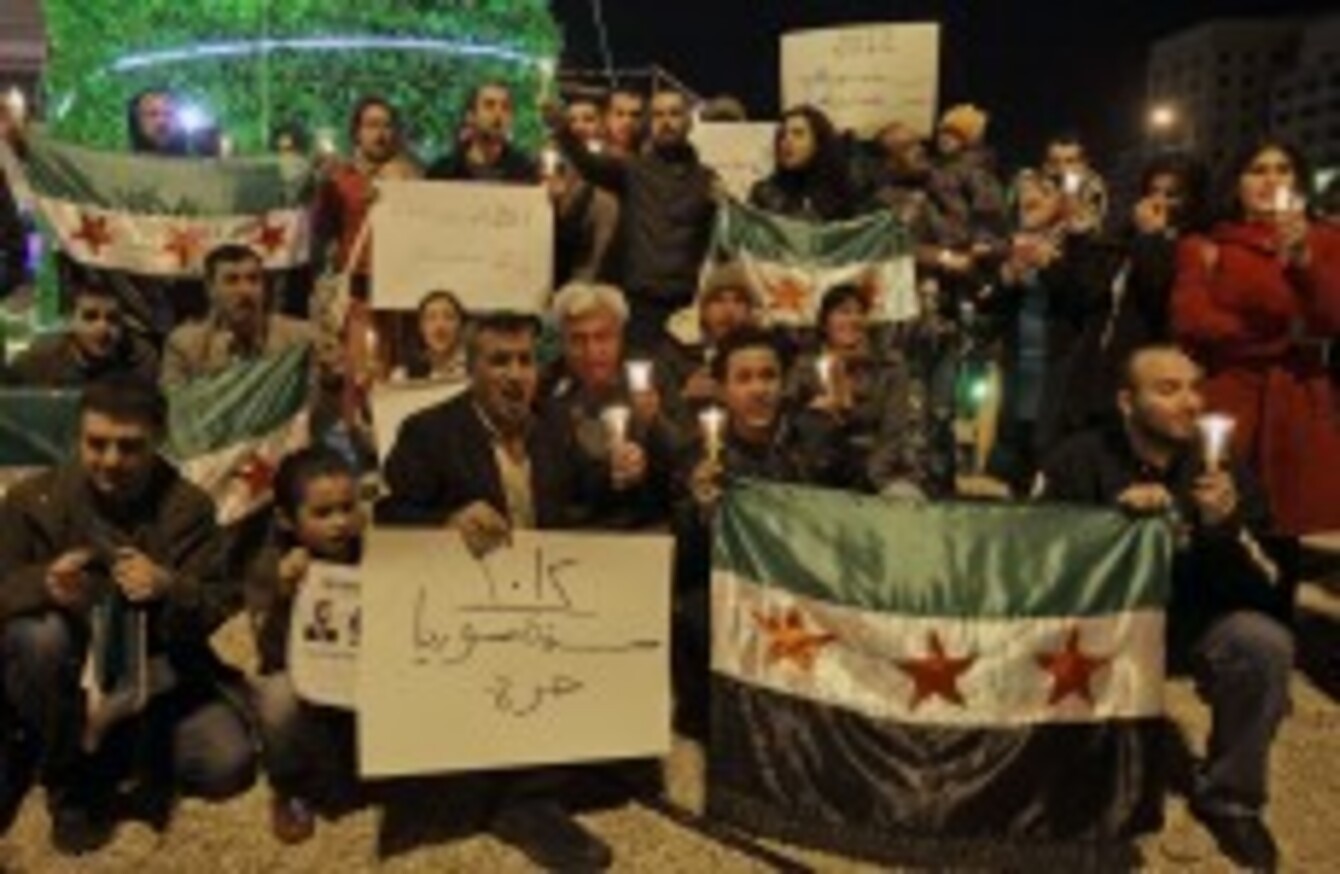 Lebanese and Syrian activists hold a candle light vigil and Syrian revolution flags in downtown Beirut, Lebanon, on New Year's Eve
Image: Bilal Hussein/AP/Press Association Images
Lebanese and Syrian activists hold a candle light vigil and Syrian revolution flags in downtown Beirut, Lebanon, on New Year's Eve
Image: Bilal Hussein/AP/Press Association Images
AN ARAB LEAGUE advisory has called for monitors to leave the stricken country, according to latest reports.
Reuters says that the body called today for the monitors, who arrived in the country early this week, to withdraw immediately.
It accused it of allowing Damascus to cover up violence and abuse in Syria.
The team was sent to see if President Bashar al-Assad was still attempting to bring a violent end to the uprising in his country.
So far, 5,000 people are reported to have been killed during the violence, and Reuters says the Arab Parliament said the violence is continuing despite the presence of the monitors.
This, it said, is allowing the Syrian regime to continue with violence behind the cover of the Arab League.
Meanwhile, the New Year was rung in in Syria with demonstrations at various points across the country.
During the protests, people held banners saying "Freedom for life" and "Long live free Syria".
However a 7-year-old child was the first victim of the violence in the new year, being killed when gunfire stuck the car he was riding in in the Hama province.
There have been accusations that the regime has posted snipers on rooftops and fired tear gas and nail bombs.
Yesterday, to mark the new year, Lebanese and Syrian activists held a candle light vigil in downtown Beirut, Lebanon, in mourning of Syrians killed since the uprising against President Bashar Assad regime began in March.
They held a banner in Arabic that read: "2012 Syria is free."
- Additional reporting AP