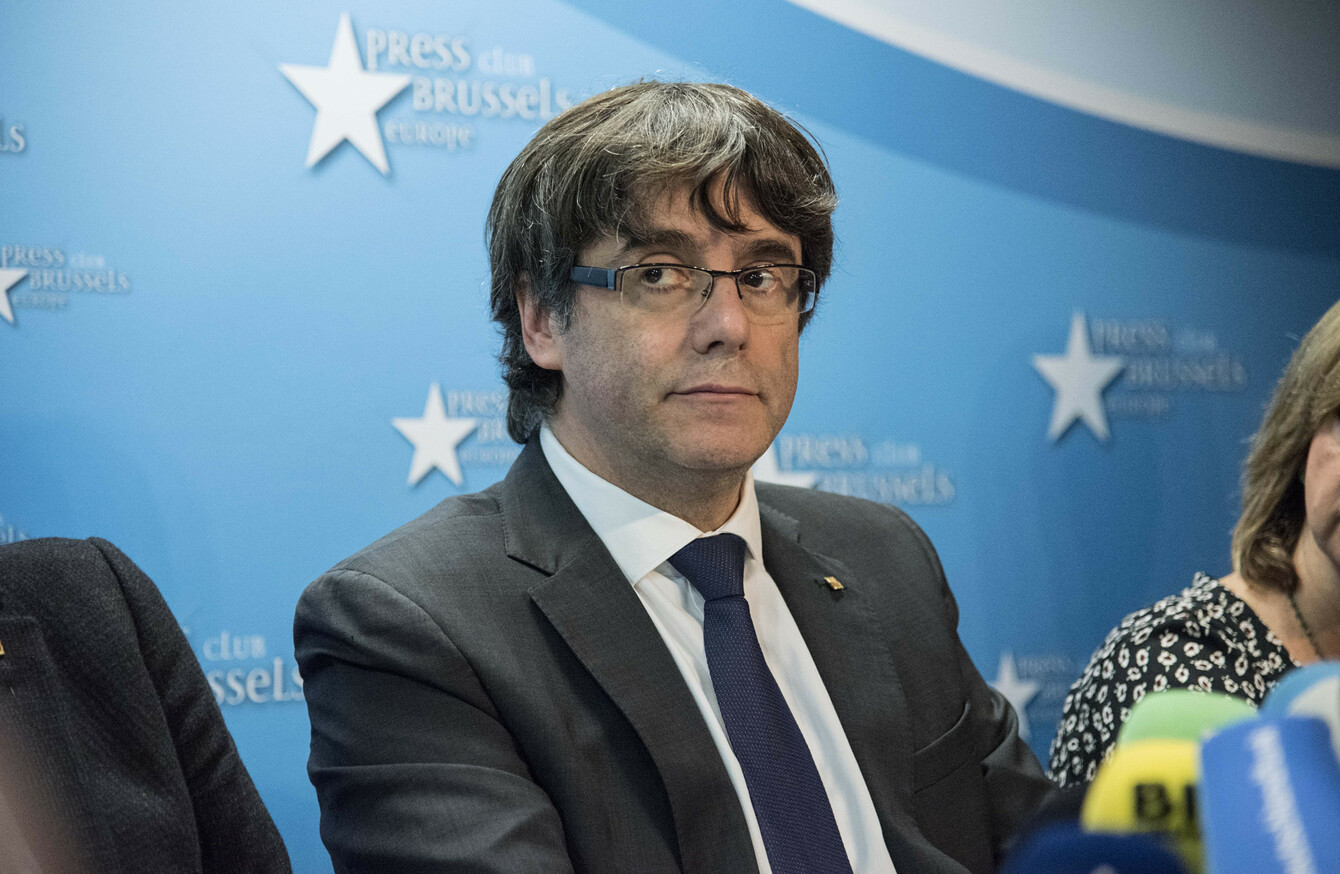 Former Catalan leader Carles Puigdemont.
Image: RiccardoPareggiani/PA Images
Former Catalan leader Carles Puigdemont.
Image: RiccardoPareggiani/PA Images
Updated at 5.40pm
A SPANISH JUDGE has ordered eight former members of Catalonia's deposed separatist government detained pending further probes into their role in the region's tumultuous quest for independence, a Madrid court said.
Another former regional minister, who resigned just before the Catalan parliament declared independence on Friday, was also remanded in custody but will be set free if he pays a bond of €50,000.
This development was heard in Spain's National Court, which handles criminal cases.
Puigdemont arrest warrant 
Earlier today, the former Catalan government members were being questioned after being summoned in the investigation into the secession drive.
Deposed Catalan leader Carles Puigdemont and four other ministers, however, refused to show up in Madrid as summoned and remain in Belgium.
Puigdemont travelled to Brussels after the Spanish central government imposed direct rule on Catalonia as the regional parliament declared independence.
Spanish prosecutors have requested a European arrest warrant for Puigdemont after he failed to show up.
Prosecutors asked a judge to approve the warrant for Puigdemont and four of his former ministers, all thought to be in Belgium, a judicial source said.
The source, who declined to be named, said Puigdemont had "publicly announced his intention not to appear," adding that he and two other former ministers asked to appear via videoconference "without giving any information as to where they are."
Prosecutors also asked for the preventive detention of eight of Puigdemont's ministers who did adhere with a legal summons to face accusations of sedition, rebellion and misuse of public funds.
Separately, Spain's Supreme Court adjourned until 9 November the hearings of former members of Catalonia's dissolved parliament including speaker Carme Forcadell at the request of their lawyers.
Accused by prosecutors of sedition and rebellion over the region's independence drive, which carry sentences of up to 15 and 30 years in jail respectively, the six had been summoned to court for questioning by a judge.
It was as yet unknown why their hearings were adjourned by the court, which deals with cases involving lawmakers.