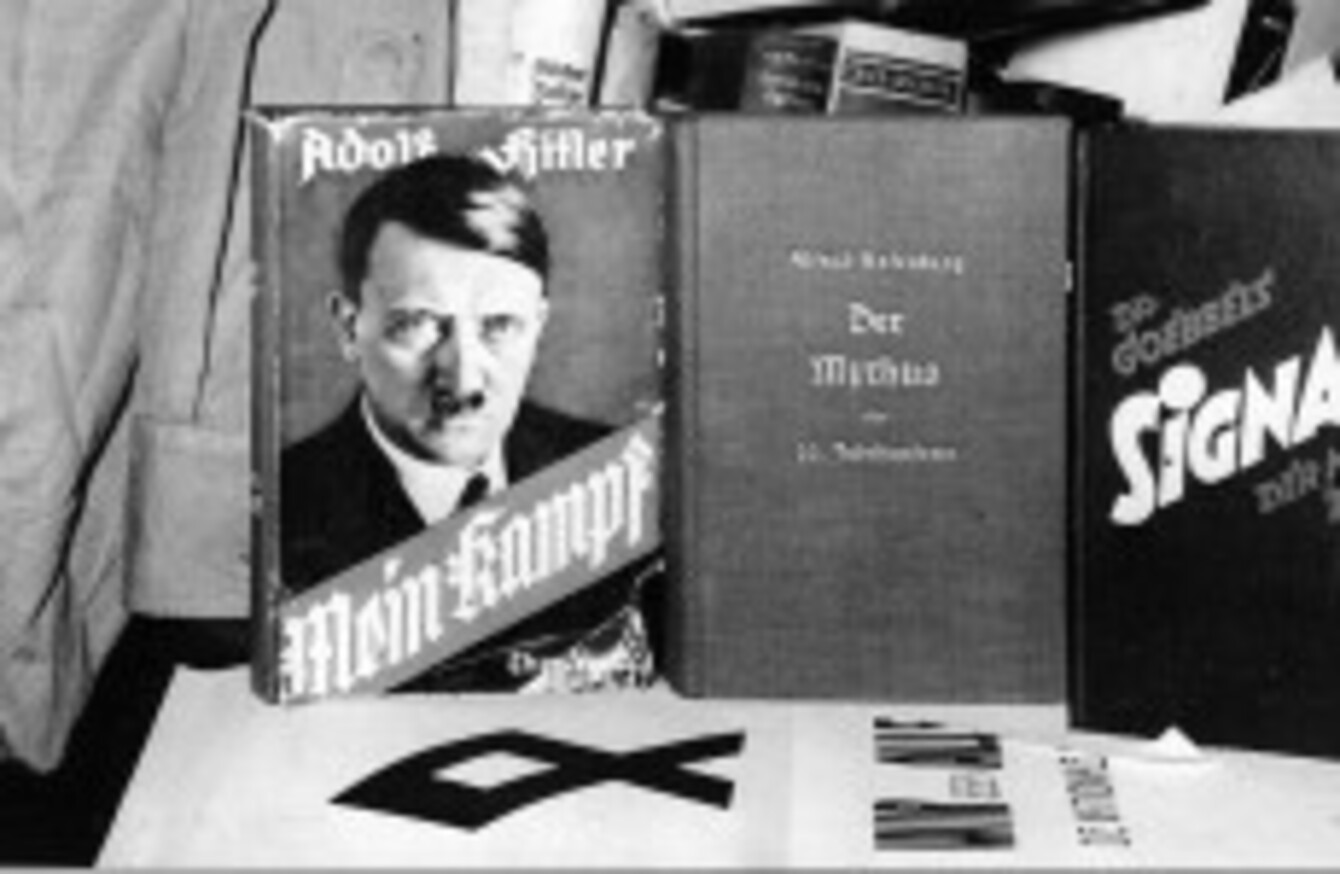 Image: AP/Press Association Images
Image: AP/Press Association Images
AN AMSTERDAM ANTIQUES gallery owner has been charged with putting up for sale a copy of Hitler's Mein Kampf, which is banned in the Netherlands.
Prosecutors have charged gallery owner Michiel van Eyck with inciting racial hatred and discrimination following a complaint from a Jewish group last year.
"Police issued him with a subpoena to appear in court on 26 August," the Dutch prosecutor's office said in a statement.
The decision comes after an eight-month investigation, with prosecutors saying Van Eyck planned to sell the 1944-45 edition for profit, not for "scientific or journalistic reasons."
"The defendant stated he knew that there were statements in the book that insulted Jews and incited hatred, discrimination and violence against them," prosecutors said.
Van Eyck told AFP his Totalitarian Art Gallery specialised in selling objects from oppressive regimes in history and also included artefacts from the eras of Russia's Stalin and China's Mao.
"I have a shop here that specialises in historical objects, so I also sell books like Anne Frank's diary, the Bible, statues of Lenin and Marx and other historical figures," he added.
Jewish teen Anne Frank wrote her famous diary while hiding from the Nazis in Amsterdam during World War II, but she was later died in a German concentration camp in 1945.
"In this context I also sell the book 'Mein Kampf'," Van Eyck said.
It has nothing to do with being pro-Nazi or anything like that. I sell historical objects and I feel that I should be able to sell the book. It's no use hiding the past away.
Esther Voet, director of the Netherlands' Centre for Information and Documentation of Israel however called the sale a "cheap publicity stunt."
"We won't give him any platform, therefore we will not comment on the issue," she told AFP.
Under Dutch law, the sale of Mein Kampf was banned in 1974 because the blueprint for the rise of Nazism and Jewish Holocaust promoted hatred and discrimination.
If convicted, Van Eyck faces up to six months in jail or a €7,600 fine.
Six years ago a lifting of the ban was narrowly turned down by Dutch parliament after an education minister said it should be freely available, according to the national public broadcaster NOS.