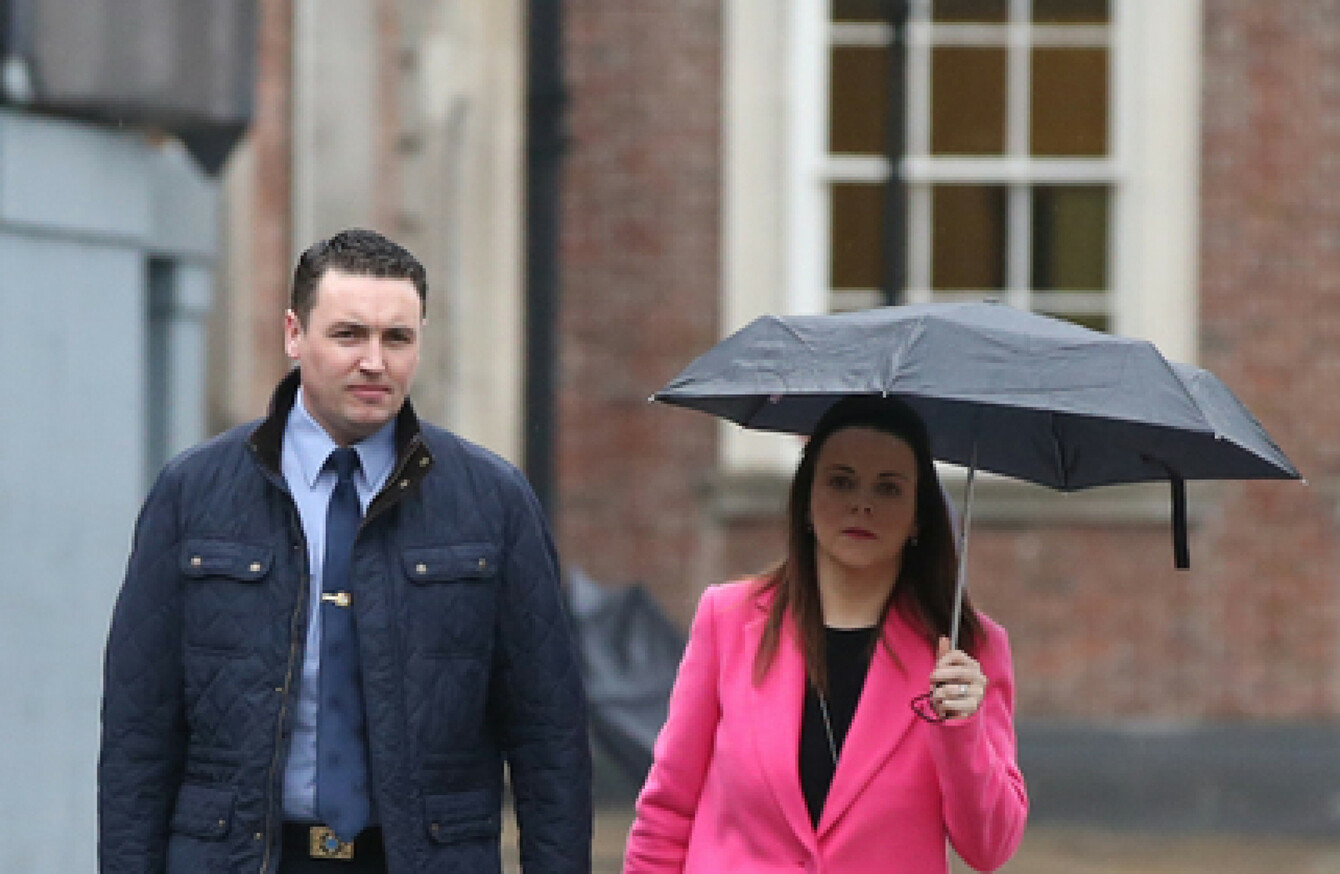 Garda Keith Harrison with his partner Marisa Simms.
Image: Sam Boal
Garda Keith Harrison with his partner Marisa Simms.
Image: Sam Boal
THE PARTNER OF a garda who says he was targeted because of whistleblowing activities has told the Charleton Tribunal she would prefer if she did not have to be there.
"We want peace and we want to be left alone to get on with our lives," Marisa Simms told the inquiry today.
"My children have Pulse IDs and they don't deserve to have Pulse IDs," Ms Simms said.
In the current module, the tribunal is looking at contacts between An Garda Síochána, child and family agency Tusla and Garda Keith Harrison.
Marisa Simms said that the past few years had been extremely stressful and worrying.
"It's not just about a 15-minute visit from a social worker, its the knock-on effect on me as a mother,"she  said.
She said Garda Harrison had a good relationship with her children, and treated them as his own.
She told the tribunal yesterday that she accepts there is no basis for believing gardaí manipulated Tusla into investigating her family and children.
She said yesterday that she had previously believed there was an abuse of authority based on the fact that there was a "coincidence" in which she was contacted by Tusla shortly after she withdrew a statement making complaints against her partner.
'Turbulent relationship' 
Questioned by Garda Harrison's barrister, Mark Harty SC, Marisa Simms agreed that in its early years, their relationship was "turbulent".
Harty said that of all the internet searches on her phone the day after she made her statement, 31 were about medical issues, and only two were about harassment.
Both of these searches were about gardaí losing their jobs, not about people being prosecuted for harassment, Harty said.
Marisa Simms said she had felt tired that day, and had not fully recovered from surgery the previous summer.
"To be honest the whole day was kind of blurred. I wasn't really myself," Ms Simms said.
Beginning his evidence, Garda Harrison told the tribunal he transferred to the Donegal division from Athlone in 2011. He was stationed in the Buncrana district.
"I knew I had to get out of Athlone. I knew I had to move," Garda Harrison said.
"When I sought a transfer, myself and Marisa were in the early stages of a relationship," Garda Harrison said.
Garda Harrison had not disclosed his relationship with Ms Simms, whose brother Martin McDermott was later convicted of manslaughter for the death of Buncrana-based Garda Gary McLoughlin.
He told the tribunal that in hindsight, it would have been the correct thing to do to tell his superior officers about Marisa Simms' relationship to Martin McDermott
Tribunal barrister Pat Marrinan SC said that it was not appropriate for Garda Harrison to serve in Buncrana while his partner's brother was under investigation during a homicide inquiry.
"I didn't have any other choice," Garda Harrison said.
"From my part, I shouldn't have been precluded or prohibited for the actions of anyone else for which I was not responsible," Garda Harrison said.
Garda Harrison said that had he been in any station in Donegal other than Buncrana, where Garda McLoughlin had served, his relationship with Marisa Simms would not have been an issue.
Garda Harrison said he had a good relationship with Superintendent Kevin English, and after knowledge of the relationship emerged, the superintendent told him he would have to transfer to another district.
Garda Harrison said he did not have any issue with the superintendent, but was anxious to stay in Co Donegal.
Comments are closed for legal reasons