Lt. Col. Mutuare Daniel Kibibi following his conviction
Image: Pete Muller/AP/Press Association Images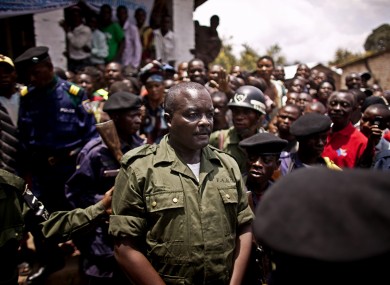 Lt. Col. Mutuare Daniel Kibibi following his conviction
Image: Pete Muller/AP/Press Association Images
AN ARMY COLONEL has been sentenced to 20 years in prison for crimes against humanity after he was found guilty of ordering and participating in the mass rape of over 60 women in a Congolese village.
A court in the Democratic Republic of Congo sentenced Lieutenant Colonel Mutuare Daniel Kibibi after he was found guilty of ordering his troops to attack the village of Fizi on New Year's Day, reports The Guardian.
Doctors later treated 62 women who had been raped including one who had said she had been subjected to a 40 minute assault by Kibibi himself.
Three of his officers received the same sentences, five others got lesser terms of between 10 and 15 years, a minor is to be tried in a juvenile court and one other was acquitted. Prosecutors had sought the death penalty for Kibibi, 46.
The conviction is seen as a landmark for human rights causes in the central African country where mass rape has become endemic according to The Independent.
It is the first time a senior Congolese military commander has received a conviction for such crimes.
Although a five year civil war ended in the Congo in 2003, lawlessness has continued in the east of the country.
There were an estimated 11,000 cases of rape in 2010 with more appalling assaults reported in late January by Medicins San Frontiers.