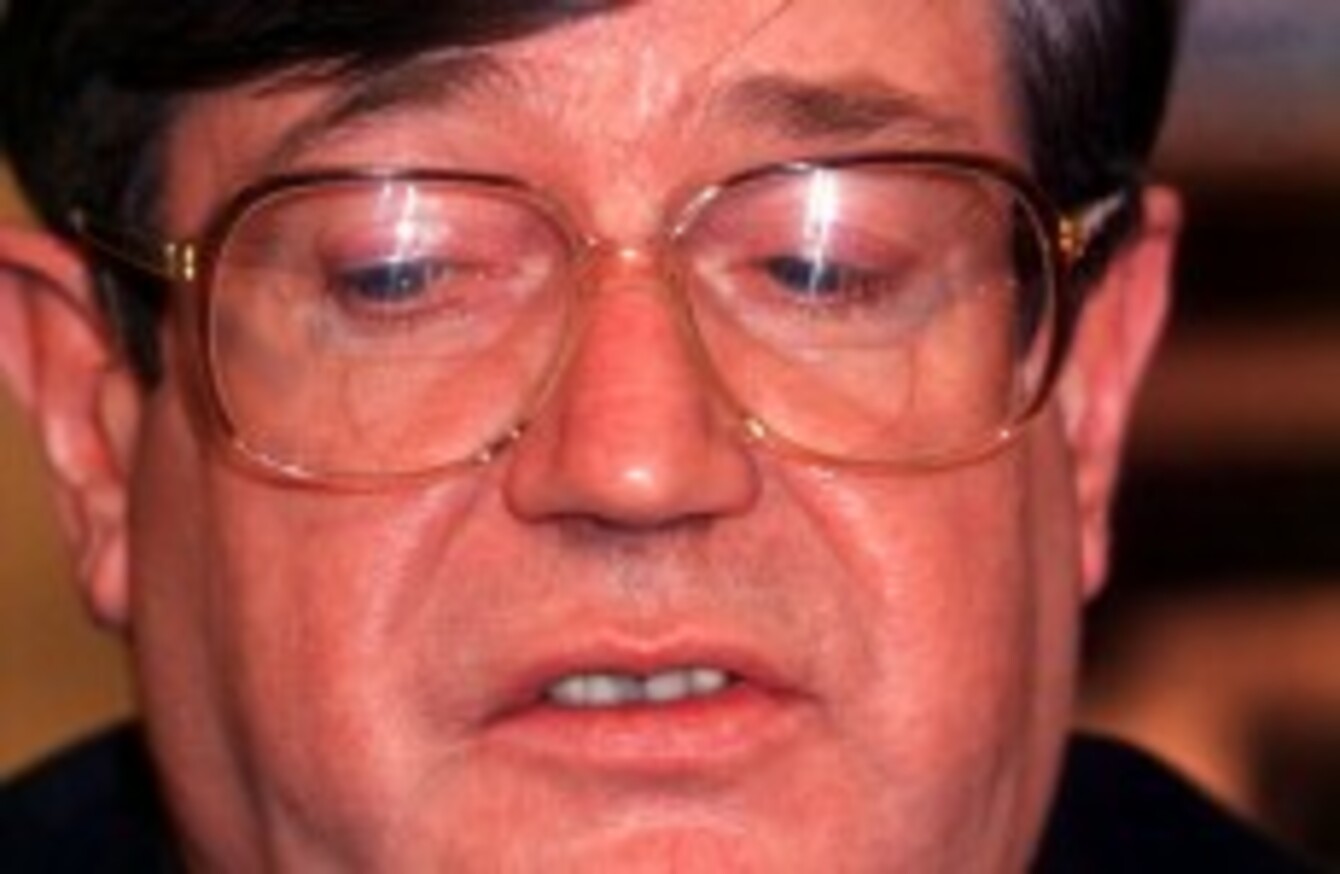 Ray Burke has received an apology for the finding against him. He will now be entitled to claim his costs from the Tribunal.
Ray Burke has received an apology for the finding against him. He will now be entitled to claim his costs from the Tribunal.
DID YOU THINK we were done with Tribunals?
After 15 years of the Tribunal of Inquiry Into Certain Planning Matters and Payments - and various other public inquiries into different walks of Irish political life – the Irish public cannot be blamed for having Tribunal Fatigue.
So, when over the past three weeks, they started creeping back onto our newspapers' front pages, there may not have been the attention given to it as before.
If you're suffering from hazy memories and need to catch up, here's everything that's been happening.
Ah, hold on now, which Tribunal are we even talking about again?
The Mahon Tribunal. But you're right to be a little confused. It was also known as the Flood Tribunal as it was initially headed by Judge Feargus Flood.
It was an inquiry into "certain planning matters and payments". It was set up 1997 to investigate allegations of corrupt payments to politicians in relation to planning and re-zoning decisions.
It had a large focus on the Dublin County Council area in the 1990s.
Sitting for almost 15 years (that's more than 900 days total), it was the longest running public inquiry in the State's history.
We wrote a handy timeline of how it came about here. But the short version: there were countless numbers of allegations made against public representatives about how they did their business. Hundreds of witnesses were called – some that were less than reliable – and eventually a final report which ran to 3,270 pages was published.
Who did it make findings against?
Tribunal findings are never straightforward. People can't be put into neat 'good' and 'bold' columns. It is part of the intrigue, and also part of the frustration.
So, we'll try and give you the pertinent ones here.
The final report from the Tribunal, issued in March 2012, said that corruption affected "every level of Irish political life", noting that it was allowed to continue unabated.
It concluded that Bertie Ahern did not 'truthfully' account for lodgements of over £165,000. However, it did not brand the former Taoiseach corrupt.
Mahon ruled that former TD Liam Lawlor "abused his role as an elected public representative", and that he effectively "conducted a personal business" where he "corruptly sold his expertise, influence and experience" for his own personal gain.
Another finding against a Fianna Fáil man said former minister Padraig Flynn "wrongly and corruptly" took a payment of IRL£50,000 from developer Tom Gilmartin in 1989 and used the money for his personal benefit.
Former Fianna Fáil TD GV Wright also received a IR£5,000 "corrupt" payment from Christopher Jones, according to the final report.
It also made findings of corruption against 11 councillors. 
And, what happened them then?
Bertie Ahern had to resign from Fianna Fáil. Although he wasn't found to be corrupt, the 'truthful' remark was enough to be the final nail in the coffin. Other colleagues also joined him in the (forced) resignations. They included Pádraig Flynn, GV Wright, Don Lydon, Finbarr Hanrahan and John Hannon.
Ray Burke was sentenced to six months in jail in 2004 for failing to make a proper tax return.
Liam Lawlor served three different spells in prison for failing to co-operate with the processes of the Tribunal.
The Revenue Commissioners chased down about €34 million of the money it was owed by various parties to the Tribunal.
So, why is it back in the news?
It is good news for some of those who had bad days in over the past 15 years because of Flood, Mahon and Co.
Last summer, during a case taken by Joseph Murphy Structural Engineers against the Tribunal, the judges took issue with how it handled the evidence given by star witness James Gogarty.
Once the Supreme Court had made its ruling on what it described as withholding evidence wrongly, it was clear there would be problems for at least some of the findings of the 14-year-old inquiry.
And just a few months later, in came George Redmond.
The ex-planning official won his legal battle last month to have all conclusions and adverse findings against him removed. This came as a direct result of the Supreme Court ruling on Gogarty's evidence.
In the High Court, the Tribunal said it would remove the findings and pay his legal costs.
That move also meant the findings of corruption against businessmen Michael Bailey and Joseph Murphy Jnr were also quashed for the same reasons. Findings that they hindered and obstructed the trial have also been rescinded.
What have we heard about Ray Burke then?
He's the man in the main picture of this article and was a former minister (he looked after numerous portfolios, including justice) in the 1980s and 1990s.
Following Redmond's successful High Court action, and the Joseph Murphy Structural Engineers case the tribunal has written to a number of affected parties, including the former minister Burke, as well as businessmen Oliver Barry and James Stafford. 
They have been told that the findings of hindering and obstructing the work of the Tribunal will be withdrawn. They will now be able to retrieve his legal costs, which run into millions of euro.
The Tribunal also apologised to Burke for the finding. There have been inconsistent reports on whether all others who were accused of the same charge in the second and third interim reports received the same written apology.
Why were these findings removed?
In short: James Gogarty.
The Supreme Court found that important material relevant to his credibility was wrongly withheld. One judge described the evidence as "potentially explosive".
According to an Irish Times' front page story on Thursday, that evidence included allegations by Gogarty against a politician and a law officer. Those allegations were deemed not credible and were redacted from the evidence before it was handed over to the legal teams of other witnesses.
The Tribunal put its hands up, accepting the Supreme Court judges take on this.
Who is James Gogarty again?
One of Ireland's most famous whistleblowers, the former Garda and engineer is widely accepted as the man who uncovered the entire issue of corrupt planning. He responded to the initial public offer of a IR£10,000 reward for information leading to convictions in planning corruption by the former chairman of An Taisce Michael Smith and the barrister Colm Mac Eochaidh.
Appearing at the then Flood Tribunal, Gogarty gave perhaps the most crucial piece of evidence in saying that he had witnessed a bribe of IR£30,000 being paid to then Minister Ray Burke which he claimed was for the purpose of seeking Burke's influence to rezone over 700 acres of land at several locations in north Dublin.
Gogarty's criticism of his employers, whom he was in dispute with, several politicians and the planning process as a whole earned him widespread praise for his courage in exposing corruption in the planning process. He died in 2005.
What about Bertie?
An RTÉ PrimeTime programme on Thursday indicated that the finding that Bertie was not 'truthful' will not be impacted by these judgements.
However, lawyers for the Tribunal are now looking at all findings based on the Gogarty evidence.
Well, how much will all this end up costing the taxpayer?
The final figure put on the cost of the Tribunal was €159 million. That is actually much lower than initial estimates of €196 million.
It is not yet clear how much will need to be added to that to cover the new legal costs that have now arisen. Burke's legal fees alone could reach up to €10 million.
However, in a statement earlier this month, Judge Mahon himself said that the €159 million estimate is still correct because Third Party costs will not increase from the €48.5 million budgeted for in May 2014.
"This estimate was based on the assumption that all third parties (including Mr. Redmond) received their full costs, following (where appropriate) an adjudication of those costs by the Taxing Master of the High Court.
"The recent Redmond case decision does not alter this estimate of € 48.5 million  nor the estimate of € 159 million in relation to the total cost of the Tribunal since its inception."
Judge Mahon also added: "The Tribunal's estimates are based  on actual costs paid, or likely to be paid, and not amounts claimed for costs.
It has been the experience of the Tribunal that in very many cases, third party claims for costs have been grossly exaggerated and bear little relevance to the costs actually paid or likely to be paid following negotiation and /or the Taxation process.
That statement was put up on the official Tribunal site (which is a horrid trip down the Internet's memory lane, by the way) before the Ray Burke revelations this week.
The Tribunal continues, it seems.