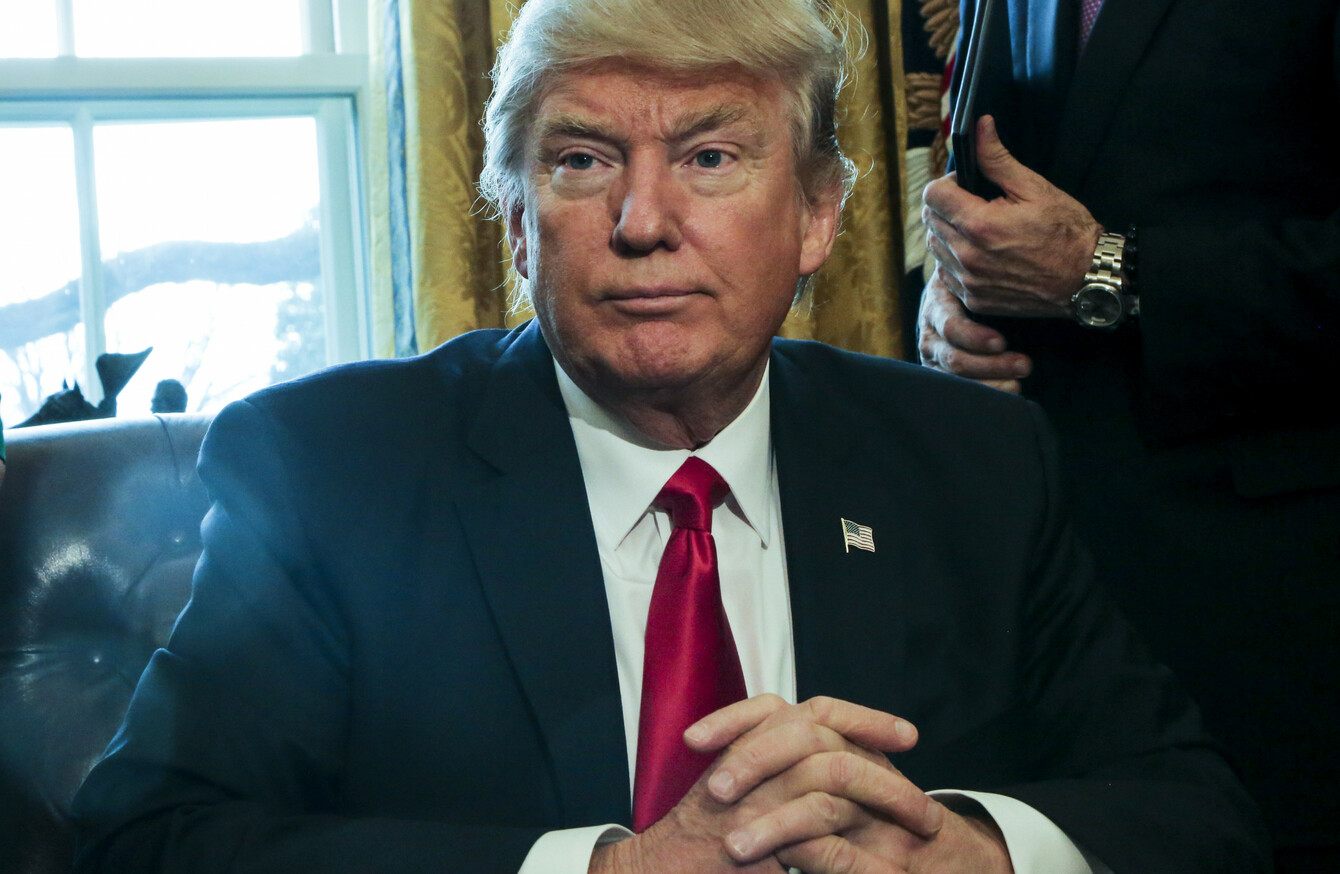 Donald Trump in the Oval Office. File photo.
Image: Pool/ABACA
Donald Trump in the Oval Office. File photo.
Image: Pool/ABACA
THE PUBLICATION OF Fire and Fury: Inside the Trump White House has provided an extraordinary behind the curtain account of the first year of Donald Trump's presidency.
The release of Michael Wolff's book was brought forward to today in the United States and the UK due to "unprecedented demand", however it won't hit Irish bookstores until next week.
The content of the book drew a robust response from Trump. First he lashed out at his former advisor Steve Bannon, for acting as a source for Wolff, saying: "When he was fired he not only lost his job, he lost his mind."
He also tweeted  that the "phony" tell-all was "full of lies" and he sought to suppress the book by sending cease and desist letters to Bannon and Wolff.
So what exactly is in the book the US president does not want you to see?
Trump likes to be eating burgers in bed by 6.30pm 
The book contains numerous examples of alarming disorganization in the White House but many readers will be more interested in the juicy details of the curious and comical things the president does in his daily life.
Wolff witheringly writes that Trump likes to be in bed by 6.30pm, chatting to friends on the phone while watching three televisions and eating a cheeseburger.
The select group of friends at the receiving end of the phone calls keep tabs on his "rising and falling levels of agitation" and compare notes with each other.
Trump and his wife Melania also sleep in separate rooms. They are the first presidential couple to do so since John and Jackie Kennedy.
He never wanted to win
Perhaps the biggest revelation of all came out on Wednesday when The Guardian and New York magazine published an extract of the book which revealed that, according to Wolff, Trump never intended on winning the presidency and he and his family were devastated when they, pretty much accidentally, pulled off the shock election upset.
The extract reveals that the entire campaign was an elaborate ploy to lay the foundation for a Trump television network. The plan was that Trump, and his chief lieutenants, would "win" by raising their profiles to make themselves household names but, ultimately, they would lose the election.
"This is bigger than I ever dreamed of," Trump told former Fox News executive, and longtime friend, Roger Ailes a week before the election. "I don't think about losing, because it isn't losing. We've totally won."
However as it became apparent that he was going to win, everything changed. The book paints a picture of grim scenes in Trump Tower.
Donald Trump Jr told a friend that Melania "was in tears – and not of joy" and Trump Sr "looked as if he had seen a ghost."
Steve Bannon said that in the space of just over an hour Trump morphed from "befuddled" to "disbelieving" to "horrified". However the final change was the most dramatic of all:
Donald Trump became a man who believed that he deserved to be, and was wholly capable of being, the president of the United States.
Ivanka is eyeing the presidency
America loves its dynastic political families and it could have another one on its hands if Ivanka Trump has anything to say about it.
Wolff says Ivanka and her husband Jared Kushner were warned off taking White House jobs by "almost everyone" that knows them  however they decided to get on board in the hope it "would catapult them into an heretofore unimagined big time".
The couple then made a pact that if the opportunity arose in the future Ivanka would run for president.
The first woman president, Ivanka entertained, would not be Hillary Clinton; it would be Ivanka Trump.
The idea provoked disbelief and horror in Steve Bannon who reportedly said: "Stop. Oh, come on. They didn't actually say that? Please don't tell me that. Oh my God."
How he achieves that hairstyle
Ivanka is also the source of, what will surely be, many people's favourite nugget of information in the new book. Wolff describes how she often jokes with friends about how her father constructs his distinctive hairdo.
Shockingly the look isn't entirely natural, with Trump even going under the knife, for scalp reduction surgery, to maintain his signature quiff.
She often described the mechanics behind it to friends: an absolutely clean pate — a contained island after scalp-reduction ­surgery — surrounded by a furry circle of hair around the sides and front, from which all ends are drawn up to meet in the center and then swept back and secured by a stiffening spray.
The orange-blonde colour is a result of Trump's impatience causing him to wash the Just for Men dye out of his hair too soon.
'Money laundering'
Steve Bannon has been the focus of countless headlines since the book emerged. As well as his much publicised allegation that Donald Jr's meeting with a Russian lawyer during the election campaign was "treasonous" and "unpatriotic" he also sets out how he thinks the Meuller investigation, which is exploring links between Trump's campaign and the Russian government, could topple the president.
"You realise where this is going," Bannon says,"This is all about money laundering."
Mueller chose [prosecutor Andrew] Weissmann first and he is a money-laundering guy. Their path to fucking Trump goes right through Paul Manafort, Don Jr and Jared Kushner … It's as plain as a hair on your face.
He's terrified of being poisoned
The business man's love of cheeseburgers may actually be a practical, potentially life-saving, tactic as Fire and Fury tells us that the commander-in-chief has a longtime fear of being poisoned.
One reason why he liked to eat at McDonald's — nobody knew he was coming and the food was safely premade.
New detail is also provided on his previously revealed to fear of germs. He has taken housekeeping staff to task over cleaning his room: "If my shirt is on the floor, it's because I want it on the floor." He also strips his own bed and tells staff when he wants his sheets changed.
To combat germs, and poison, Trump imposed a strict set of rules which amounted to: "Nobody touch anything, especially not his toothbrush."
Gorilla Channel joke
Amidst all the stunning and bizarre information flooding the internet, as people race through the book, a hilarious spoof claiming that the president spends countless hours watching gorilla fights on a specially constructed "Gorilla Channel" has also gone wildly viral, with many people believing it is a genuine extract.