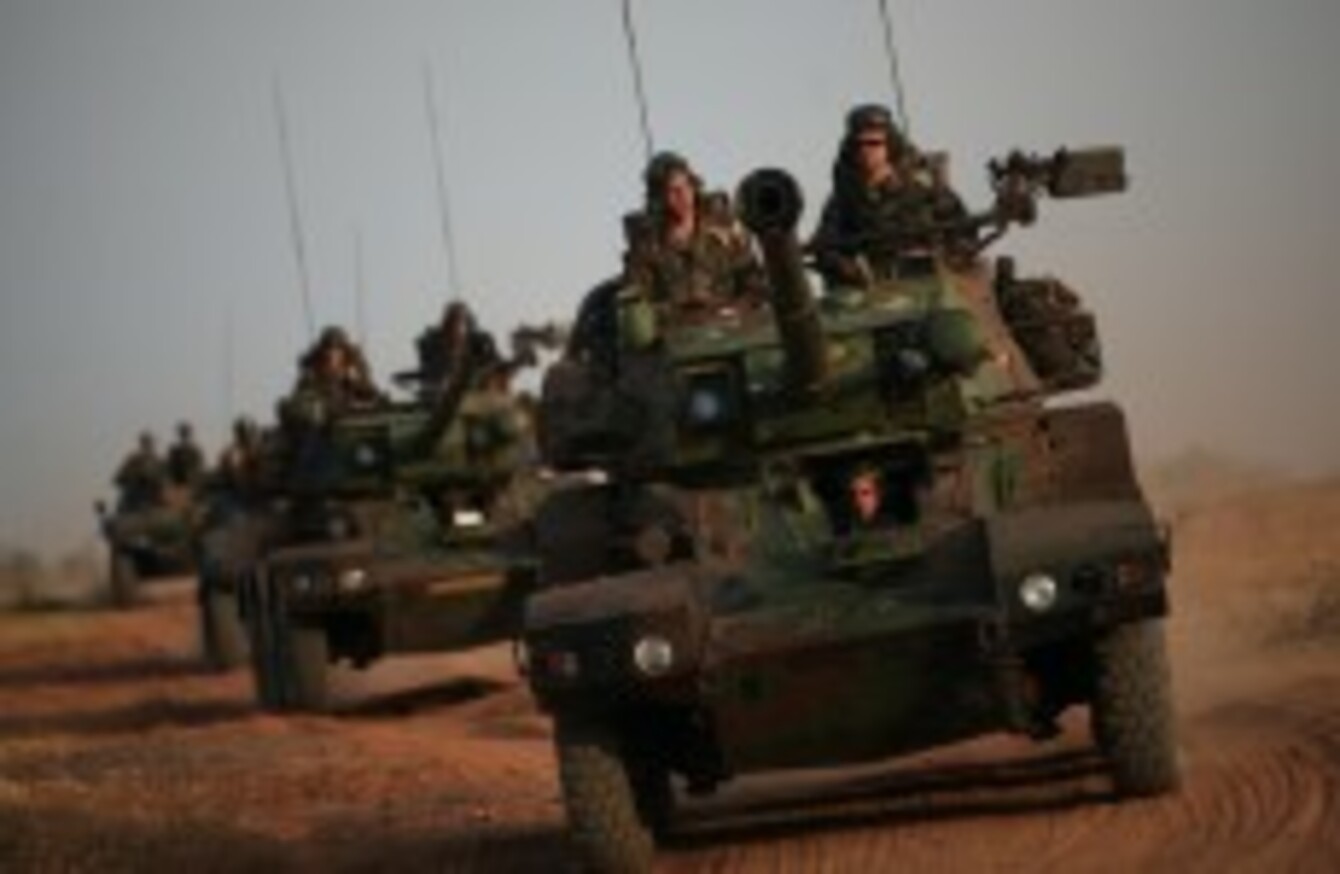 French soldiers patrol in armored vehicles, in the outskirts of Sevare, Mali.
Image: Thibault Camus/AP
French soldiers patrol in armored vehicles, in the outskirts of Sevare, Mali.
Image: Thibault Camus/AP
FRENCH-LED TROOPS surrounded Mali's fabled desert city of Timbuktu today after seizing its airport in a lightning advance against Islamists who have been driven from key northern strongholds.
French paratroopers swooped in to block any fleeing Islamists while ground troops coming from the south seized the airport in the ancient city which has been one of the bastions of the extremists who have controlled the north for 10 months. "We control the airport at Timbuktu," a senior officer with the Malian army told AFP. "We did not encounter any resistance."
French army spokesman Colonel Thierry Burkhard told AFP the troops, backed up by helicopters, had seized control of the so-called Niger Loop – the area alongside the curve of the Niger River flowing between Timbuktu and Gao – in less than 48 hours.
A fabled caravan town on the edge of the Sahara desert, Timbuktu was for centuries a key centre of Islamic learning and has become a byword for exotic remoteness in the Western imagination. The once cosmopolitan town became a dusty outpost for the extremists who forced women to wear veils, whipped and stoned those who violated their version of strict Islamic law, and destroyed ancient Muslim shrines they considered "idolatrous".
A source in a reconnaissance team which first reached Timbuktu on Sunday said Malian and French troops had not yet entered the city, which had suffered destruction as the Islamists fled. "We are in town but we are not many. But the Islamists caused damages before leaving. They burned houses, and manuscripts. They beat people who were showing their joy."
French troops welcomed
Residents fleeing Timbuktu were jubilant in the face of the French advance and denounced the regime the Islamists had imposed on them. "They beat us up when we smoked or listened to music," said Amadou Alassane Mega, a young student. "They will have to pay for what they did to us."
The advance into Timbuktu known as "the City of 333 Saints", which lies 1,000 kilometres (600 miles) north of Mali's capital Bamako, comes a day after French and Malian soldiers seized another Islamist bastion, the eastern town of Gao. The French defence ministry said a French armoured battalion, Malian troops and soldiers from Niger and Chad were in control of Gao after fighting Saturday in which "several terrorist groups were destroyed or chased to the north".
French warplanes had carried out some 20 air strikes Saturday and yesterday in the Gao and Timbuktu regions, the ministry statement added.
Gao is the biggest of six towns seized by French and Malian troops since they launched their offensive on January 11 to wrest the vast desert north from the Islamists.
The largest town yet to be recaptured is Kidal further north near the Algerian border which was the first to be seized by an alliance of Tuareg rebels and Islamic extremists last year. Kidal is the home of renowned former Tuareg rebel Iyad Ag Ghaly, the leader of armed Islamist group Ansar Dine (Defenders of the Faith).
Mali's lengthy crisis was kickstarted by a Tuareg rebellion for independence in January last year which overwhelmed the weak Malian army and prompted a coup in Bamako in March. Amid the political vacuum the Tuareg desert nomads and Islamists seized the north in a matter of days. But the extremists had no interest in the Tuareg desire for independence and quickly sidelined their erstwhile allies to install sharia law.
The occupation of an area twice the size of France sparked fears abroad that northern Mali could become a new haven for terror groups, threatening the West as well as neighbouring African countries. However plans to intervene remained mired in hesitation.
Seizure of Bamako
In early January the Islamists broke through into the government-held south, raising fears that the Islamists could seize the capital Bamako and prompting intervention by former colonial power France. At an African Union summit in Addis Ababa where leaders discussed increasing troop numbers for an African intervention force in Mali, outgoing chairman and Benin President Thomas Boni Yayi criticised the AU's slow response.
France's action, he said, was something "we should have done a long time ago to defend a member country". Defence chiefs from West African regional grouping ECOWAS agreed Saturday to boost their troop pledges for Mali to 5,700. Chad, which is not a member of the 15-nation bloc, has promised an extra 2,000 soldiers.
France said yesterday it had now deployed 2,900 troops and that 2,700 African soldiers were on the ground in Mali and Niger, but French Prime Minister Jean-Marc Ayrault appealed for more aid for the Mali effort.
In the central Mali town of Konna meanwhile, where France opened its offensive 17 days ago, local people showed journalists the graves of civilians killed in the air strikes. While Konna's deputy mayor Demba Samouka insisted there was no precise death toll available, he said that at most four civilians had died in the air raids, blaming other civilian deaths on Islamist fighters.
- © AFP 2013.