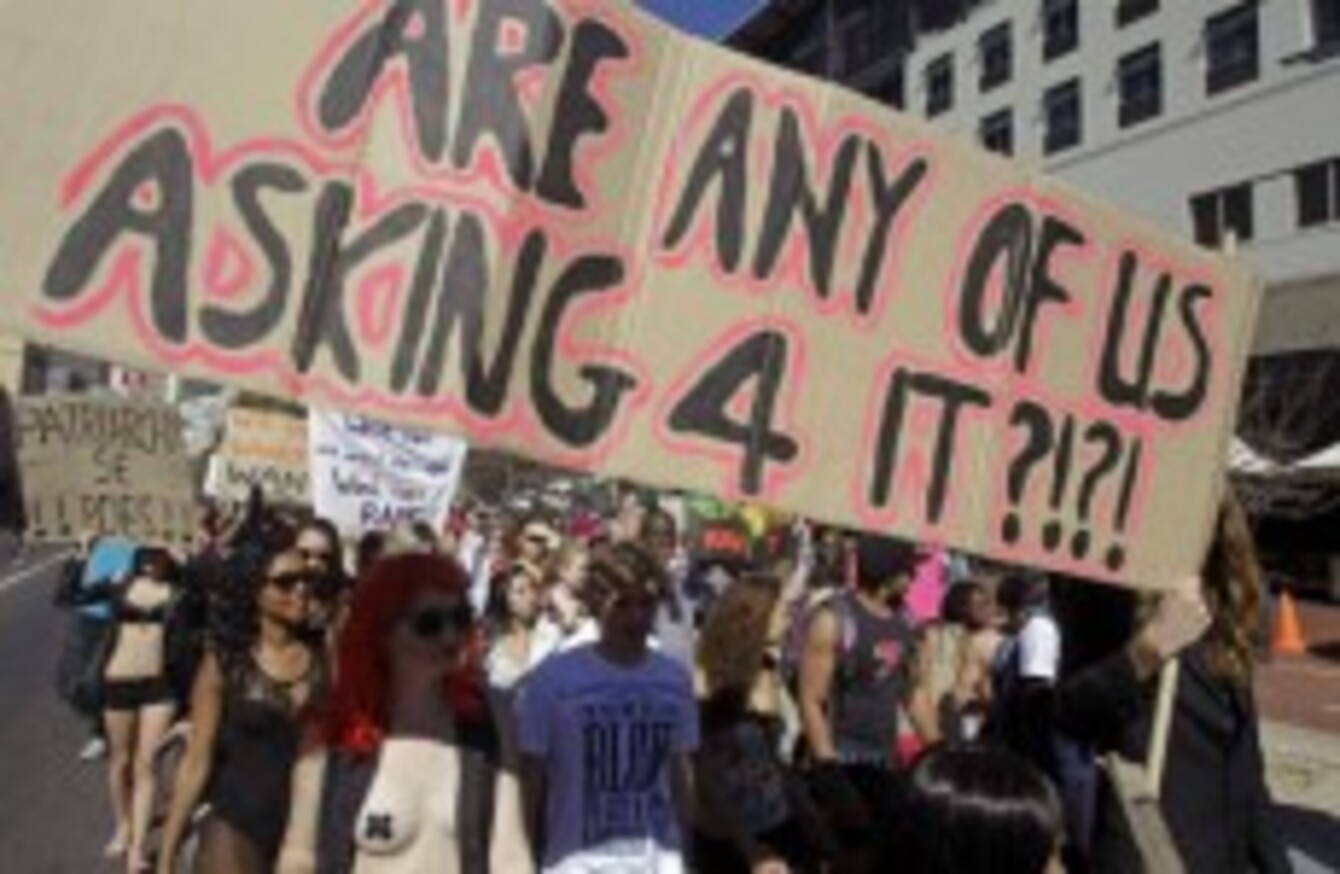 The Cape Town SlutWalk held on August 20.
Image: Schalk van Zuydam/AP/Press Association Images
The Cape Town SlutWalk held on August 20.
Image: Schalk van Zuydam/AP/Press Association Images
THE SLUTWALK IS coming to Ireland.
A demonstration for womens' rights, the global movement started in Toronto earlier this year following remarks by a Canadian police officer that women should not dress like "sluts" to avoid being raped.
Outraged by the remarks, men and women in the city showed their frustrations through the first ever SlutWalk.
Protesters donned their most provocative clothing and marched through the city to criticise how authorities deal with rape victims.
NUI Galway's Students' Union latched onto the idea and said Ireland should have its own SlutWalk. It has been organised for October 5 between 1pm and 4pm during the university's Equality Week. A route is yet to be decided.
SU Equality Officer William O'Brien writes on Facebook that the SlutWalk has been organised to drive the point home that a low cut top is "not an invitation to be raped".
The Slutwalk was born to illustrate that a woman's dress should in no way provoke unwanted sexual attacks, name calling or any other form of negative attention.
One rape survivor wrote on her blog that she will attend the march.
"SlutWalk began because a member of the Toronto Police in Canada remarked that women should avoid dressing like sluts to avoid being sexually assaulted. It's this kind of narrow minded and frankly stupid remarks that have victims blaming themselves for someone else's violent acts," she explained.
The event is also supported by the Rape Crisis Network Ireland and the Galway Rape Crisis Centre. It is being advertised across social media sites using the slogan, "Society teaches 'Don't get raped' rather than 'Don't Rape'".
Thousands of people have already turned out to SlutWalks in Toronto, Glasgow, Cape Town and other cities across the globe. Here are some images from those marches:
SlutWalk

Men and women in Cape Town's SlutWalk last month.

SlutWalk

A woman carry a banner during Cape Town's SlutWalk.

SlutWalk

A SlutWalk was organised in Berlin on Saturday, August 13.

SlutWalk

A SlutWalk in Philadelphia on August 6.

SlutWalk

Another banner at Philadelphia's SlutWalk on August 6.

SlutWalk

Women march past the Statehouse during the SlutWalk in Boston on May 7.