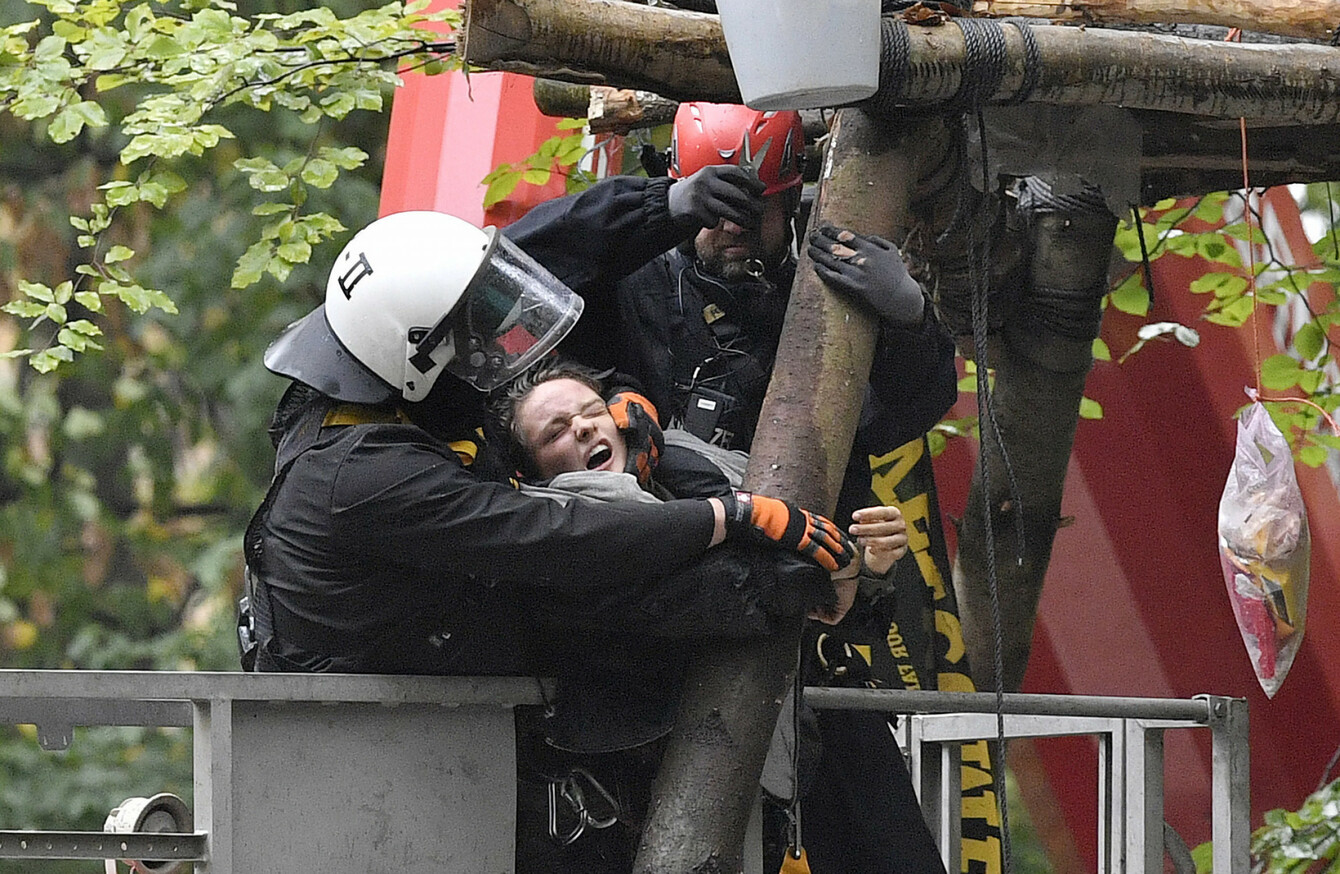 Image: Marcel Kusch AP/PA Images
Image: Marcel Kusch AP/PA Images
GERMAN POLICE HAVE said that protesters bombarded officers with stones, Molotov cocktails and shots from catapults, as environmentalists living in treehouses sought to block the razing of a forest to make way for an open-cast coal mine.
"Officers and vehicles were pelted with stones and Molotov cocktails. One officer was slightly hurt and a vehicle damaged," Aachen police headquarters said in a statement about the clearance in nearby Hambach Forest.
"Please distance yourself from violent actions!" they urged in a tweet directed at demonstrators.
"The police are attacking and people are defending themselves," retorted Karolina Drzewo, a member of anti-strip-mining group Ende Gelaende.
Regional broadcaster WDR reported that between 3,500 and 4,000 police were on the scene to clear some 60 treehouses, some as high as 25 metres off the ground, where dozens of protesters are holed up.
Pictures shared on social media showed police riot vehicles and a water cannon also heading to the area.
The occupation began in 2012 and had until now been quietly tolerated.
But local authorities have now ordered the woods in western Germany to be cleared immediately, citing fire hazards.
State premier of North Rhine-Westphalia, Armin Laschet, told local broadcaster WDR late last night that this was "an illegally occupied area" and accused the protesters of being violent.
'Mass civil disobedience'
The activists, who are protesting the expansion of energy giant RWE's giant open-pit lignite mine, one of Europe's largest, have called for a mass mobilisation by supporters in coming days.
Fire safety arguments were "not only laughable, but shameless and a political scandal," Jan Puetz of Aktion Unterholz told news agency DPA.
He and other environmentalist groups had earlier promised that "starting this weekend, we will prevent the evacuation and the forest cutting by police and RWE with actions of mass civil disobedience".
Meanwhile opponents of the clearances filed two emergency court motions to stop the advancing police.
"The judges are now considering these" and would reach a decision as soon as possible, a spokeswoman for the Cologne administrative court said.
The David versus Goliath battle has been intensifying for days after RWE announced its plans to clear half of the forest's remaining 200 hectares from mid-October.
The police intervention comes a day after an officer fired a warning shot in the forest, Aachen police said in a statement, after "several masked people once again attacked police by throwing stones".
Officers in a cherrypicker sawed off branches and cut ropes to gain access to tree platforms, while a large rescue air cushion was placed on the ground.
Police also peacefully broke up a sit-in by a group of demonstrators blocking the path to the treehouses and removed makeshift barriers, according to DPA news agency.
Coal exit looms
RWE owns the forest and is legally allowed to cut down trees to access the brown coal, or lignite, in the ground during the annual logging season.
It says the clearing is necessary to ensure energy supply, including of nearby power plants.
But activists oppose the use of the cheap but polluting fuel, and say the forest is home to protected species like Bechstein's bat and century-old beech and oak trees.
Their protest has taken on fresh urgency as Germany is charting an exit from coal energy to combat climate change.
A government-appointed coal committee is due to announce an end date for the industry by the end of the year.
"For us it's clear: we should be talking rather than clearing out and tearing things down," said Greens party parliamentary leader Anton Hofreiter in Berlin.
Germany has massively expanded renewable energy in recent years as part of its "energy transition" away from fossil fuels.
But the country remains heavily reliant on coal, partly to offset Chancellor Angela Merkel's 2011 decision to phase out nuclear power by 2022.
The government admitted in June that it will miss a 2020 target for reducing carbon dioxide emissions.
Rather than cutting emissions of greenhouse gases by 40 percent by 2020 compared with 1990 levels, Europe's top economy expects to come in at 32 percent.
Environmental group Greenpeace accused the German government of standing by and allowing "RWE to dangerously fuel the social conflict" in Hambach Forest even as the coal industry is in its death throes.
"Merkel must now de-escalate and halt further clearing, until the coal commission has finished its work," said spokeswoman Gesche Juergens.