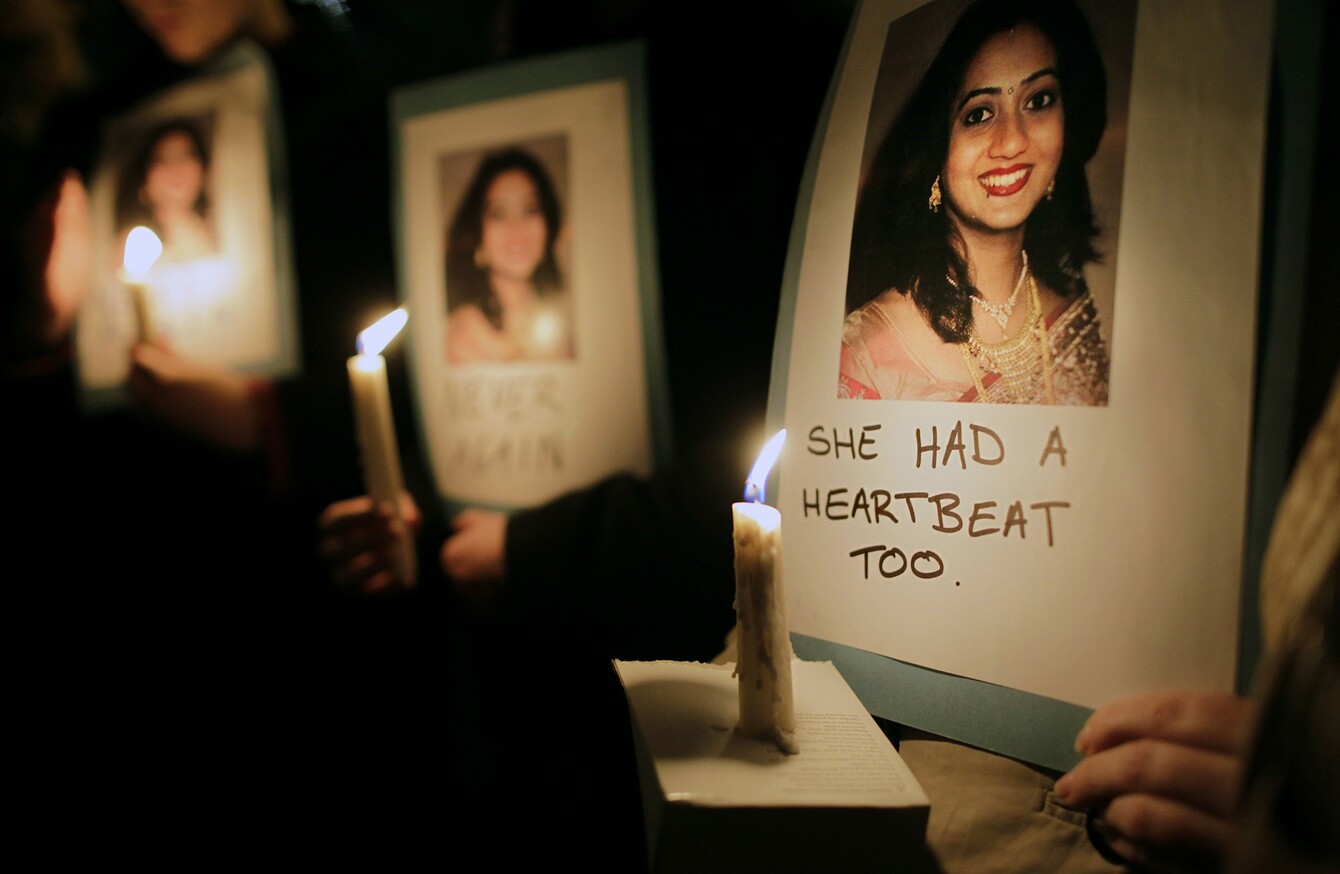 Protesters hold a vigil outside Leinster House in memory of Savita Halappanavar.
Image: Julien Behal/PA Archive/Press Association Images
Protesters hold a vigil outside Leinster House in memory of Savita Halappanavar.
Image: Julien Behal/PA Archive/Press Association Images
HILLARY CLINTON WAS TOLD about the controversy surrounding the death of Savita Halappanavar before visiting Ireland in December 2012, her most recently released emails show.
The Democratic candidate for US president was briefed about abortion legislation here four days before arriving in Dublin on an official trip.
Clinton, who was then the US secretary of state, was advised in an email that the case had "reopened a decades-old debate in Ireland over whether the government should pass legislation to allow abortion when the life of the mother is at risk".
Savita Halappanavar was 17 weeks pregnant when she died after suffering a miscarriage at University Hospital Galway in October 2012.
Her husband claimed they were told she could not be given a termination they believed would save her life "because this is a Catholic country".
Just over a month later, a former aide to Clinton, Melanne Verveer, emailed her briefing notes on the controversy.
"In advance of your trip to Ireland, we wanted to raise a few issues about the case of Savita Halappanavar, the woman who died last month after doctors refused to perform an abortion and waited to remove the fetus until its heartbeat stopped days later," she wrote.
She said the death was "clearly a tragic case" but that she "will want to be aware of the following should [she] comment publicly".
Warned about raising concerns
Clinton was told the issue of abortion was "still being hotly debated in Ireland with clear political divisions over whether legislation should be passed clarifying the circumstances in which abortion should be permitted to save the life of the mother".
However, she was warned about referring to the case during her trip as a government investigation into the death had not yet been completed.
The jury in the inquest returned a unanimous verdict of death by medical misadventure four months later.
Verveer wrote: "While the family asserts that the woman was denied essential medical services which resulted in an infection that caused her death, there is some difference of opinion, and this cannot yet be confirmed without the results of an autopsy being done as part of the investigation."
"Clearly, this is a terrible situation that has justifiably received condemnation around the world," she said.
One can't help but see this as a terrible tragedy, but we wanted to be sure you had this background information.
Clinton replied: "What is the penalty for violation?"
"Life imprisonment," Verveer told her.
The exchange was released as part of the latest tranche of Clinton emails made public following criticism of her use of a personal email account for work.
The then secretary of state met Taoiseach Enda Kenny and Michael D Higgins during her December 2012 visit to Ireland.
In an address at DCU, she made a veiled reference to abortion, saying "women's lives matter".
"Promoting the human rights of women begins with saving the lives of women whenever we can," she said.
Read the emails in question here.