LATER THIS MONTH, a new museum dedicated to Irish literature will open on St. Stephen's Green in Dublin city centre. 
The Museum of Irish Literature – or MoLI – is a partnership between University College Dublin and the National Library of Ireland and aims to highlight the country's rich literary heritage. 
As the museum readies itself to open, let's test your knowledge of Irish literature. 
"riverrun, past Eve and Adam's, from swerve of shore to bend of bay, brings us by a commodius vicus of recirculation back to Howth Castle and Environs." These opening lines are from which work of Irish literature?
Finnegans Wake by James Joyce
Mid-term Break by Seamus Heaney


Which Irish poet helped establish the Abbey Theatre alongside Lady Gregory in 1904?


The Pogues song Fairytale of New York took its title from a novel by which Irish-American novelist?


In which year was Edna O'Brien's The Country Girls first published?


Complete this line from Seamus Heaney's poem 'Digging' - "Between my finger and my thumb...
...the cold smell of potato mould."


By the Bog of Cats is a play by which Irish dramatist?


Which of these Irish authors did not win a Nobel Prize for Literature?


Vladimir and Estragon are central characters in which play?


Raglan Road by Patrick Kavanagh was first published in 1946 under which alternate title?
'At the Dawning of the Day'
'Dark Haired Miriam Ran Away'


Which Irish author won the Man Booker Prize for The Gathering in 2007? Answer all the questions to see your result!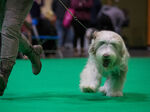 You scored out of !
Top Dog
You scored out of !
Clever Cat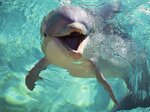 You scored out of !
Fintastic
You scored out of !
What are ewe doing?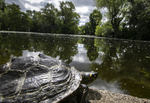 You scored out of !
Turtley awful