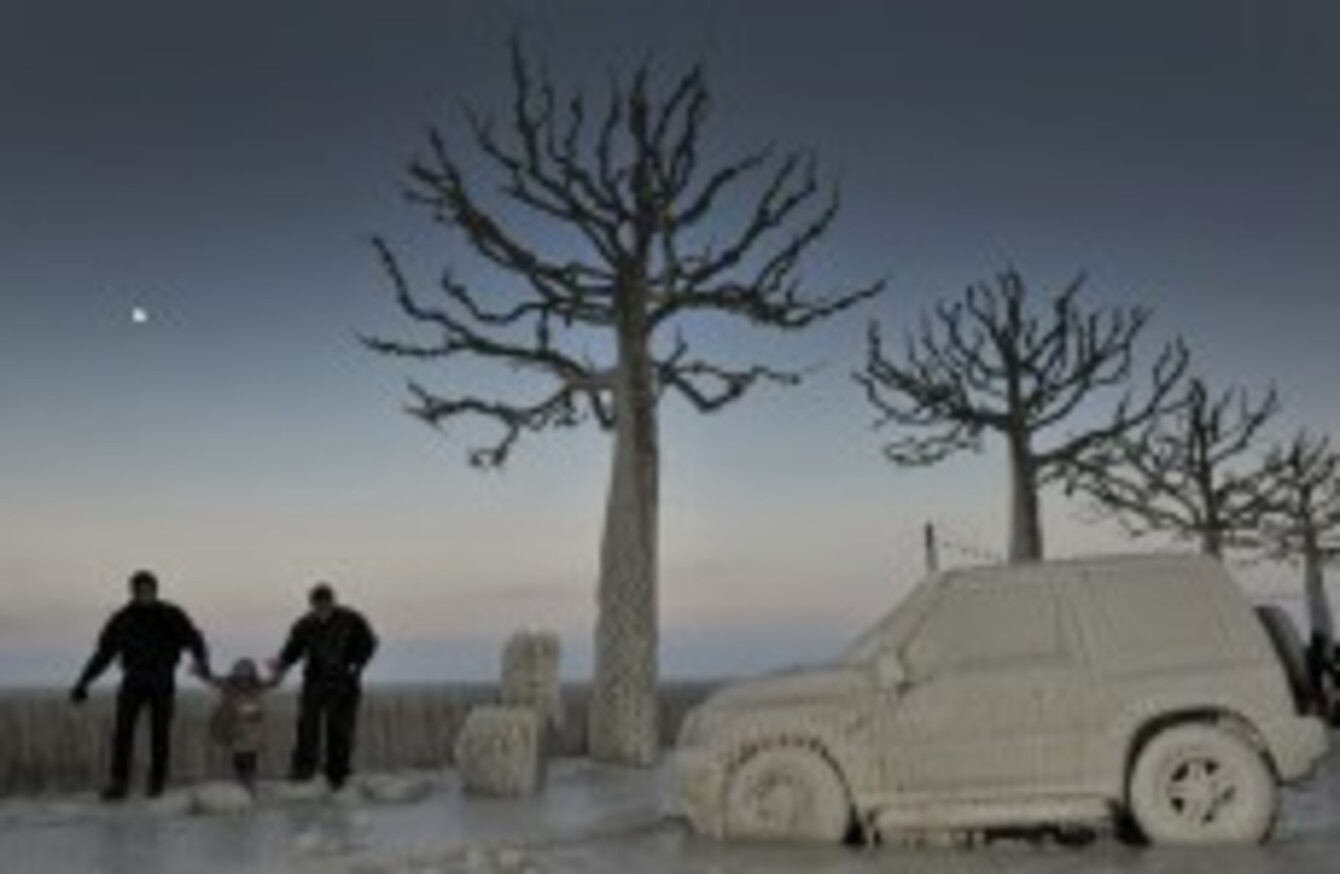 People walk along an icy promenade past ice covered cars and trees on the shores of Lake Geneva in Versoix, Switzerland on Sunday
Image: Martial Trezzini/AP/Press Association Images
People walk along an icy promenade past ice covered cars and trees on the shores of Lake Geneva in Versoix, Switzerland on Sunday
Image: Martial Trezzini/AP/Press Association Images
THE COLD SNAP that has hit countries across Europe over the past week has now claimed more than 200 lives it is reported.
The worst affected country has been Ukraine where officials say 131 people have died, according to BBC News. Most of those who have died were homeless. Nearly 2,000 have been hospitalised in the east European nation having been affected by ailments such as hypothermia and frostbite.
In Poland, around 53 people have died while in France there have been four deaths since the Arctic spell began.
Transport hubs have also been affected with London's Heathrow airport yesterday forced to cancel many services due to the adverse weather.
Italy has seen its heaviest snowfall for more than 25 years and in the Vatican Pope Benedict XVI donned an overcoat to bless the few pilgrims who braved Rome's unusually cold weather to visit St Peter's Square.
In Bosnia, authorities used helicopters to evacuate the sick and deliver food to thousands of people left stranded by its heaviest snowfall ever.
So severe is the current period of weather, snow has even fallen on Spain's Balearic islands in the Mediterranean.
While the cold spell is breaking across Ireland and the UK, Europe continues to be affected by sub zero conditions.
Here's a gallery of how European cities have been affected by the snowfall and cold conditions over the past two days:
Germany Europe Weather

Serbia Europe Weather

Switzerland Europe Weather

Switzerland Europe Weather

Montenegro Europe Weather

France Europe Weather

Lithuania Europe Weather

Switzerland Europe Weather

Switzerland Europe Weather

Switzerland Europe Weather

Switzerland Europe Weather

Romania Europe Weather

Bosnia Europe Weather
- additional reporting from AP