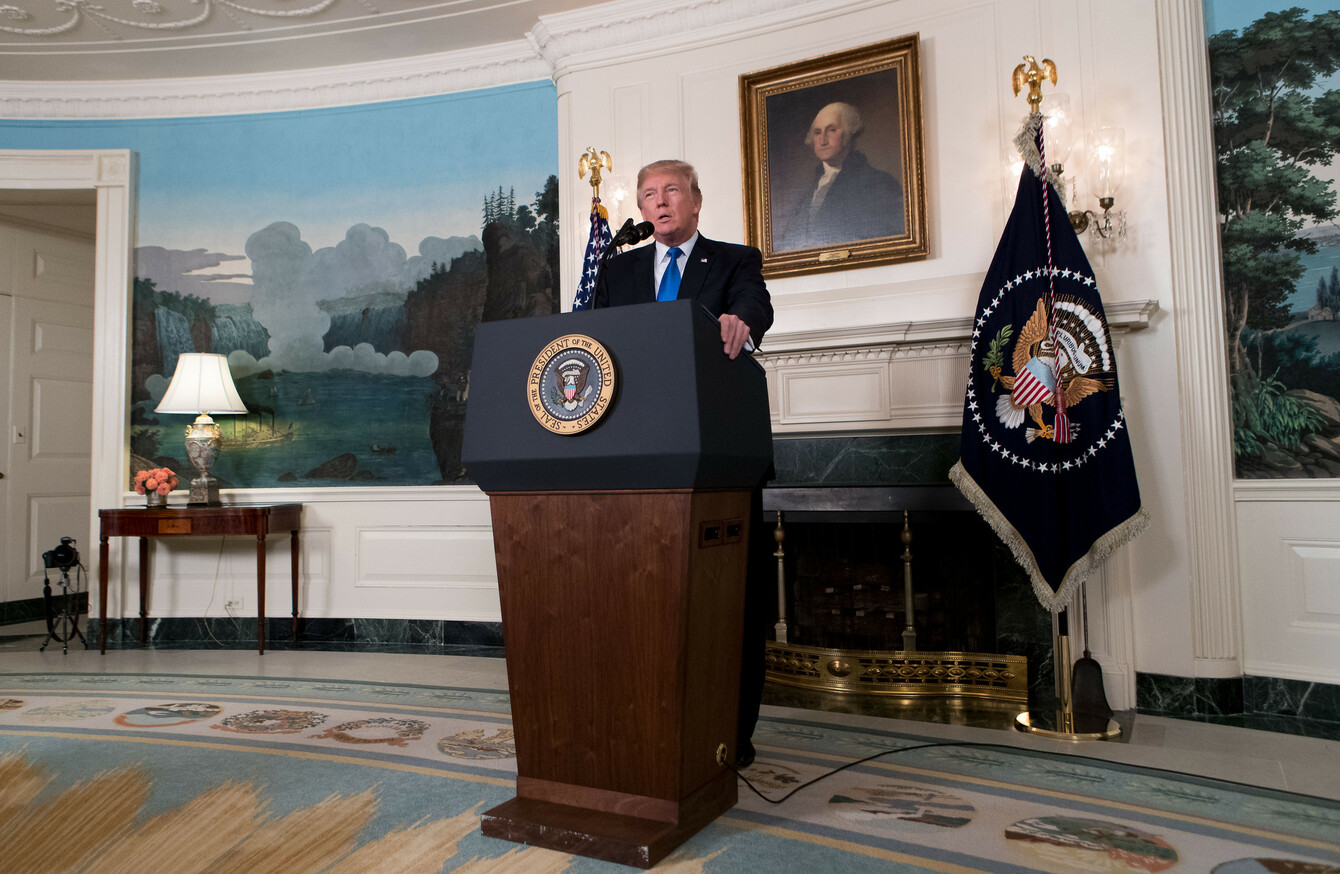 Image: Xinhua News Agency/PA Images
Image: Xinhua News Agency/PA Images
US PRESIDENT DONALD Trump reignited the decades-old US feud with Iran last night, vowing to confront the "fanatical regime" and throwing a landmark international nuclear agreement into doubt.
In a speech pocked with grievances dating to the 1979 Islamic Revolution, Trump railed against the "Iranian dictatorship, its sponsorship of terrorism, and its continuing aggression in the Middle East and all around the world".
And he threatened to rip up the 2015 agreement curbing Iran's nuclear program, saying it had failed to address Iranian subversion in its region and its illegal missile program.
"It is under continuous review and our participation can be canceled by me, as president, at any time," he warned.
And he later lashed out at countries that have stood by the agreement, appearing to accuse them of placing trade profits ahead of security.
"Many people talking, with much agreement, on my Iran speech today. Participants in the deal are making lots of money on trade with Iran!" he wrote on Twitter.
Trump's bellicose message brought an instant rebuke from Iranian President Hassan Rouhani, who — also leaning heavily on past injustices — declared the United States was "more than ever against the Iranian people."
But behind Trump's hardline rhetoric was a subtle but significant presidential climbdown.
He stopped short of nixing a deal negotiated with European allies, China and Russia to lift sanctions against Tehran in return for Iranian curbs on uranium enrichment. EU foreign policy head Federica Mogherini said the US has no right to unilaterally tear up the deal.
Instead Trump took a procedural step of "decertifying" the agreement, leaving its fate in the hands of the Republican-controlled Congress.
'The worst deal'
The US president said he supports efforts in Congress to work on new measures to address these threats without immediately torpedoing the broader deal.
"However, in the event we are not able to reach a solution working with Congress and our allies, then the agreement will be terminated," Trump said, in a televised address from the Diplomatic Room of the White House.
European leaders slapped back that notion, saying the agreement was not America's alone.
In a cautious but unmistakable rebuke, the leaders of Britain, France and Germany said the deal remained in "our shared national security interest."
"We encourage the US administration and Congress to consider the implications to the security of the US and its allies before taking any steps that might undermine" the deal.
French President Emmanuel Macron later said he was considering visiting Iran after speaking by phone with his Iranian counterpart.
The International Campaign to Abolish Nuclear Weapons, which was awarded this year's Nobel Peace Prize also denounced the move, saying it makes proliferation more likely.
Trump backed away from designating Iran's powerful Revolutionary Guards Corps as a terror group, a move that would have triggered slew of sanctions and almost certain Iranian retribution.
Apart from running swaths of Iran's economy and Iran's ballistic missile program, the Revolutionary Guards are accused of guiding proxy forces across the region, from Hezbollah in Lebanon, to the Huthis in Yemen and Shiite militias in Iraq and Syria.
"We have considered that there are particular risks and complexities to designating an entire army, so to speak, of a country," Tillerson said.