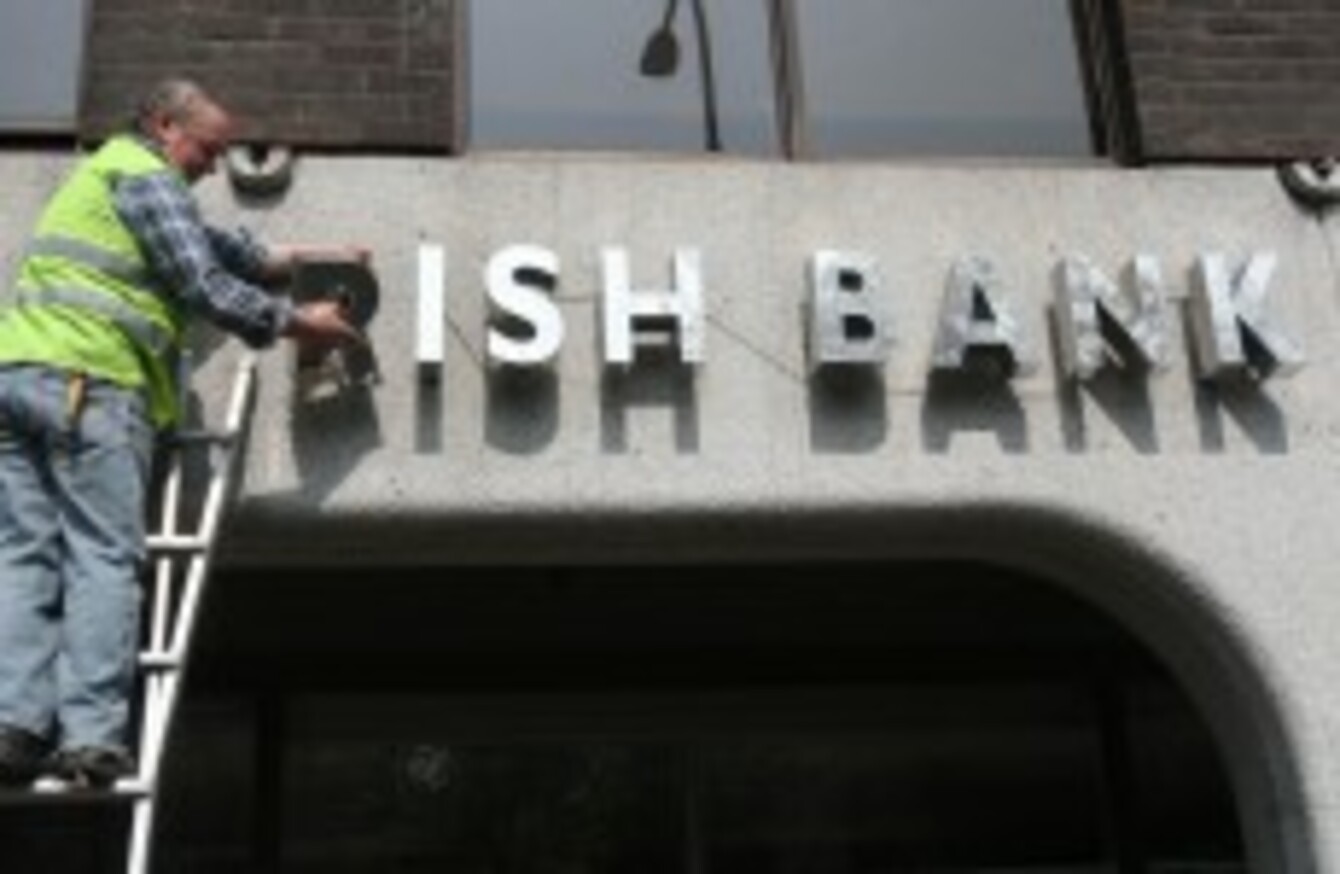 A workman removes the signage from Anglo Irish Bank headquarters in Dublin in April 2011
Image: Niall Carson/PA Wire
A workman removes the signage from Anglo Irish Bank headquarters in Dublin in April 2011
Image: Niall Carson/PA Wire
THE TROIKA IS still concerned about the 'fragility' of Irish banks – despite fervent attempts by the government to fix Ireland's financial institutions after the economic crash.
In a document seen by TheJournal.ie outlining the Troika's views on Ireland following a visit, the Troika notes that the odds remain stacked against Irish banks trying to become profitable again in the short-term.
"Given continued loan losses and high funding and operating costs, prospects for restoring bank profitability remain fragile," the document says.
Most banks are currently undergoing some type of restructuring, with plans to restore to modest profitability by the end of 2014 at the earliest.
The Troika also notes that despite promises by banks, small and medium businesses are still having difficulty in getting finance from banks.
The Troika notes that banks returning to profitability is very much contingent on "an improving economic environment and decisive implementation of sustainable loan-modification options to treat long-dated arrears". The report notes:
Even if these factors materialise, and loan losses evolve in line with expectations, there are concerns about medium-term profitability given the level and distribution across different arrears' buckets ofp rovisions the banks presently hold relative to the level and age of arrears in their portfolios.
While banks have been sufficiently capitalised to an unlikely stress scenario, it is essential that unexpected loan losses are avoided if sustained profitability is to be achieved in the near to medium term, reflecting also banks' weak internal capital generation capacity
The Troika report says it is difficult to tell whether the low level of lending to SMEs is because there is weak demand for credit from businesses or if the financial institutions simply aren't lending.
"As previous reports have indicated, both factors appear to be at work," the report states.
- Additional reporting by Gavan Reilly