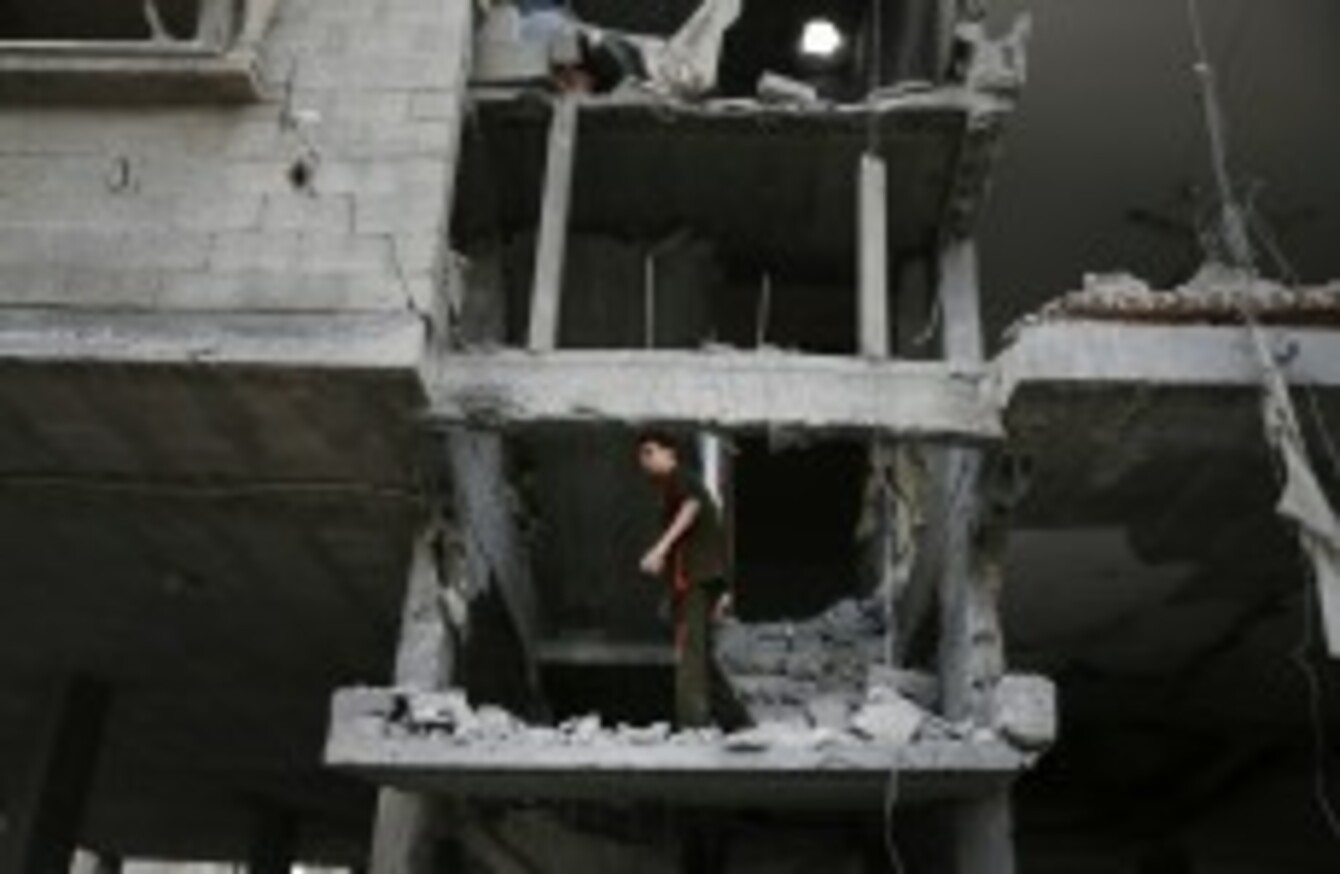 A Palestinian looks at the damage to a house following an overnight Israeli missile strike in Gaza City.
Image: Lefteris Pitarakis
A Palestinian looks at the damage to a house following an overnight Israeli missile strike in Gaza City.
Image: Lefteris Pitarakis
MOHAMMED SULIMAN DOESN'T leave his flat in Gaza City much these days.
Sometimes he's forced to because of the power outages, or to get food, or there was that incident over the weekend when an Israeli bomb blew out his windows.
After that, he went to the headquarters of his job, a humanitarian organisation, and stayed the night there.
He occasionally does that now, when he doesn't want to be out at night. But mostly, he doesn't leave his flat. He works from there and buys his food close by.
But, wherever he is in Gaza City, he can feel one thing: fear.
"It's been horrifying," Mohammed told TheJournal.ie.
"There have been shellings and bombings all around me, warships and artillery and blasts all around me.
"I'm trying to stay inside and not go outside during the day."
Mohammed says that Palestinians have been forced to leave their homes in their thousands, but most have nowhere to go.
"It's an atmosphere of fear. People have left their homes after Israel dropped leaflets warning them to leave because they were planning a military operation in northern Gaza.
But these people have no safe haven. Where are they supposed to go?
"Israel says it is warning people, but you're asking a quarter of a million people to leave and giving them nowhere to go, what can they do?
"It's really miserable to stay at these places, it's dehumanising."
Mohammed says that the war has been horrific, and adds that the "blame game" which is carried out in much of the discussion is not helpful.
"This is not an equal conflict. We're talking about a densely populated area that is living under a blockade since 2007.
Israel is meting out its violence against Palestine daily. This is the kind of violence that exists every day. Shooting at fishermen, farmers every day.
"This is the violence we need to talk about.
"Israel meets [Hamas violence] with collective punishments, war crimes."
Mohammed wants the international community to pay attention to the violence, and to stop treating the moves on either side as equal acts of aggression.
"The international community needs to act.
"We had an escalation in 2012 and after a ceasefire had been agreed, Israel agreed to expand the Palestinian fishing zone, but then reduced it.
"Israel launched 103 airstrikes in that period, while Hamas fired zero rockets.
The international community ignores the context of the violence and thinks it's a moral position, but it's not, it's an immoral position and you're abandoning the victim.
"They need to take a stand against the illegal occupation of the Gaza Strip."
Mostly, though, Mohammed says that he, and most Palestinians, want to live in peace.
I don't want anyone to leave. There is enough room here to live equally but it needs to stop being along religious lines. It can't be because you are Jewish you are privileged.
"Everyone in Israel and Palestine should be treated equally."
Follow Mohammed on Twitter here.