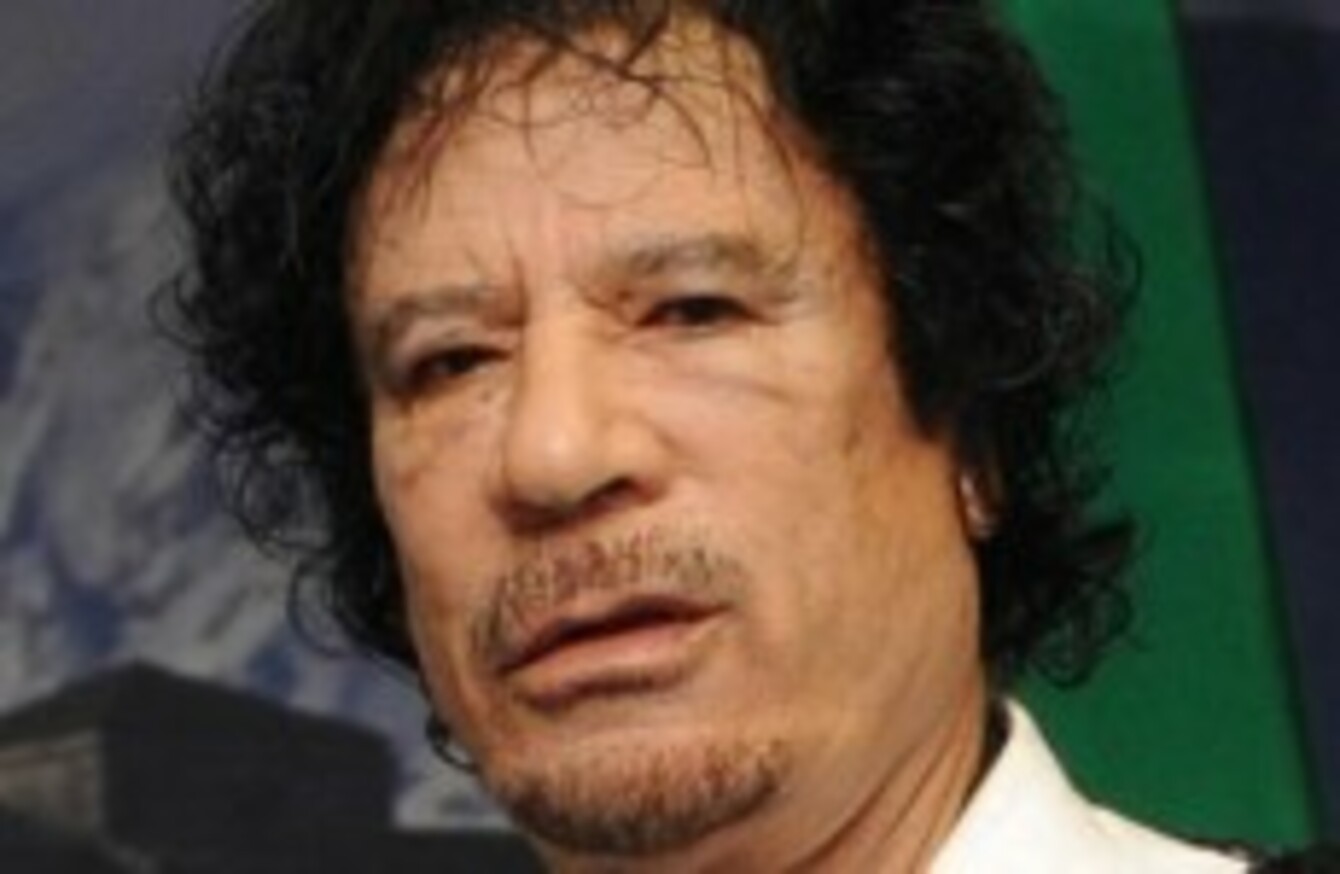 Former Libyan leader Muammar Gaddafi was killed last week
Image: Stefan Rousseau/PA Wire/Press Association Images
Former Libyan leader Muammar Gaddafi was killed last week
Image: Stefan Rousseau/PA Wire/Press Association Images
WITH LIBYANS LINING up to view Muammar Gaddafi's body for a fourth day, the country's interim leader promised today to investigate how the longtime dictator was captured alive then killed a short time later – after coming under strong international pressure to explain what happened.
Mustafa Abdul-Jalil said at a news conference in the eastern city of Benghazi that the National Transitional Council has formed a committee to investigate Thursday's killing amid conflicting reports of how the dictator who ruled Libya for 42 years died. Government officials have said initial findings suggest Gaddafi was killed in the crossfire as his supporters clashed with revolutionary forces seizing control of his hometown of Sirte.
Gaddafi may have been killed by supporters
But Abdul-Jalil raised a new possibility today, suggesting that Gaddafi could have been killed by his own supporters to prevent him from implicating them in past misdeeds under his regime.
"Let us question who has the interest in the fact that Gaddafi will not be tried. Libyans want to try him for what he did to them, with executions, imprisonment and corruption," he said. "Free Libyans wanted to keep Gaddafi in prison and humiliate him as long as possible. Those who wanted him killed were those who were loyal to him or had played a role under him, his death was in their benefit."
The US, Britain and international rights groups have called for an investigation into whether Libya's former rebels killed a wounded Gaddafi after pulling him out of a drainage pipe in his hometown of Sirte, the last city to fall to revolutionary forces after an 8-month civil war.
Critics also have said the gruesome spectacle of his blood-streaked body laid out as a trophy for public viewing — flanked by his slain son Muatassim and former defense chief Abu Bakr Younis — in a commercial freezer raises questions about the new leadership's commitment to the rule of law.
Several dozen people filed through the freezer to see the bodies on Monday, including a woman with five small children. Gaddafi was wrapped in a white, bloodstained sheet covered by a brown blanket that was bundled around him with a string. His head was turned so the fatal bullet wound was not visible, although there was a small spot of crusted blood on his forehead.
30 seconds to look
Armed guards in the freezer rushed people through, giving them about 30 seconds to look. Misrata was besieged by Gaddafi loyalists for weeks in the spring, coming under heavy shelling at the time, and its residents are eager for revenge.
A spokesman for the Misrata military council said he expected the bodies to be buried on Tuesday.
"It's 90 per cent sure that Gaddafi will be buried tomorrow in an unmarked grave in a secret location," Ibrahim Beit al-Mal told The Associated Press, saying revolutionary forces don't want his grave to be turned into a shrine.
Abdul-Jalil said earlier that the transitional government has established a committee to determine what ultimately to do with Gaddafi's body and the decisions will be governed by a fatwa, or religious edict, by the head of the Islamic Fatwa society.
Libya's revolt erupted in February as part of anti-government protests spreading across the Middle East. But Libya's struggle has been the bloodiest so far in the region. Mass protests turned into a civil war that killed thousands and paralyzed the country. Gaddafi loyalists held out for two more months after the fall of the capital of Tripoli in late August.
Abdul-Jalil declared the country liberated on Sunday, launching the oil-rich nation on what is meant to be a two-year transition to democracy. But he also laid out plans with an Islamist tone that could rattle their Western backers. He said Islamic Sharia law would be the "basic source" of legislation, and that existing laws that contradict the teachings of Islam would be nullified.