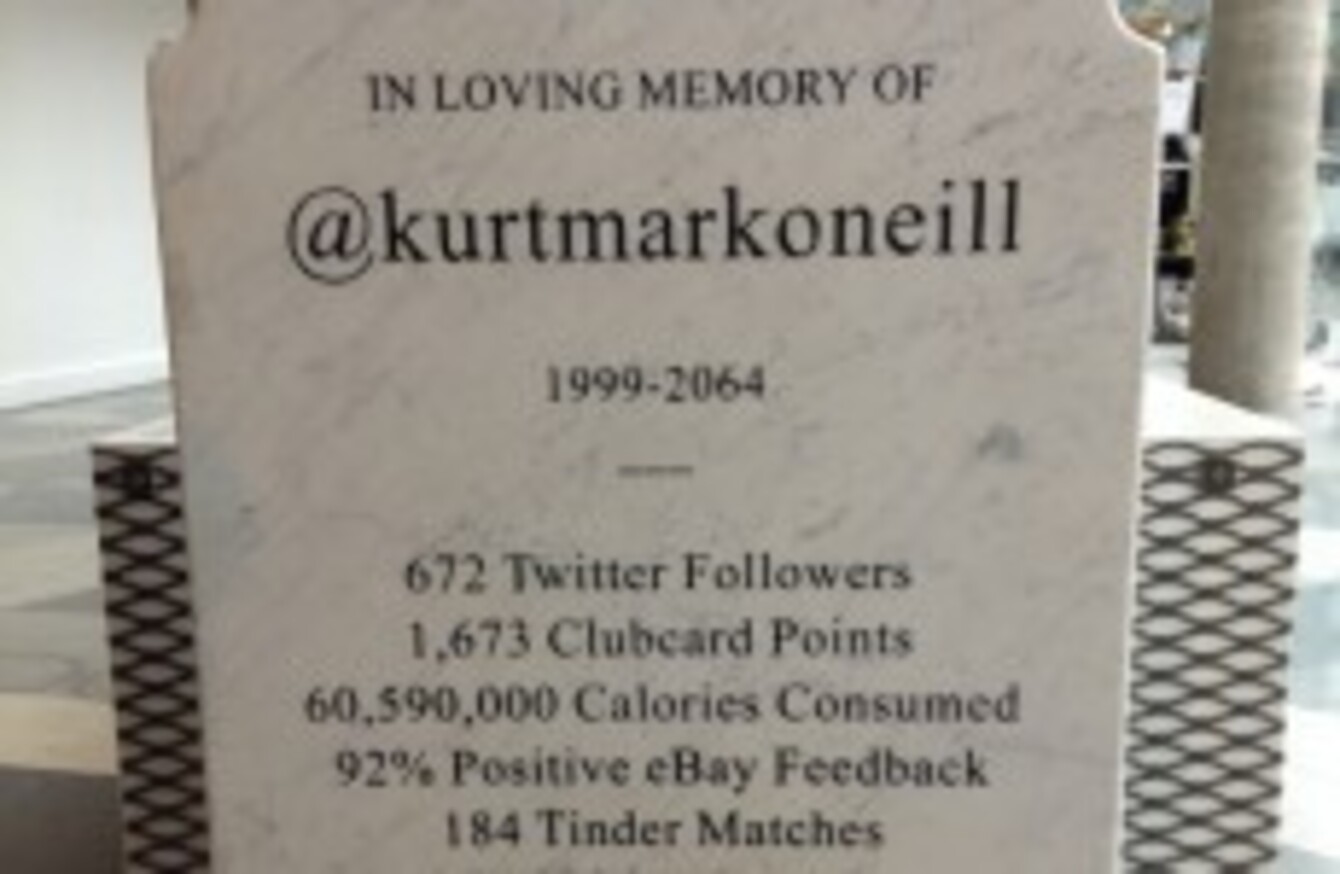 Not great stats for 57 years of hard tweeting
Not great stats for 57 years of hard tweeting
FUTURE SOCIAL MEDIA developments are among the subjects being considered at Science Gallery Dublin's latest exhibition, 'Lifelogging: Do You Count?'.
Lifelogging concerns the tracking of human existence.  It's not a new phenomenon though with the rapid evolution of technology in recent years it has taken some very interesting directions, not least in the aggressive data-marketing of social media companies.
Most of the many pieces on display lean strongly towards performance art, with the social media tombstone by Karl Toomey immediately catching the eye.
The macabre grave-marker lists your vital statistics on various social networks (and your clubcard data too) at the exact time you slipped the mortal coil.
One might expect a scrolling digital ticker on that kind of headstone, but as a helpful Science Gallery guide points out 'it's not like the numbers are going to change'. Fair point.
The headstone is part of a 'future of lifelogging' exhibit.  Accompanying it is a walkie-talkie-esque 'Celebrity Tracker' (a handset that tracks your favourite celebrity's data, assuming they're willing to sell it, which let's face it they probably would be) and 2019′s 'Confession Cross', a gps camera in the shape of a crucifix that 'streams everything you do to your local parish priest'. Hmmm.
Sell your own life data?
An interesting take on the exhibit's concept is that of American Jennifer Lyn Morone.
Many of us complain about the Big Brother nature of contemporary data mining; Morone has taken the power back and is suggesting that we sell our own logged activity.
'Controlling the personal data economy' has seen the artist logging all aspects of her life for economic exploitation.  And the going rate for one year of a person's data?  €8,000 apparently.
The true value of the idea comes if people band together in order to sell their data as a collective. Interesting. Take that Facebook.
Volcano-jumping
A company performing a resident lab at the exhibition is Belfast's Sensum.  They're relatively unique among the exhibits in that they function as a going concern rather than as artists, with 'emotion based software solutions for the market research and marketing industries' their mantra.
While that may seem a slightly abstract concept, one of the company's case studies is awe-inspiring, tracking the emotional and physical responses of San Francisco extremist Sam Cossman as he climbed into one of the world's most inaccessible volcanoes at the Pacific Ring of Fire.
Source: Sam Cossman/YouTube
And if further recommendation is needed, Sensum CEO Gawain Morrison has one of the greatest beards known to man, a sort of Viking-cum-Obelix braid that looks very complicated indeed.
And the rest…
There's plenty more to see and do at the exhibition: a residency with Facebook timeline designer (and probably the world's foremost lifelogger) Nicholas Felton, a tea party that physically responds – i.e. your tea-bag jumps about – to your body's data outputs (such as your heart-rate), and a portrait-exhibit of celebrity lifeloggers such as Irish rugby star Jamie Heaslip to name but three.
There's also 'Bad Trip', a virtual reality exploration of one man's memories via an Xbox controller, but we'll have more on that tomorrow. Trust us, it'll be worth reading.