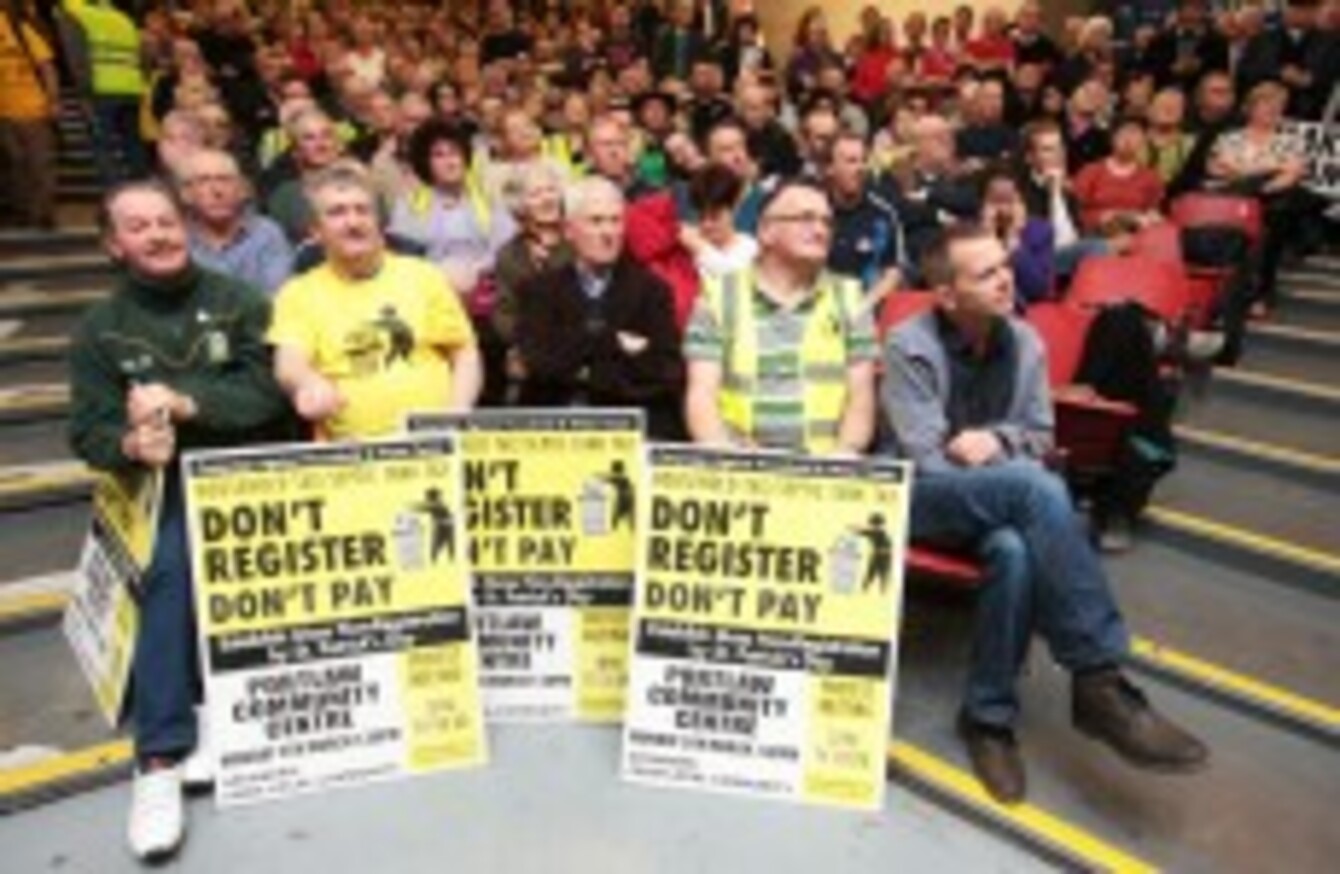 The rally in Dublin on Saturday
Image: Leon Farrell/Photocall Ireland
The rally in Dublin on Saturday
Image: Leon Farrell/Photocall Ireland
TWO SENIOR CABINET Ministers made contradictory statements yesterday over how the controversial Household Charge can be paid.
Speaking to RTÉ Radio One's This Week programme, Joan Burton said that she understood that Minister Phil Hogan was making arrangements so that people could pay the €100 over the counter at the Post Office.
However, the Department of the Environment has confirmed that while people can obtain registration forms from Post Offices, payments cannot be accepted by staff there. The form and €100 can be posted or the payment can be made online or at local authority offices.
Payment arrangements will not be changed ahead of Saturday's deadline, a target date which Burton said was "very ambitious".
Burton said she understood that people are not happy with the flat tax and that it would have been her preference to have a better payment system set up "from the start".
However, she said there was still a week left to pay and Irish people have a "tradition of paying quite late".
As of Friday, about 328,000 properties were registered for the charge. That is about 20 per cent of the 1.6 million homes liable for the tax.
Up to 3,000 people turned out to a protest rally at the National Stadium in Dublin on Saturday to demonstrate against the charge. The nine TDs backing the boycott of the payment have been criticised by members of Government who say they are being irresponsible and insincere.
There has been much confusion over the Household Charge with information leaflets only delivered to homes last week.
A spokesperson for the Department of the Environment said that current payment arrangements were put in place to keep administrative costs as low as possible so local authorities would gather as much of the €100 fee as possible.
Having a third party collect the charge would have increased costs and reduced the monies available for the provision of local services in the community. It also would have required a procurement process which would have delayed the implementation of the charge – and the imminent property tax – which is promised in the Memorandum of Understanding with the Troika.