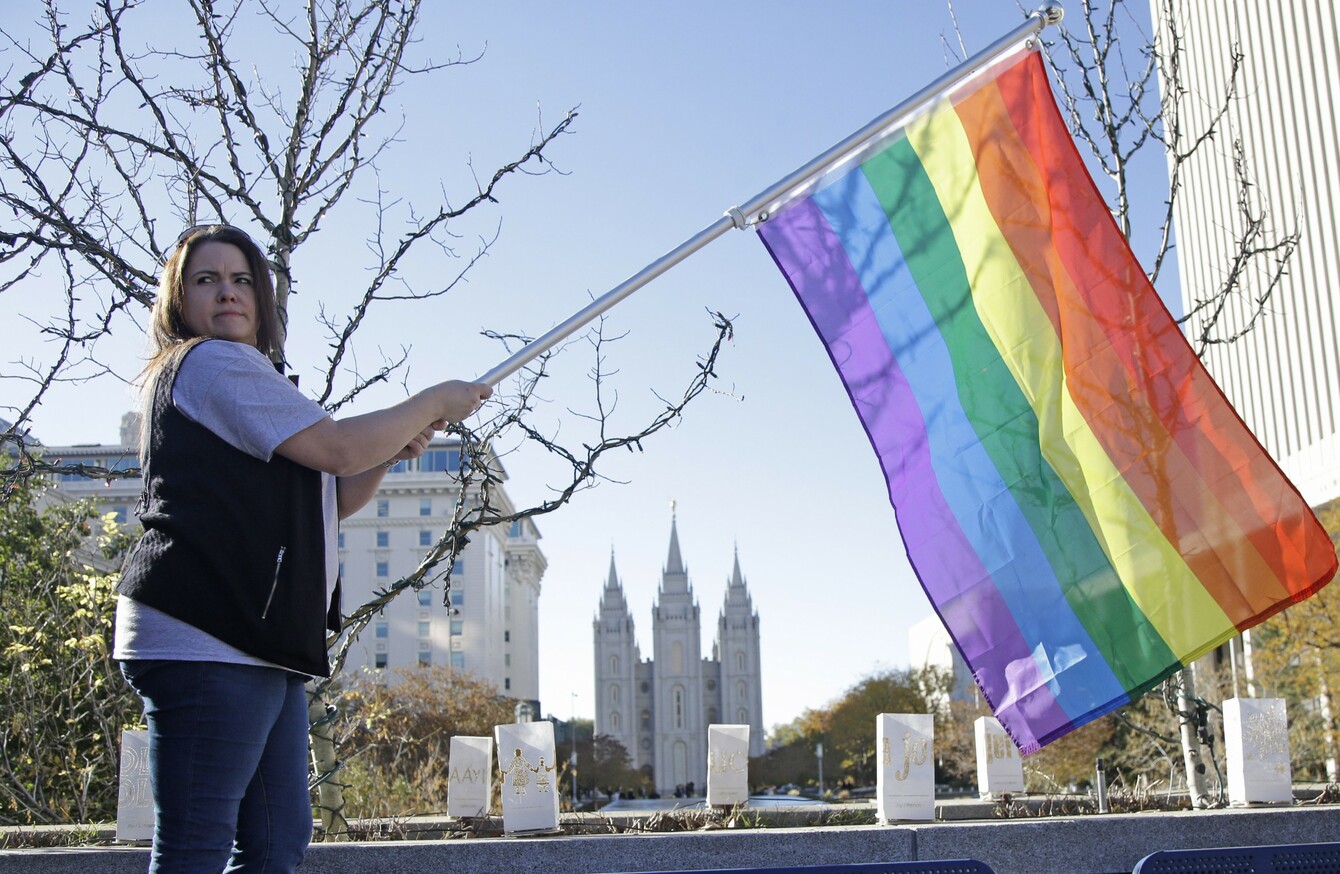 A woman posing with a rainbow flag prior to a mass resignation from the Mormon church last Saturday
Image: AP/Press Association Images
A woman posing with a rainbow flag prior to a mass resignation from the Mormon church last Saturday
Image: AP/Press Association Images
THE CONSERVATIVE US state of Utah, home to the influential Mormon church, has come under the national spotlight in recent days over its treatment of gays, earning both praise and condemnation.
The capital Salt Lake City grabbed headlines on Wednesday for electing Jackie Biskupski, its first openly gay mayor, in a vote hailed as historic by gay rights groups.
But at the same time, two recent decisions concerning same-sex couples – one by the Mormon church, which is based in Salt Lake City, and one by a judge – have prompted an uproar and raised concerns that Utah was backtracking on small strides toward acceptance of the LGBT community.
In the first case, the Church of Jesus Christ of Latter-day Saints – as the Mormon church is formally known – earlier this month declared that children of gay couples cannot be blessed as babies or baptised until they turn 18.
Once they reach that age, they will have to disavow same-sex marriage and no longer be living with their parents in order to join the church.
In the letter to lay leaders of its 30,000 congregations around the world, the church also explained that Mormons in same-sex marriages are considered apostates and as such could be excommunicated.
In the second case, a Utah judge last week ordered a lesbian couple to give up their foster baby on grounds the child would be better off with a heterosexual family. The judge later rescinded his order and recused himself from the case following an uproar.
'We defy stereotypes' 
Rights groups say the two cases are worrisome and fly in the face of national advances on gay rights.
They also point out that both unfolded against a backdrop of significant strides forward for the LGBT community in Utah, including Biskupski's election this week.
"The irony is not lost on any of us here," Troy Williams, the head of Equality Utah, a gay rights group, told AFP.
"Utah is full of surprises," he added. "We defy stereotypes every step of the way."
Williams pointed out that while the state overall was conservative, a recent Gallup poll showed that the capital Salt Lake City had a higher percentage of LGBT residents than New York.
Relations between Salt Lake City's gay community and the Mormon church have improved over the years, however, but Williams called its recent letter on children of same-sex couples a clear step backwards.
The letter also drew a backlash from church members.
On Saturday, 1,830 people took part in a mass resignation – giving up their church membership – in front of the LDS temple in Salt Lake City.
#Open journalism No news is bad news Support The Journal

Your contributions will help us continue to deliver the stories that are important to you

Support us now
"They are trying to spin this policy as a way to protect children but in reality it is tearing families apart," Brooke Swallow, who helped organise the event, told AFP.
"They are not addressing any other egregious issues like murder or rape and that's very strange."
The church, which has 15 million followers worldwide, has defended its policy saying it was in the interest of children.
Source: Mormon Newsroom/YouTube
"With same-sex marriage now legal in the United States and some other nations, the Church felt the need specifically to address such marriages in the Handbook to draw a firm line and encourage consistency among local leaders," it said in a statement.
"In reality, very few same-sex couples would bring children for the formal Church ordinance of naming and blessing, since this creates a formal membership record.
"But Church leaders want to avoid putting little children in a potential tug-of-war between same-sex couples at home and teachings and activities at church."