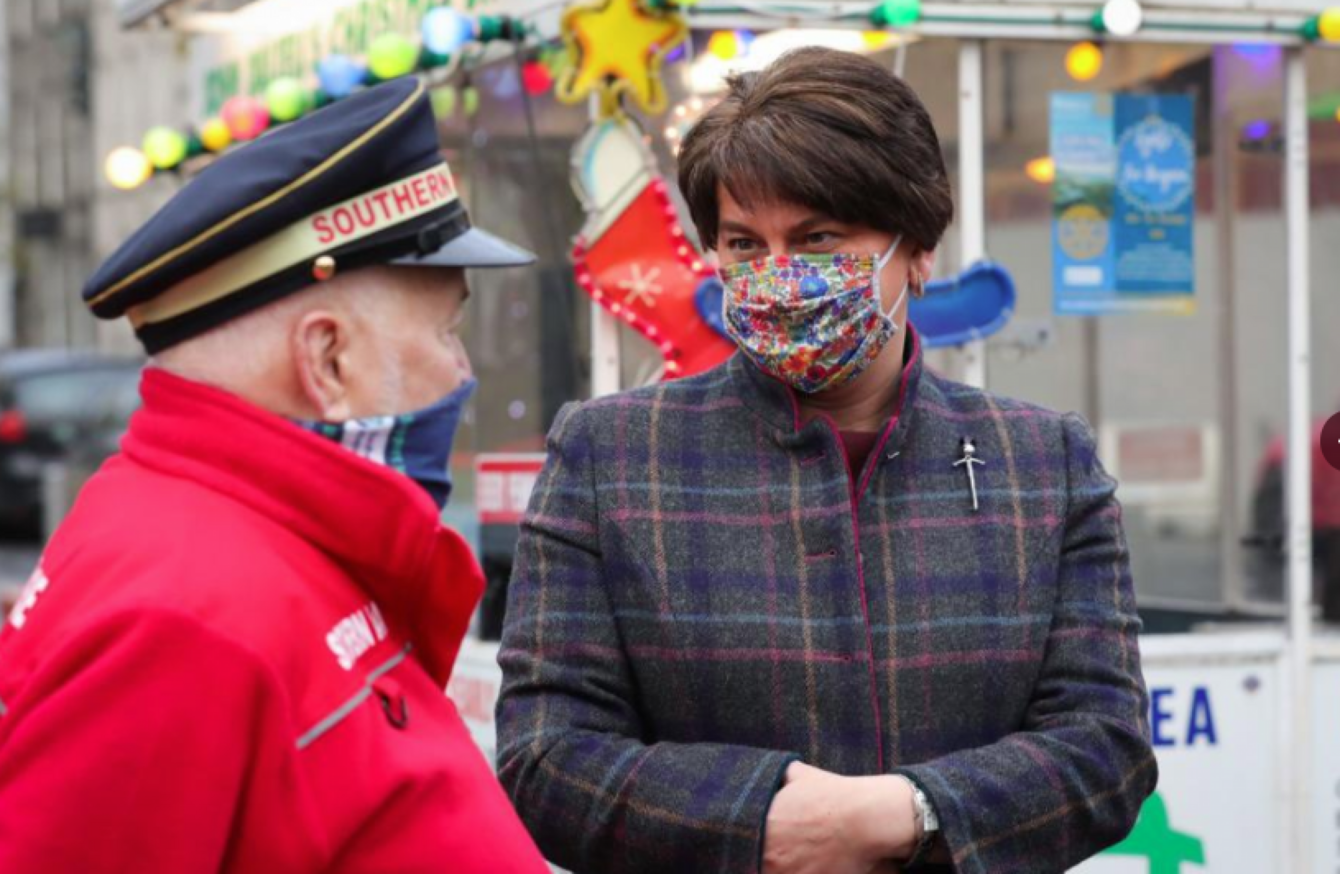 Arlene Foster meets a hospice fundraiser in Newry.
Image: Twitter
Arlene Foster meets a hospice fundraiser in Newry.
Image: Twitter
Updated Dec 18th 2020, 3:15 PM
ARLENE FOSTER HAS said that Northern Ireland and its people need to "up our game" because people have not been cutting their contacts to the level that's required.
The Northern Ireland First Minister was speaking following a remote meeting of the North South Ministerial Council that involved government leaders on both sides of the border.
A virtual press conference that featured Foster, Deputy First Minister Michelle O'Neill, Taoiseach Micheál Martin and Tánaiste Leo Varadkar was held following the meeting.
The meeting was held after Northern Ireland last night announced a strict six-week lockdown beginning on St. Stephen's Day and Martin confirmed that people in the Republic should also expect further restrictions before New Year's Eve.
O'Neill said that Northern Ireland was facing "a very difficult situation with Covid-19 spreading at an alarming rate".
Foster made an appeal to people to do more to reduce the spread of the virus, recognising that the decision taken brought in "draconian" measures.
"We're facing a great deal of difficulty across Northern Ireland, people need to recognise that and need to recognise the fact that they have to ensure personal responsibility in their action over the next period of time people need to cut down their social contacts in order to protect themselves and their families," she said. 
They really need to take that to heart because unfortunately that has not been the case, and we need to very much up our game so that we can push for the finish line.
Speaking about the situations on both sides of the border, Varadkar said reason Covid-19 rates in the Republic were "four times lower" than the north were "because of the six-week lockdown we had" in November and into this month.
The Tánaiste said that this shouldn't be cause to "congratulate us or to criticize the Northern Executive".
There have been periods where the incidence in Northern Ireland has been lower than in the Republic of Ireland. And it may well be the case that after the six-week lockdown in Northern Ireland, and the fact that Northern Ireland is ahead on the vaccine, that it may well may be the other way around in February where we have a higher incidence here and there's a lower incidence in Northern Ireland.
Speaking about the potential for patients from Northern Ireland being treated as part of the HSE, Martin said that co-operation could extend "to all areas" and that this already happens for patients on both sides of the border.
Many patients in the Republic for example benefit from oncology services at Altnagelvin and indeed other services in the north, and that covers Covid as well. I think neighbours always help out in situations where there can be challenges and difficulties and we certainly will not be found wanting.
Lockdown
The comments come as Stormont's chief scientific adviser said that Northern Ireland would have witnessed thousands of Covid-19 deaths if no action had been taken to suppress the virus.
The first week of the new measures will see the toughest lockdown yet introduced during the pandemic, with a form of curfew in operation from 8pm with shops closed from that time and all indoor and outdoor gatherings prohibited until 6am.
Non-essential retail will close throughout the six weeks, as will close contact services. Hospitality outlets will be limited to takeaway services.
Organised sport will be also be banned, with elite sport included in the prohibition for the first week.
Professor Ian Young said the region's already over-capacity health service would have been completely swamped in January if no action was taken.
"Of all of the things that we look at in terms of modelling, the number of deaths is the one that is most difficult to predict. It would, if no action were taken – which is inconceivable – have been very large, certainly within the thousands, if no action was taken," he said.
Prof Young told BBC Radio Ulster that the current number of Covid-19 inpatients of between 400 and 500 would have soared to between 3,000 and 4,000 by the end of January if no action had been taken.
"In terms of the total number of general and acute beds, the type of beds that would have been required in hospital, the number of patients needing beds would have exceeded the total number of beds that were available," he added.
Schools
After last night's lockdown announcement, Stormont ministers are facing calls to provide clarity on schools reopening after the Christmas holidays.
The Executive delayed a decision on schools at the meeting yesterday when ministers agreed to introduce the fresh restrictions on other sections of society.
Education and health officials have instead been tasked to engage on potential options to reduce face-to-face school time in the new term.
One option is a potential staggered return to the classroom after Christmas, with some year groups going back earlier than others.
Teachers and parents have demanded answers so they can plan for January.
Particular concerns have been raised about the prospect of primary age children from several schools mixing when they gather to take tests set as part of an academic selection transfer process used by some secondary schools.
While January's tests are conducted by private companies, the Department of Education has ultimate responsibility for ensuring school settings are safe.
National Association of Head Teachers president in Northern Ireland Graham Gault criticised the Executive this morning.
"Principals and teachers need clarity on what the beginning of term will entail," he tweeted.
"Schools can't turn things around overnight.
"Unfortunately, a lack of understanding has been the hallmark of decision-making through this pandemic, with schools being the last to know at every turn."
Prof Young said a "wide range of options" regarding schools has been provided to the Executive.
#Open journalism No news is bad news Support The Journal

Your contributions will help us continue to deliver the stories that are important to you

Support us now
"Schools don't have to be open or closed, there are lots of inbetween things – staggered opening, I think, would be clearly included as one of those possibilities," he said.
'Toughest restrictions yet'
Northern Ireland's reproduction number (R) is currently between 1.1 and 1.2.
A further 12 deaths involving Covid-19 were reported yesterday, along with another 656 new cases of the virus.
The hospital occupancy rate stood at 104%.
On Tuesday, queues of ambulances were witnessed at accident and emergency departments (EDs) across Northern Ireland as patients were treated in car parks due to a lack of capacity inside hospitals.
At one point, 17 ambulances containing patients were lined up outside the ED at Antrim Area Hospital.
- With reporting by Press Association