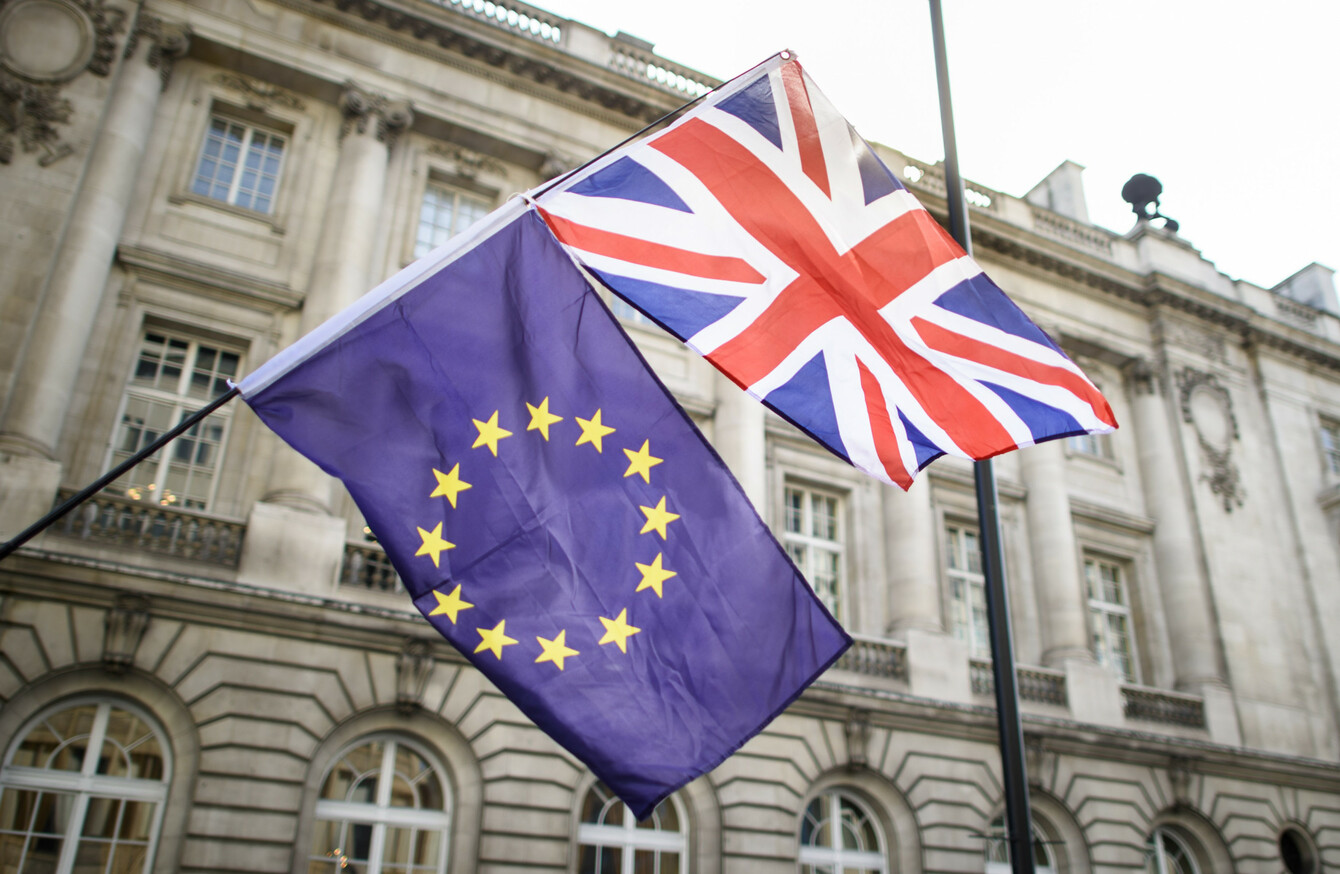 Image: Matt Crossick/EMPICS Entertainment. via PA Images
Image: Matt Crossick/EMPICS Entertainment. via PA Images
BREXIT LEAVE VOTERS in Northern Ireland are willing to see the end of the peace process to deliver Brexit, a new poll has claimed. 
The Universities of Cardiff and Edinburgh's The Future of England Study found that 87% of Northern Ireland's leave voters would see the collapse of the peace process as an acceptable price for Brexit, the Belfast Telegraph has reported. 
It also found that 75% of Conservatives in England would support the collapse of the peace process as long as Brexit is delivered. 
The polls were conducted by YouGov and Lucid Talk between 30 May and 4 June 2018.
With regards to the 2016 Brexit referendum vote, 44.2% of people in Northern Ireland voted to leave the EU, while 55.8% voted to remain. 
In all, 51.9% of the UK voted to leave the EU, while 48.1% voted to remain. 
Speaking on RTÉ Radio One's Morning Ireland, study author Professor Richard Wyn Jones said they used representative samples in Northern Ireland, Wales, Scotland and England during the study. 
When asked if he was surprised by the outcomes of the survey, he said that "a lot of the general attitude to the Union didn't surprise us because we've been following this … pretty closely since 2011″. 
"As somebody who grew up with the troubles on television every night … I was shocked about the indifference to the Northern Ireland peace process," Wyn Jones said. 
"But the UK union, if you like, the indifference to the Union is not a surprise, and there's kind of a consistent pattern that we've been identifying for several years now that even predates the Scottish independence referendum of 2014," he said. 
The UK is a curious state anyway, but it's a state where I think the bonds of union are loosening and Brexit is exacerbating that whole process. 
The survey comes as Northern Irish Unionists from both the DUP and UUP are set to meet the EU's Brexit negotiator Michel Barnier in Brussels today, with both parties pledging to argue against an effective border down the Irish sea. 
DUP leader Arlene Foster and UUP leader Robin Swann will both meet with Barnier alongside their parties MEPs. 
Foster's party is propping up UK Prime Minister Theresa May's government in the House of Commons and the DUP has refused to rule out voting against any Brexit deal it is not satisfied with.
Technical discussions resume in Brussels this week, with both sides racing to bridge their differences over the toughest issues of the Irish border and future trading ties.
The EU summit on 18 October has been characterised by the bloc as a "moment of truth" in the divorce talks, just months before Britain leaves on 29 March 2019.
With reporting by Rónán Duffy