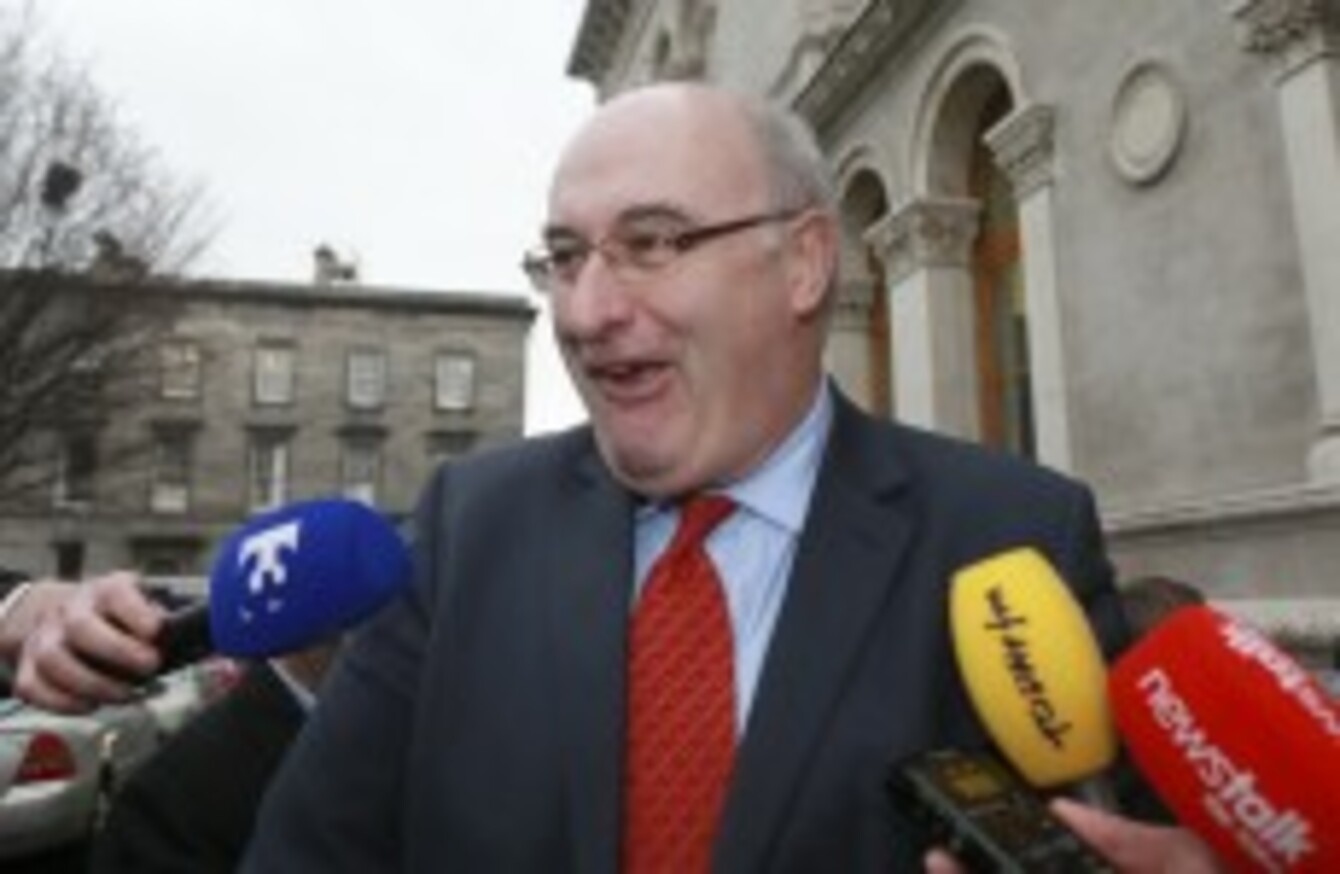 Minister Phil Hogan
Image: Photocall Ireland
Minister Phil Hogan
Image: Photocall Ireland
WANT TO KNOW what's going on in Leinster House today?
Every day the Dáil and Seanad are sitting, TheJournal.ie brings you the most comprehensive guide to what our lawmakers are getting up to in the Houses of the Oireachtas.
Here's what we can expect to see happening in the Dáil, Seanad and committee rooms today…
Four things we'll be keeping an eye on:
Phil Hogan kicks off Dáil proceedings for the week as he answers questions on issues of direct concern to his department. Considering the ongoing controversy surrounding the set-up costs for Irish Water, this Q&A with the 'embattled' Environment Minister could well generate a few more headlines. [2pm]
Taoiseach Enda Kenny is next up — he'll be on his feet from 3.15pm dealing with questions and constructive criticism from the opposition benches. Expect the issue of flooding and flood relief to feature at this one, in the light of the weekend storms.
It's Topical Issues time in the Dáil just after 5pm. 'Storm Brigid' is likely to get quite a few mentions here again as TDs raise issues they regard to be of concern to their constituents in particular, and the country in general.
Straight after that, it's the second stage debate on the 'Protected Disclosures Bill' which is aimed at protecting whistleblowers.
Everything else happening in the Dáil:
Order of Business officially gets under way at 4.36pm — and first order of business is the referral of a motion on 'European Small Claims Procedure' to committee.
In Private Members Time, the Dáil will be discussing legislation drafted by Wicklow independent Stephen Donnelly aimed at providing a new system of examinership that will reduce costs for smaller companies.
Everything happening in the Seanad:
Order of Business begins at 2.30pm, and that European 'small claims' motion is also the first item on the agenda in the upper chamber.
Minister for Justice Alan Shatter will be in the chamber for 'Statements on the Charity Sector' from 3.45pm. The new charity sector regulator is due to be appointed later this year.
And senators air their own views on topical issues before business closes for the day, in 'Matters on the Adjournment'.
Everything happening in the committees:
The committee on health and children will discuss the issues raised by last week's Prime Time documentary about the deaths of babies at the Midlands Regional Hospital in a private meeting at 3pm. [Committee Room 4]
On a busy day for committee meetings, the 'Reasearch and Development landscape' will be discussed by TDs and senators on the jobs and enterprise panel from 1.30pm [Room 2]; and there's a private meeting of the committee on agriculture, food and the marine at 2pm [Room 3].
The Joint Committee on Foreign Affairs and Trade meets at 11am to discuss the country's overseas development co-operation programme. [Room 1]
And the European affairs committee will hear from, amongst others, RTÉ Europe editor Tony Connelly as part of the Department of Foreign Affairs review of policy and external relations from 2pm. [Room 1]
Here's how to watch what's going on in Leinster House today: