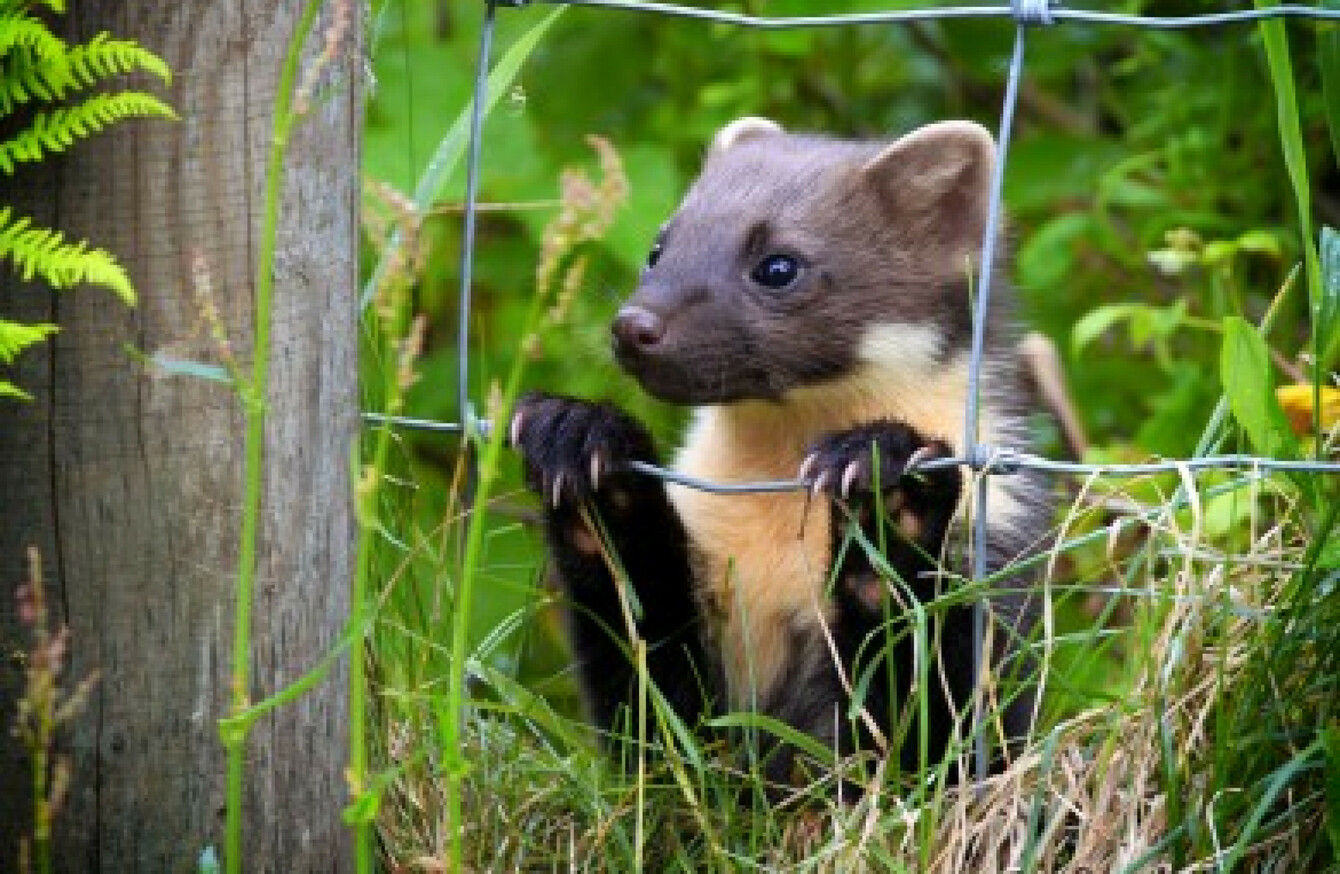 Image: Mark Caunt via Shutterstock
Image: Mark Caunt via Shutterstock
THE IRISH WILDLIFE Trust is condemning a call by a Westmeath councillor to de-list the pine marten as a protected species.
Fine Gael councillor Tom Farrell put forward a motion at the Athlone Municipal District Council, a subdivision of Westmeath County Council, this month to remove pine martens from the protected species list in order for a controlled cull in their numbers to be done.
The pine marten is a cat-sized carnivore, which feeds predominantly on berries and invertebrates.
Once common in Ireland, by the 20th century the species had become extinct from most of the country. It only survived in a few isolated areas, mainly in the west.
Farrell began to campaign to de-list the pine martens after one of them recently made its way into the sitting room of his home, where his grandchildren were playing at the time.
"We had our grandchildren in the sitting room with the radio on when the pine marten came in the window," Farrell told TheJournal.ie.
"We got the grandchildren out and we got the pine marten out eventually. He took over the place and that was it. It just frightened me," he said.
He said the fact that under current legislation a licence is needed to trap a pine marten isn't working and an alternative option needs to be made available.
"I'm not looking for a total cull, no way, I'm looking to get them back to their natural habitats. If they start climbing into people's houses, where are they going to finish?" Farrell said.
"I would like to see if there could be a tracking system done or if they can be put into compounds," he said.
The pine marten is currently protected in Ireland by national and international legislation. Under the Irish Wildlife Act, it's an offence to trap or kill a pine marten, or to destroy or disturb its resting places, without a licence.
"I know you can get a licence to trap a pine marten but the timeframe is far too long. If I was to apply for a licence to trap a pine marten it would take me months. There's got to be a bit of reality to it," Farrell said.
#Open journalism No news is bad news Support The Journal

Your contributions will help us continue to deliver the stories that are important to you

Support us now
The pine marten population in Ireland began to build back up again following the introduction of legal protection in 1976.
The Irish Wildlife Trust (IWT) has said that there is "currently no good reason to remove protection from the pine marten".
"At a time when wildlife across Ireland is under such tremendous pressure, it is sad and dismaying that such little tolerance is being shown by members of Athlone Municipal District Council," ITW campaigns officer, Pádraic Fogarty said.
We cannot have a situation where shooting our wildlife is out of control to the detriment of long-term conservation.
The pine marten is not only a beautiful animal but an important part of the countryside ecosystems.
In a statement to TheJournal.ie, the Department of Culture said that the pine marten is listed on Annex V of the EU Habitats Directive, which requires that "all member states maintain the species at favourable conservation status".
"There are no plans to remove the pine marten from the protected species list."