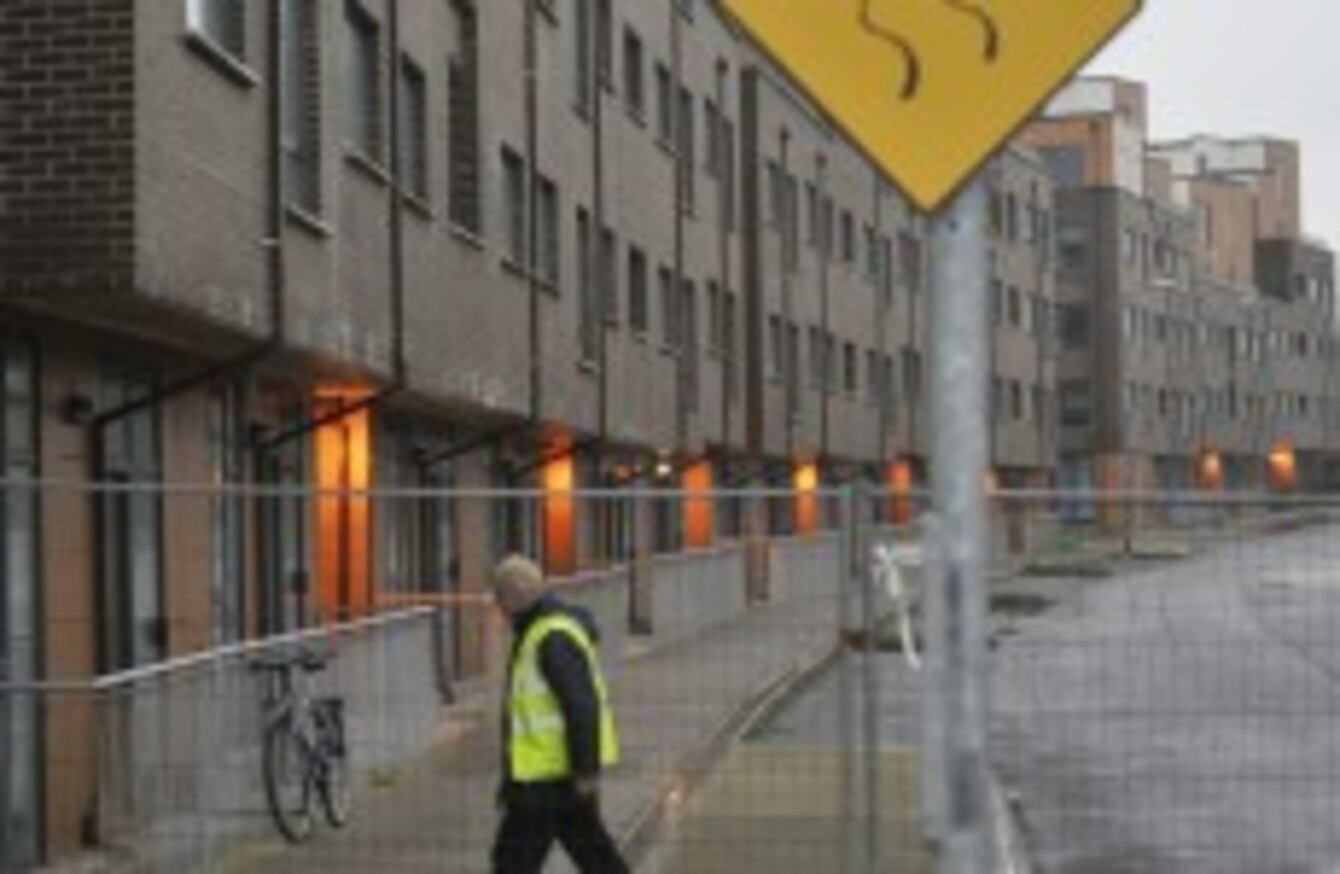 The Priory Hall apartment complex in North Dublin.
Image: Sasko Lazarov/Photocall Ireland
The Priory Hall apartment complex in North Dublin.
Image: Sasko Lazarov/Photocall Ireland
THE FORMER COUNCILLOR for the Donaghmede electoral area and current Labour TD, Seán Kenny, has told TheJournal.ie that the Minister for the Environment, Community and Local Government Phil Hogan will meet those from Priory Hall – once the current resolution process has completed.
"I have spoken to the minister," Kenny said. "Once this report has been completed, he is agreeable to meeting the residents then."
Kenny is one of a number of TDs which are due to attend today's 'March for Justice' to mark the one year anniversary of the eviction of residents from Priory Hall.
Speaking to TheJournal.ie, Kenny spoke of his reasons for attending today's march.
I'll be going there to show solidarity and support on account of the terrible legacy that was left behind by [Tom] McFeely, the cowboy developer, who's walking away from the whole scene, and on account of the failure of building regulations.
On the subject of the resolution process which is still underway, Kenny believes that its completion remains "the next important landmark" in the ongoing saga, which he believes has been "handled very badly by Dublin City Council," who had too much control.
Dublin City Council were a planning authority, a housing authority, a building control authority and a fire authority in this development, so they were a partial landlord in this development. This [incident] has been unique in several respects, and if a solution could be found, it would be a Priory Hall specific-solution.
There will be new building control regulations some time soon but unfortunately, they won't be retrospective.
Horrified
TD for Dublin North Central, Aodhán Ó Ríordáin, is also due to attend today's march, telling TheJournal.ie that everyone "was horrified by what happened in Priory Hall" a year ago.
"I have a suspicion that Priory Hall is the first of many of these situations that will be coming up over the next number of years," he says, while acknowledging that a number of apartments in his own constituency are "clearly not up to standard."
While hopeful that a resolution can be found, Ó Ríordáin remains cautious:
The problem with issues like this is that when the media spotlight moves onto something else, it can be difficult to keep the pressure on… if we don't get this right, we will have failed the people.
Remembering back to 2004 when he was first elected to Dublin City Council, Ó Ríordáin believes that "planning permissions were being handed out willy-nilly".
What we have here [in Priory Hall] are apartments that are completely worthless. The city council have a huge amount to answer for.
It's just the start of it, it really is just the start of it.