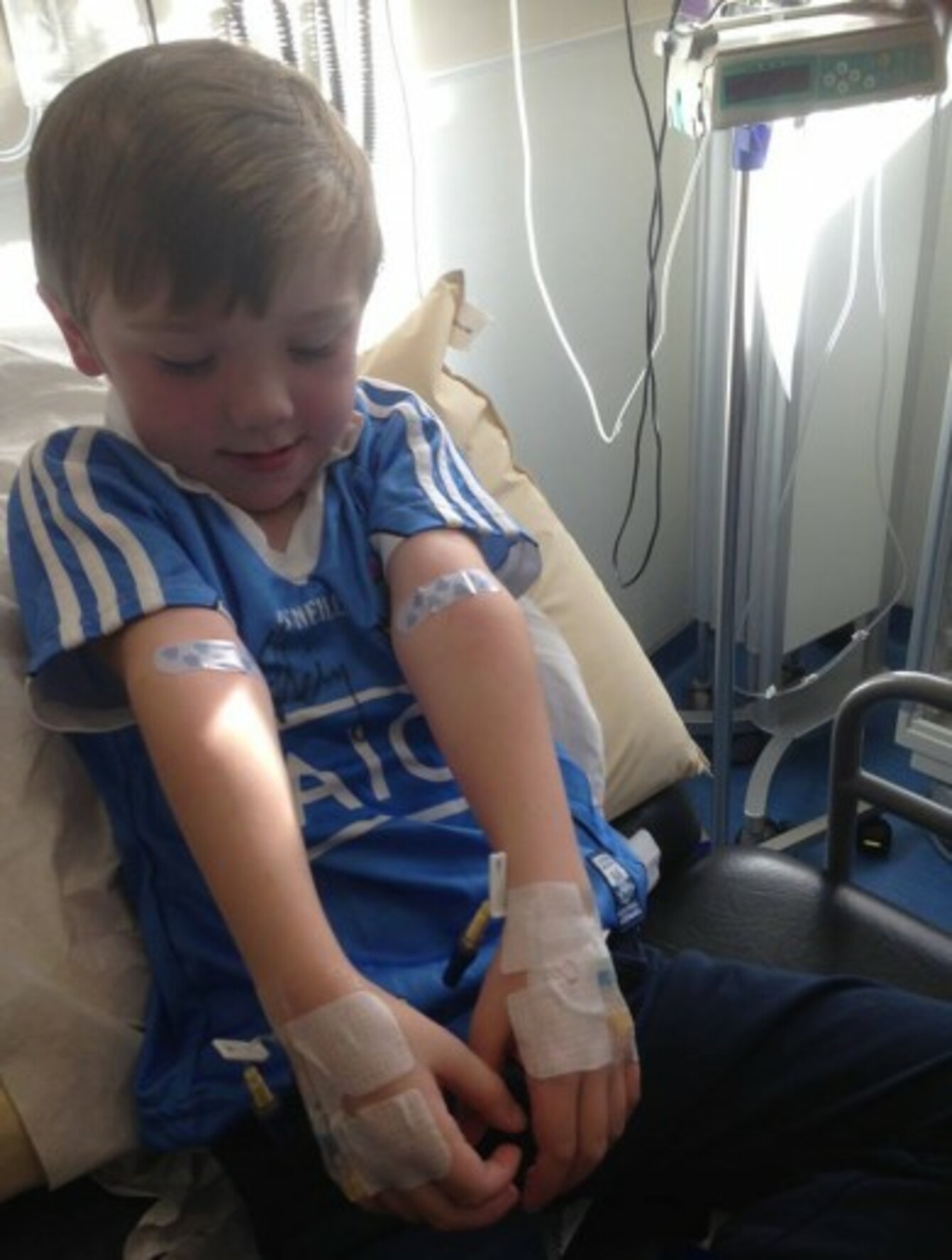 TJ in hospital for his IVS treatment.
Image: Elmarie Tipper
TJ in hospital for his IVS treatment.
Image: Elmarie Tipper
IT WAS JUST another news story for Susan Mitchell of the Sunday Business Post, and it's just a tough part of the job for Minister Harris. But for me as a mother to a CF sufferer it was a dark, dark night knowing the only hope I had for my son is gone.
Orkambi is a groundbreaking drug
It's the only drug that would target the underlying cause of CF. Just a few weeks ago TJ and Anna-Rose had their photo posted on the TheJournal.ie.
It shows two happy, carefree children, playing in the leaves before heading into the zoo for a family day out. That's what CF is. It's all about normalising what's not normal.
TJ had 2 cannulas in both arms under that big red coat. That morning we woke TJ to inject him for an hour with IV antibiotics. After IVs he had a quick breakfast before another hour of nebulised treatments and physiotherapy. His sister got to relax and play.
Going to the zoo could only happen in the morning so we could rush back for afternoon IVs. At 3pm we hooked him up for 2 hours of more IVs. At 5pm it was back to more nebulised treatments and physio.
Bedtime isn't easy for TJ. He lies awake processing his day, wondering why his IVs and treatments are so unfair as his sister lies beside him sleeping soundly. He is always thinking ahead to the next round of IVs. At 11pm we need to wake him again for another hour of IVs.
That is not a normal or fair day for any 6 year old
I can't understand how the government and the HSE can sleep at night knowing that this decision shortens TJ's life, and takes away any chance of a decent quality of life.
TJ always looks happy and healthy… just like any other senior infant boy. Unfortunately the stark reality is that CT scans and xrays show a different picture. He has serious lung damage for his age which we treat aggressively, hoping it will lengthen his life.
When TJ was diagnosed our world was turned upside down, but once we picked ourselves back up, myself and Paul decided to be positive. For six years we have never missed a treatment, hoping that we would give him a good start and that new drugs were coming.
We had hope
I thought that even though CF was a life sentence, science would improve. That we just needed to keep him healthy until the drugs came along.
But last year we were shocked to learn all our efforts were in vain. TJ has serious progression of CF and we don't have the time we thought we had. There are children his age in America taking Orkambi.
Why do they have the right to a better and longer life?
Like all CF mothers I will fight this until the end. But that isn't right. I should not have to fight for basic care for my son. We will not let this rest Simon Harris.
On the 7th of December there is a march to the Dail. We ask all our friends who can to come and support us at 1.30pm. We ask people to contact their TDs to show the CF community will not stop fighting.
TJ is a citizen of Ireland and people are choosing to give him a life sentence because he is not worth the cost of Orkambi. The price of Orkambi is irrelevant, but it is far less than the pension of a TD.
Simon Harris you have the power to overturn this decision.
Elmarie Tipper is a full-time teacher and a mom to TJ (6) and Anna-Rose (4).