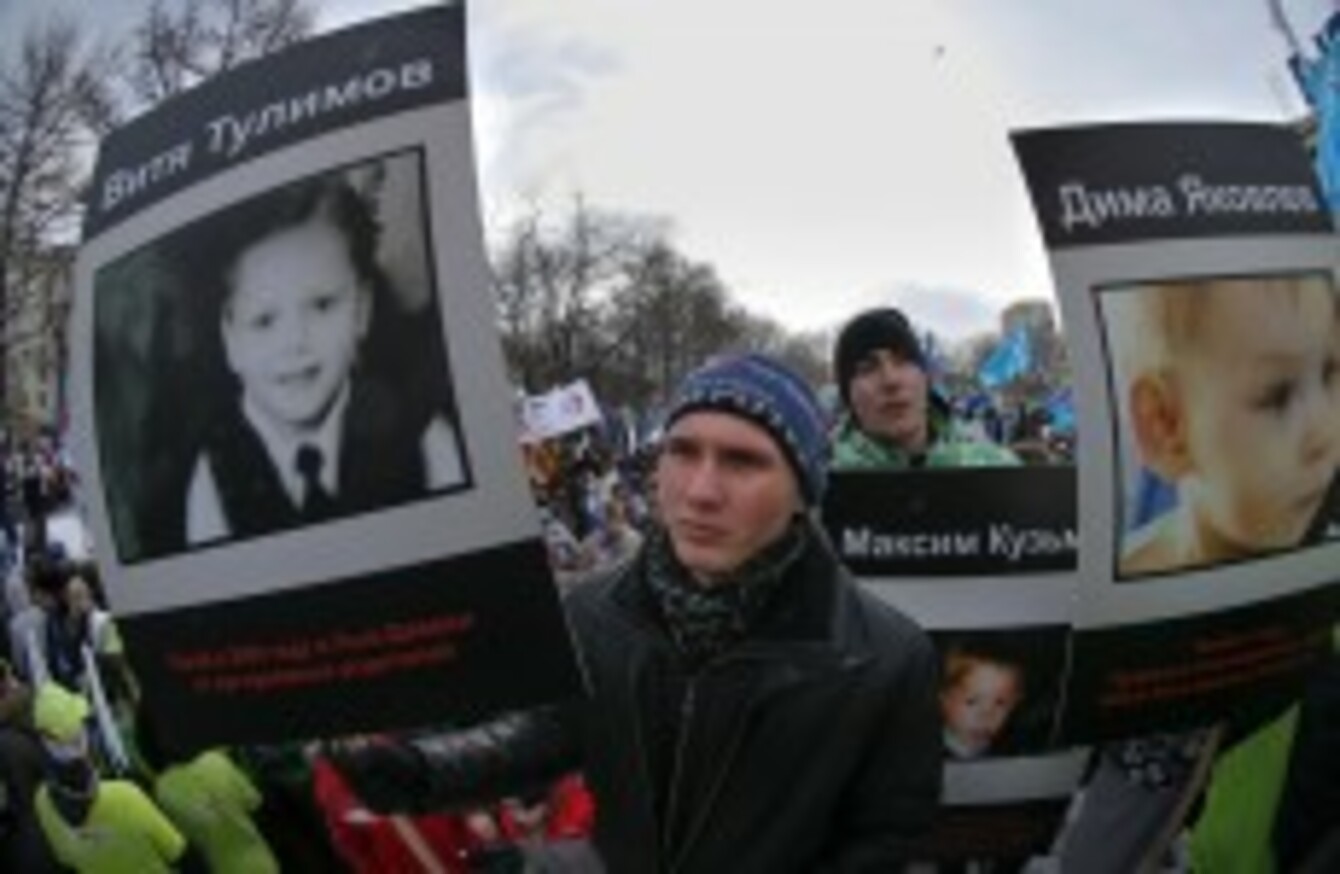 Demonstrators hold photos of adopted Russian children who died in the US during a giant rally in Moscow on 2 March
Image: AP Photo/Alexander Zemlianichenko
Demonstrators hold photos of adopted Russian children who died in the US during a giant rally in Moscow on 2 March
Image: AP Photo/Alexander Zemlianichenko
RUSSIA HAS SAID today that it is seriously concerned by a US decision not to prosecute the adoptive parents of a Russian boy whose death in January has sparked a diplomatic row between the two countries.
Russian officials claim toddler Max Shatto – born Maxim Kuzmin – was tortured and murdered by his adoptive US mother, whipping up a storm of controversy less than two months after Moscow banned US adoptions.
On Monday, a Texas official said there was no "evidence to support holding anybody criminally responsible" for the death of the three-year-old, adopted in Texas by Alan and Laura Shatto.
"The Texas authorities' decision not to press charges against the Shatto couple over the tragic death of Maxim Kuzmin raises serious questions," said Konstantin Dolgov, the Russian foreign ministry's special representative for human rights.
The boy's body was heavily bruised when he died at a hospital near the west Texas town of Gardendale, but US doctors determined earlier this month that his injuries were self-inflicted.
The coroner also noted that he had a mental disorder that caused him to hurt himself.
"The child has died but his adoptive parents are not guilty. Moreover, there is an attempt to convince us that it was the boy who inflicted his fatal injuries upon himself," Dolgov said in a statement.
He added that the latest decision showed that US law enforcement agencies were too lenient towards US adoptive parents, adding that Russian authorities would conduct their own investigation.
"In this connection we are reiterating our request to provide the Russian side without delay with all the necessary documents related to the circumstances of Maxim Kuzmin's death including autopsy results," he said.
The Shattos are also raising the child's younger brother, known under his Russian name Kirill Kuzmin. Russian officials are now trying to bring the boy back home.
Dolgov requested that the United States give Russian officials unlimited access to the two-year-old "to determine the real conditions in which he's now living."
Late last year, Russia banned all adoptions by American parents as a reprisal for US legislation targeting Russian officials deemed to have committed rights abuses.