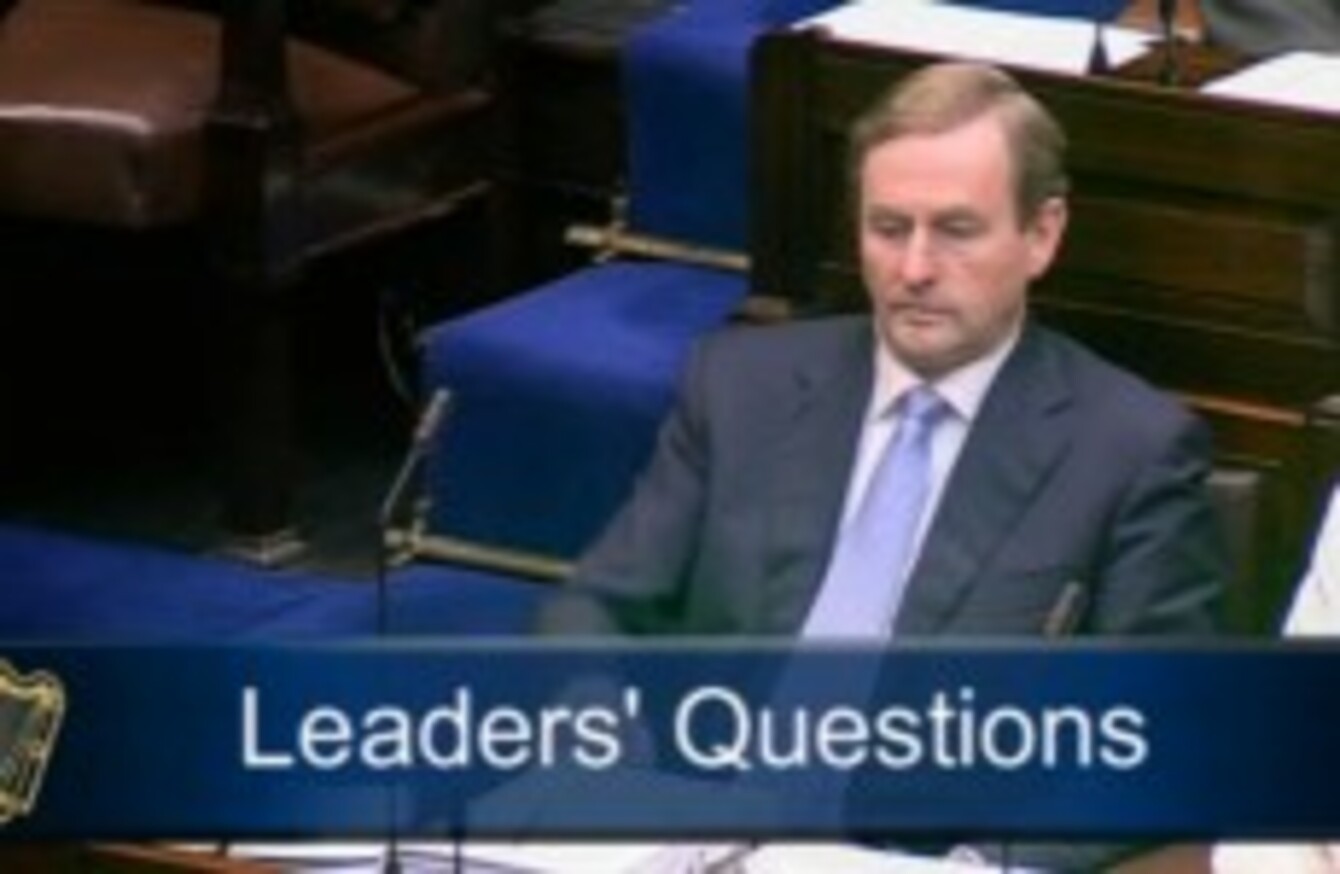 Enda Kenny in the Dáil this morning
Image: Screengrab
Enda Kenny in the Dáil this morning
Image: Screengrab
THE MINISTER FOR Health James Reilly has received the report of the expert group on abortion in the last 24 hours, the Taoiseach has told the Dáil.
The report was received by Reilly last night but he has not yet seen or read the report as the issue of abortion came up at Leaders' Questions following the death of a woman at Galway University Hospital after she was reportedly refused an abortion.
Amid reports that 31-year-old Savita Praveen Halappanavar died after being refused a termination as she suffered a miscarriage over two days last month, there were calls for an independent inquiry into the case.
Fianna Fáil leader Micheál Martin said there needed to be an independent, external inquiry set up to go along with the two being conducted by the hospital and the HSE into the woman's death.
Martin said that Savita's death was "particularly tragic and harrowing and I think shocking to all concerned" and said that an internal inquiry will "not suffice".
Enda Kenny said that he extended his sympathy to the family of Savita but said that he would not comment until "we are in possession of all of the facts".
"This is a case of maternal death where a child has been lost, a mother has died and a husband is bereaved and that's a tragedy," Kenny told the Dáil.
Expert group
He said that the reports of the hospital and the HSE following their inquiries into the case should be presented to the Minister for Health.
Kenny told Martin: "I don't wish to say any more about this case because neither your or I are in possession of all the facts here."
The issue was also raised by Sinn Féin leader Gerry Adams at Leaders' Questions.
He called on the Taoiseach to give a timeline for when legislation for the Supreme Court ruling in the X case might be brought forward.
Kenny said that Reilly had received the completed report of the expert group, set up at the beginning of the year, but said that the Minister was yet to see or read the report.
However he said that Reilly would "read and reflect" on it before bringing it to Cabinet.
Amid further calls from Adams to give a timeframe for the report to be published and for the government to legislate on abortion, Kenny repeated that he would not "say anything in this house here until we are full possession of the facts".
"Anything that we do will not bring back the good woman that has passed away," he added.